Ändrade planer mest hela tiden
Söndagen fick jag lite mera tid och tömkörde Pepper, men det var svårt att hitta bra underlag. Däremot hittade vi ett ställe där vi kunde träna på att gå över rännilar av smältvatten.. Sandra hade innan ridit ut Calinka en vända och longerat Percy lite.
Måndag och kanske en begynnande förkylning. Percy fick bli häst nummer ett där vi skulle titta på det där rinnande vattnet. Fast det hade smält undan mera så vattnet minskat och dessutom

nästan frusit till… Nåja, en kort promenad och lite vatten blev det.
 Planen var att tömköra Calinka på banan, men så insåg jag att jag kunde leka med Pepper i hagen bredvid. Bara att han inte alls ville leka utan nosa på alla högar och fläckar stona lämnat där…Antar att det ledde till hjärngympa. Jag gav upp efter ett tag, lämnade honom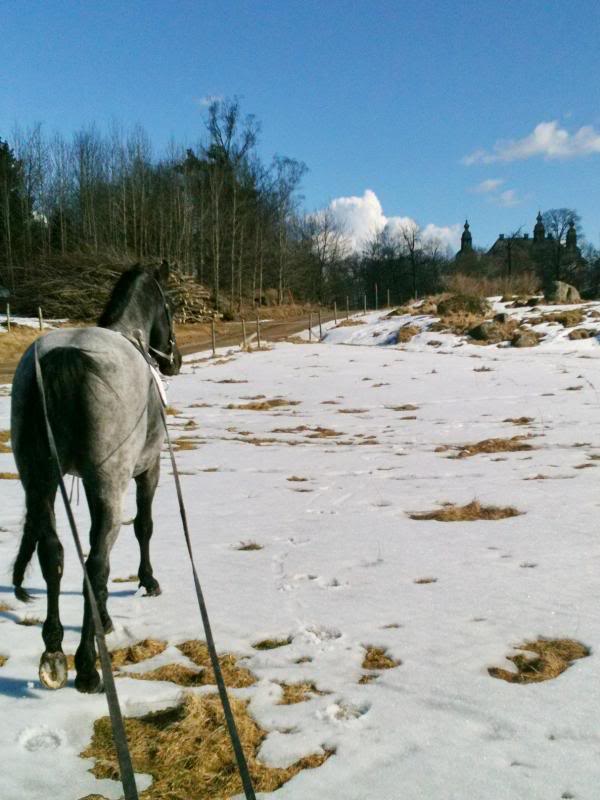 Long reining Pepper, the castle in front of us.
där och hämtade upp Calinka till tömkörning på andra sidan staketet. Ridbanan har varit lite isig, men nu var det så illa att inte ens Calinka med skor kunde jobba annat än i skritt där. Det krasade och lät under fötterna mest hela tiden. I alla fall fick det Pepper att springa lite på sin sida staketet och det var kul att se att flörtiga Calinka visste att det var jobb som förväntades trots uppvaktning bara en meter bort. Inte ens fältet fungerade särskilt bra för mer joggning då snön var tung och även där hal på flera ställen. Nåja, mycket volter blev det (jag orkade inte springa runt där) och lite bra from samt lite trav och galopp jobb. Men inget av passen riktigt som jag hade tänkt. Tur att man kan vara flexibel.
Bunny krävde uppmärksamhet i stallet och jag passade på att mysa lite extra med henne innan det var dags att åka hem.
Change of plans most of the time
Saturday turned into a day with work with the fence – again. How much time can a couple of small details take?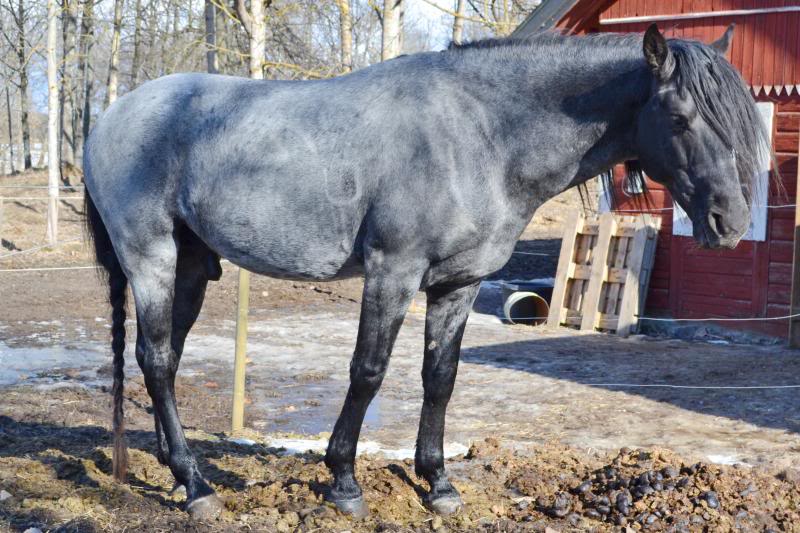 Pepper is getting really light – but is not posing at his best.
I got some more time during Sunday and long reined Pepper, but is was hard to find somewhere to do it – ice or mud everywhere. But, we found a place where we could work with walking across puddles with water… Sandra took Calinka for a rail ride and longed Percy. 

Monday and I had the beginning of a cold. Percy got to be number one – my plan was to show her the water pepper and I found previous day. Only thing was that it had melted more and was less water – and nearly frozen.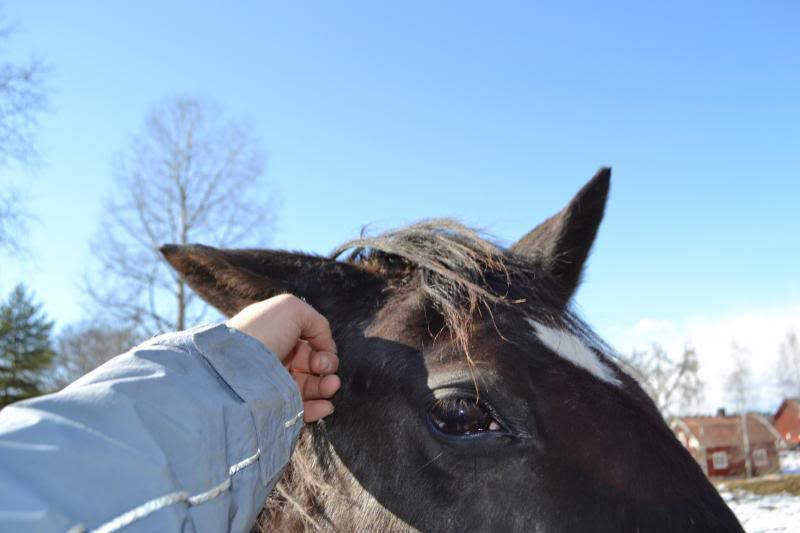 Calinka's favorite – scratching the ears.
I planned to long rein Calinka, but got the idea to let Pepper play in a pasture beside the arena. Good idea – but he only wanted to check out everything the mare had left there. I guess he got some brain work to do anyway. So I went for my first pan and got Calinka and long reined her on the other side of the fence. The arena was so icy that even Calinka had problem with anything else than walk – and she has grips in all feet. It was mostly crashing beneath our feet all the time. On his side, Pepper had to run a little as he got a pretty lady close by. Calinka, that use to flirt actually knew it was time to work and didn't care much. The field wasn't much better – snow but
really heavy snow to walk into. Therefore we most did circles, but got some nice trot and some nice canter and a frame that was ok. None of my initial plans really worked out – luckily I can be flexible.
Bunny demanded attention so I groomed her and cuddled a little extra before I headed home.
 
 
  
http:///ullekalv.se/wp-content/uploads/2015/09/ullekalv_header_logo.png
0
0
Ingrid Amadori
http:///ullekalv.se/wp-content/uploads/2015/09/ullekalv_header_logo.png
Ingrid Amadori
2013-04-09 17:30:00
2013-04-09 17:30:00
Ändrade planer mest hela tiden