Hästavel – vad jag inte vill avla fram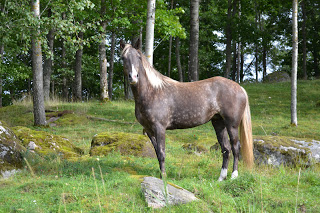 Bunny – one silver gene.
Som tidigare inlägg kanske har visat tycker jag om variation och vissa olikheter i min avel. Men, det finns även sådant som jag inte tolererar och som jag inte skulle avla för. Svensk lag säger att man inte får avla på djur där det finns risk för stort lidande hos avkomman. Det kan exempelvis vara en genetisk sjukdom.
Det är en anledning till varför jag inte kommer att avla för att få individer med två gener för silverfärgen. Jag har läst det jag kommit över inom ämnet och den slutsats jag drar är att
MCOA är nära kopplat med silvergenen. Hästar med en kopia av silvergenen verkar opåverkade medan de med två kopior har en stor spridning av problem (MCOA). Vissa verkar fungera som "normala" hästar, medan vissa avlivas för att de är blinda. Eftersom det är så enkelt att undvika att föda upp dessa hästar förstår jag inte varför man inte skulle göra det. Däremot skulle jag kunna använda en individ med två silvergener i aveln. Om individen i fråga verkar må bra ser jag inga problem med att avla på denne då avkomman inte kommer att få problem. Å andra sidan kan jag tycka att det är lite fel att uppmuntra till efterfrågan på dessa hästar; då kanske fler avlar för att få fram dem. Men, om allting annat passade mig skulle jag kunna använda sådana individer i aveln, men aldrig avla för att få fram dem.
Än så länge är det, det stora hälsoproblem jag hört talas om inom rasen. Det finns förvisso vissa individer so drabbats av andra sjukdomar, men de verkar inte vara i lika stor utsträckning.
Om jag får höra talas om andra genetiska defekter inom rasen kommer jag att ta passande approach till dem. Även om lagen tillät mig skulle jag inte heller vilja riskera att föda upp ett föl som jag fick ta bort eftersom det var sjukt. Sådant kan hända ändå! I vissa av dessa fall bör man däremot inte utesluta föräldradjuren från all vidare avel – det kan ha varit en slumpmutation eller en olycklig kombination av föräldradjur som skapade problemet. Och det vore synd att därför utesluta bra avelsdjur för att slumpen slog till.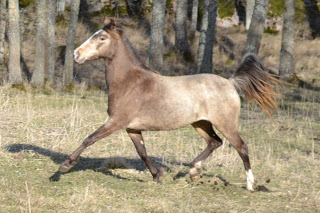 Percy – one silver gene.
En annan viktig faktor är faktiskt stoets kondition innan betäckning. En gammal skada som hindrar från arbete behöver inte hindra från betäckning – om det inte ger stoet problem att bära fölet. Den ökade vikten utsätter ju kroppen för en hel del extra slitage som stoet så klart måste klara av. Däremot måste man försöka förstå varför skadan uppkommit – är det något som kan gå i arv till fölet eller ej.
Horse breeding – what I don't want
As previous post might have shown I have a lot of different wishes for my horses and seems to tolerate many different things. But, there are actually somethings that I don't tolerate and don't wont to breed. The Swedish law tells that you can't breed animals with a high risk of genetic disease to the offspring. That means for example to carry to known carriers of a genetic disease that can cause severe trouble or death to the offspring or the parents.
That is also one reason why I am not going to breed for horses with two copies of the gene that gives the silver (or chocolate) coat color. I have tried to read up at the subject and from all I find it seems as MCOA is closely inherited with the silver gene. It also seems as horses with one copy is without any problems but that among these that carry two copies the variation of problems (MCOA) is huge. Some seems to work as fine as "normal horses", while some are put down due to blindness. As it is such an easy thing to avoid I don't see why not. But, I could actually use an individual with two silver genes in breeding. If that individual is fine I don't see any problems if breed with a horse that don't have any silver genes as the offspring isn't going to get the problem. On the other hand, it might be wrong to encourage the exists of individuals with two silver genes as it might make people to do that cross more often to get horses with two silver genes. But, if everything else would be a totally match I still could go for it, but never intentionally breed for it myself.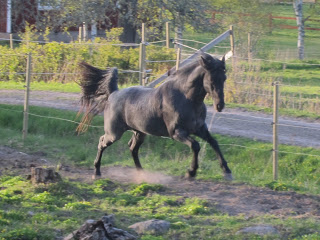 Pepper – no silver gene.
So far, this is the "big" problem that I have found to be discussed within the breed. If I find more traits that is genetic and that can be avoided I am not going to breed those animals either. Even if the law would allow me I don't want to be responsible for a foal that have a big chance of getting a short lifespan. That might happens anyway! And sometimes you even need to rebreed the horse as sometimes it is the combination that didn't work out or just a mutation that happened to turn up in that foal. And it would be unfair to rule out otherwise good parent just as coincidence struck.
Another important factor is to use mares that actually have a good chance to stay healthy during the pregnancy. An old injury might not hinder breeding – unless it makes it very uncomfortable for the mare to carry the foal. The gained weight put a lot of pressure on the body. It is also important why the mare is injured – is it something that might be inherited to the foal.
http:///ullekalv.se/wp-content/uploads/2015/09/ullekalv_header_logo.png
0
0
Ingrid Amadori
http:///ullekalv.se/wp-content/uploads/2015/09/ullekalv_header_logo.png
Ingrid Amadori
2013-04-07 09:02:00
2013-04-07 09:02:00
Hästavel – vad jag inte vill avla fram