2013 RMHA World Pink Ride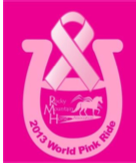 Vi kunde inte motstå utmaningen – Sylvia Otteblad,
Ridtur Solhäst
och jag försöker ordna vår egen del i detta
stora arrangemang
.
Vi har tänkt oss en uteritt på våra hästar – eller på egen häst om så önskas. Både Syliva och jag har hästar som kan finnas att låna/hyra. Troligen blir utgångspunkten Ekenäs slott, men upplägget kan komma att variera lite beroende på vilket gensvar vi får.
För att delta behöver man inte ha en Rocky, vara med i RMHA eller ens donera pengar. Självklart blir vi glada om ni vill köpa en tröja; det kommer jag och Sylvia att göra. Det viktigaste är dock att vara med och ha roligt – en bra anledning att ses och rida ut några stycken. Lite fika tänkte vi också ordna med.
DATUM för ritten: 19 oktober
Jag och Sylvia kommer att ta emot anmälningar och skicka efter tröjorna, den 15 september är sista dagen om man vill vara med och ha en tröja så att vi är säkra på att få dem i tid. Tröjorna är rosa, t-shirt (20 dollar) eller luvtröjor (50 dollar) samt det påslag vi kommer få¨för frakt.
Jag hoppas att vi ses!
PS. Under ritten får man dessutom gärna spöka ut sig och hästen i så mycket rosa som möjligt….
PSS: Vi har lovat skicka bilder till Rocky Mountain föreningen (RMHA) i USA för att visa dem att vi kan!
IN ENGLISH: Me and a friend with Rockies are trying to organize a part in the 2013 World Pink Ride.
http:///ullekalv.se/wp-content/uploads/2015/09/ullekalv_header_logo.png
0
0
Ingrid Amadori
http:///ullekalv.se/wp-content/uploads/2015/09/ullekalv_header_logo.png
Ingrid Amadori
2013-08-22 19:49:00
2013-08-22 19:49:00
2013 RMHA World Pink Ride