Det här med halstäcke under en längre period är verkligen inte skönhetskuren för manar. Mina täcken brukar inte ge ett skav, men manen… Alla hästarna har slitit extra på den. Pepper må ha lång man, men den nedersta delen har tunnats ut betydligt tack vare sommarens flugtäcke med hals, men även under vintern slet täcket utan hals lite på manen. Flätor verkar hjälpa något, men när de kliar sig lite över sommaren (pga värme och insektsbett) verkar inget hjälpa. Att låta dem stå inne när insekterna är ute för att hålla manen fin tycker inte jag är någon lösning…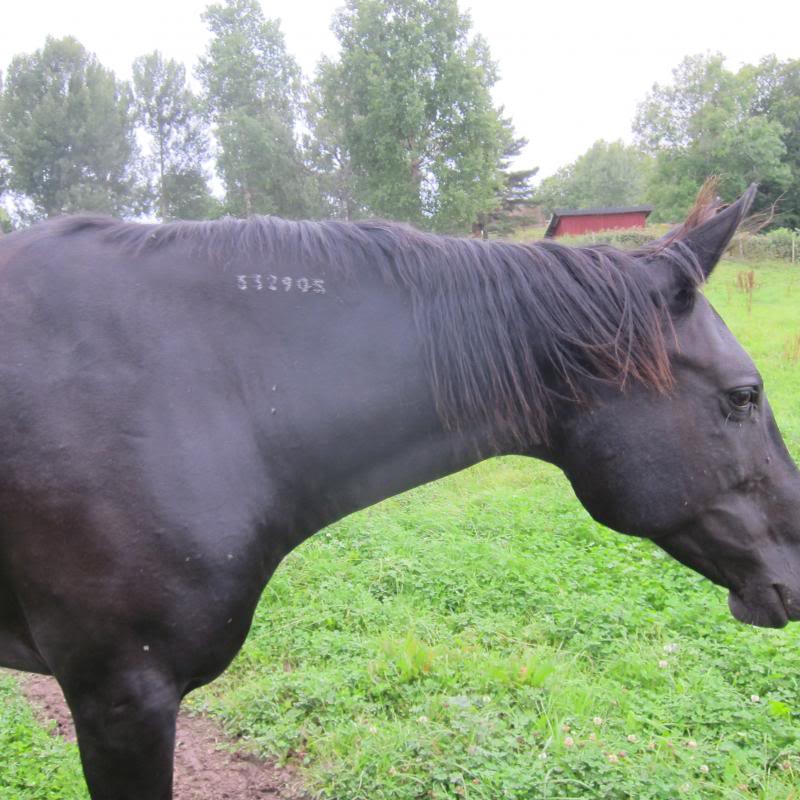 Calinkas mane right now – and it has been growing – seems as it is the rug during winter that does the most demage.
Calinkas man är dessutom den värsta – hon får ont i musklerna i halsen när det är kallt ut och går därför med halstäcke största delen av året. Och tja, så mycket man har hon inte kvar tyvärr (en gång var den vacker). Nu söker jag efter bra tips för att lösa detta.
Mane and rugs
The thing about rugs with a neck is that they just isn't the beauty treatment for the mane. My rugs usually don't give any rubbing, but the mane… Pepper might have a long mane, but the lower part has been much thinner thanks to the this summers fly rugs. But even the rugs during winter made damage to the mane. Braids seems to help a little, but when the horses scratches themselves (because of heat and insects bites) nothing seems to help. And I don't find it to be a good solution to keep them indoors while the insects are out just to keep the mane nice.
Calinkas mane is the worst – she get muscle ache when cold outside and therefore wears a neck cover most of the year. And well, she don't have much mane left (once it was pretty). So, I need good advices how to keep the manes nice with rugs.
http:///ullekalv.se/wp-content/uploads/2015/09/ullekalv_header_logo.png
0
0
Ingrid Amadori
http:///ullekalv.se/wp-content/uploads/2015/09/ullekalv_header_logo.png
Ingrid Amadori
2013-08-19 07:03:00
2013-08-19 07:03:00
Man och halstäcke