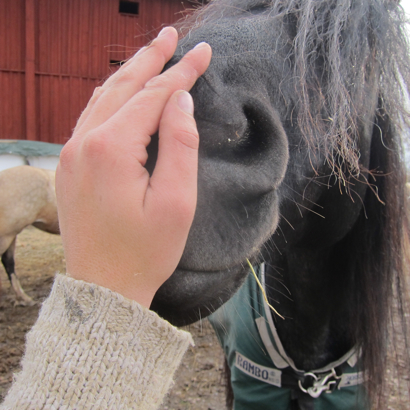 Got his nose in everything…
Idag satt jag upp på Pepper. Lite blåsigt idag med, men inte som sist. Tack och lov verkade han inte påverkad av olyckan senast utan skötte sig precis som han brukar. Vi hade därmed ett roligt dressyrpass och lite skoj på vägen runtomkring medan David sov i vagnen.
David sov så bra att jag till och med han rida Calinka lite i dressyr. Hon är stel och kantig igen och grinar rejält när man börjar – hon måste visa på hur mycket hennes kropp tar emot. Det blev i alla fall ett bra pass därmed (barbacka) och hon kom precis loss tills David vakande.
Sedan var jag klar med vad jag hade tänkt mig, bara lite småsaker kvar som ny hösilagebal, vatten, lite lätt raspning (enligt hovslagarens rekommendation) på några hovar, äpplestretch och borttagande av mängder med kardborrar i manar och svansar (Tea var dagens värsta).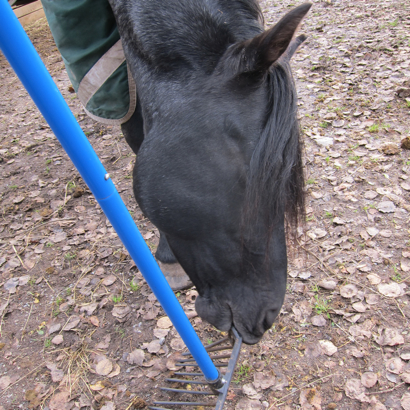 …Or his mouth..
Dessutom koll med viktbandet. Pepper har äntligen kommitupp på över 500 kg, den vikt jag hela tiden tänkt att han borde ha. Calinka var tillbakak på dryga 500 kg med (hon gick upp en vända i somras) och Percy var i ganska bra skick medan jag tycker Bunny väger för lite med omkring 430 kg. Jag vet inte hur nära sanningen viktbandet ligger, men jag har i alla fall sett skillnaden. Ska man tro på bandet väger fölisarna ungefär lika mycket, strax under 200 kg.
A good day
Today I got on Peppers back. It was a little windy today as well. Thankfully he didn't seem to be bothered about a rider, it was the first time since the accident. We had a lot of fun, doing some dressage and playing a little at the road around while David slept in stroller.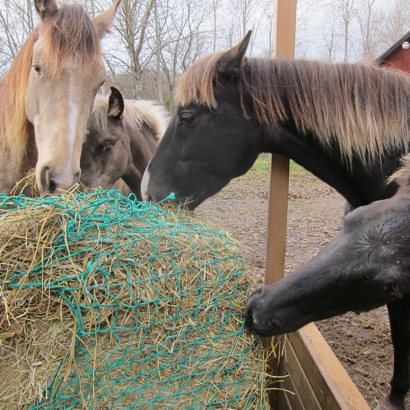 The horses spends a lot time eating here now…
David slept so much that I got time to do dressage with Calinka as well. She is stiff and not very happy in the beginning – she has to show how much her body complains. We got a good work and while I got her to loose up David woke up.
Then I were finished with what I had planned and just some small stuff left, like a new hay roll, water, an easy trim at the hoofs of some horses (according to the farriers recommendation), apple stretch and a lot of thistles to detangle from mane and tails.(Tea was today's worst).
I also checked the foals weight with the weight tape. Pepper has finally got the weight I always thought he should have, a little above 500 kg. Calinka has lost some weight since the summer and Percy is ok. Bunny instead a little to thin, only about 430 kg. I don't know how close the truth the weight tape is, but I can see the differences. If you believe the tape, both foals were just below 200 kg.
http:///ullekalv.se/wp-content/uploads/2015/09/ullekalv_header_logo.png
0
0
Ingrid Amadori
http:///ullekalv.se/wp-content/uploads/2015/09/ullekalv_header_logo.png
Ingrid Amadori
2013-10-28 15:14:00
2013-10-28 15:14:00
En bra dag