Gångarter – ridning versus tömkörning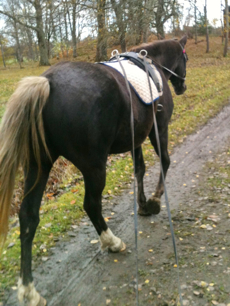 Idag tömkörde jag Bunny för första gången sedan innan hon fölade. Det blev också första gången som det blev lite mera jobb, en stund på banan och lite tempo och volter. Hon skötte sig bra och var inte lika orolig eller ropade efter Tea lika mycket som hon gjort tidigare. Det som roade mig mest var att hon töltade så fort jag bad henne öka. Hittills har hon valt trav under sadel för mig, men på töm är tydligen tölt första valet, i alla fall just nu. Kul att se var det i alla fall!
Det får mig att inse hur lite som behövs för att dessa hästar med "extra växlar" ska byta gångart.
Gait – riding versus long reining
Today I long reined Bunny for the first time since she had her foal. It was also the first time that she got to do something more than just walk along the road; this time she had to do some circles and the very first beginning of arena work. She behaved well and didn't call for Tea as much as she has done before. What most amused me were that when asked to speed up she chose gait. So far she has chosen trot under saddle for me, but for now she prefer gait while long reined. Fun!
It also makes me think about how small the differences seems to be to get those "extra geared" horses to shift gait.
http:///ullekalv.se/wp-content/uploads/2015/09/ullekalv_header_logo.png
0
0
Ingrid Amadori
http:///ullekalv.se/wp-content/uploads/2015/09/ullekalv_header_logo.png
Ingrid Amadori
2013-10-24 19:41:00
2013-10-24 19:41:00
Gångarter – ridning versus tömkörning