Pepper and Bunny didn't care more than this about all horses that came.In the front, Ulrika and her Thoroughbred, to the right Frida and Diva.
För ett drygt år fick jag höra talas om TREC. Det lät som om det skulle kunna vara något för mina hästar så jag gick med i dess svenska Facebook grupp och har läst på lite om grenen. Pga unga och dräktiga ston och min egen graviditet vart årets mål att vara med på en träning, utan häst. Jag insåg för ett tag sedan att året snart är slut och frågade om det skulle bli någon träning i närheten under hösten… Det slutade med en träning hemma hos mig! I lördags var det dags.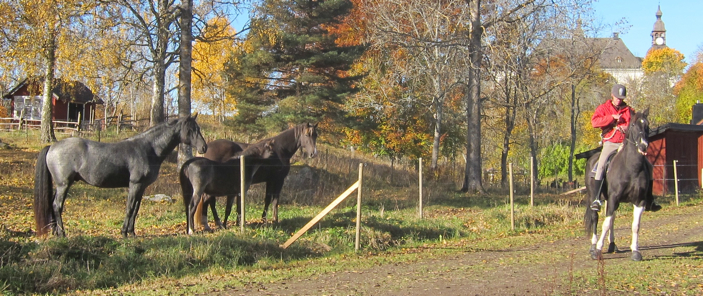 Calinka var självskriven att hon skulle vara med och sedan ville jag testa Rockisarna. Pga liten hungrig bebis lät jag bli att ta Pepper: första gången han skulle ut bland ett antal hästar verkade det inte idealt med den kombinationen. Jag vet ju inte hur han kommer att reagera på det. Percy var första valet då hon är riden lite mera. Tyvärr kunde Bunny inte vara med då hon inte såg helt ok ut igår, troligen pga den mugg hon precis ådragit sig.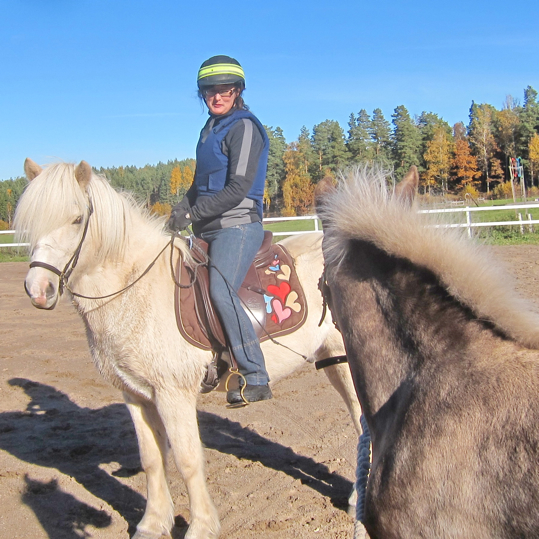 Camilla and her Icelandic horse. And Embla.
Nanette red Calinka och testade orienteringsfasen. Själv ledde jag Embla upp medan Helena tog Percy. David åkte med i bärsjalen. Embla fick följa med då alla mina andra hästar hade fått stå inne annars, att ta med Embla verkade vara den enklaste lösningen. Totalt var det tolv ekipage med och några människor på marken. Bland anant Sylvia som har de andra Rockisarna och Ann-Sofie som jag hade Calinka uppstallad hos tidigare.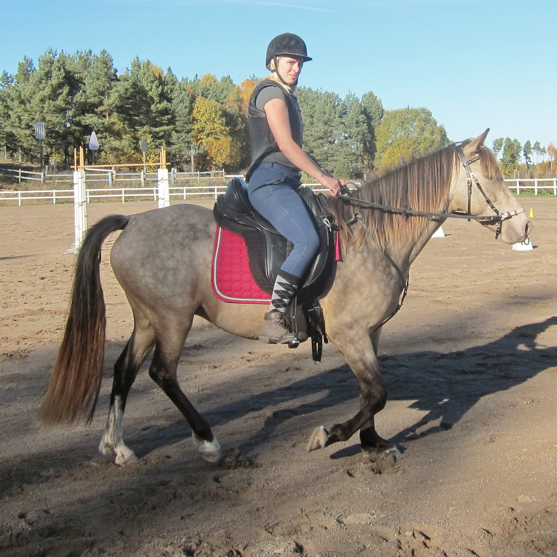 Percy and I.
Percy skötte sig utmärkt; hon fick hoppa en stock som första hinder – hon som aldrig hoppat med ryttare. Första gången stannade hon för att sedan tveksamt ta sig över, andra gången tog hon sig över. Vattnet missade vi, men skrittade igenom en gång, efter några andra på väg mot ridbanan. Där testars labyrint (inga problem, hur nu det var möjligt med en häst som tveksamt kan sidförande skänkel). Sedan blev det ryggning mellan bommar. Det gick sådär, men Calinka hade större problem, hon avskyr att backa mellan bommar och ska bara gå på dem. Percy är dessutom bara ryggad ett par gånger tidigare. Slalom, mellan bommar och låga grenar flöt på bra – vi tog det i skritt och tölt.
Avslutningen blev ett upp/nerhopp och där kom problemen. Percy trodde tydligen att hon behövde hoppas jättestort för att komma ner… Hon vart inte så villig och vi testade flera gånger när jag ledde henne. Tyvärr gick tränset sönder i detta så vi fick snabbt avbryta och ta på grimma och gav oss ganska snart efteråt hemmåt. Men först fick jag sitta upp på Calinka eftersom hon helt glömt bort att hon kunde hoppa upp och ner på en bank.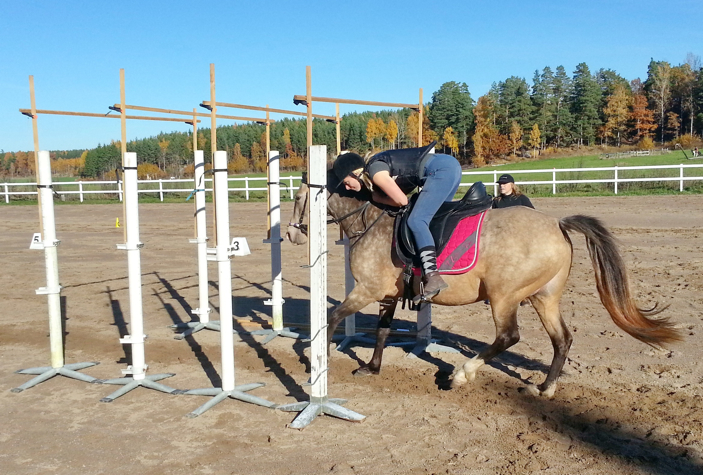 We got some space, but why not fold down?
I övrigt har jag lite dålig koll på hur det gick för Nanette och Calinka då vi var i olika grupper och jag mest såg dem på avstånd. Jag vet att orienteringen fick henne att stressa upp sig lite, hon var inte den vanliga, lugna Calinka. Oavsett såg Calinka nöjd ut i slutet av dagen. Embla skötte sig också bra, gnäggade bara lite efter mamma. Men så fick ju också Embla vara med mamma mesta tiden.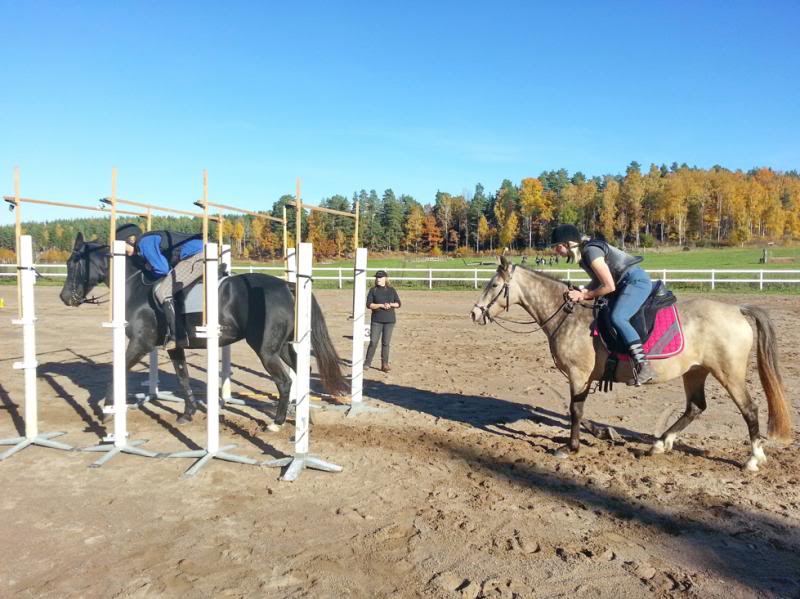 Calinka first, Percy following
Mål för nästa år? Vi får se, det är ännu inte beslutat; kanske att alla hästarna ska ha fått vara med på en träning? Eller att vi åker iväg någonstans på träning? Eller kanske en tävling? Jag tror jag avvkatar lite med att bestämma mig. Stona ska ha föl även nästa år så det är lite begränsande. Detta år lyckades jag med mer än vad jag föresatt mig.
Och ett stort TACK till alla som hjälpte till: instruktörer som talade om hur allting skulle göras, övriga deltagare och de som jag lyckades "leasa" ut mina saker till, baby, hund och bil. Det gjorde det möjligt för mig att träna Percy.
Foton från Nanette och Helena. Och nej, alla ryttare är tyvärr inte fångade på bild och jag har missa några hästars namn.
TREC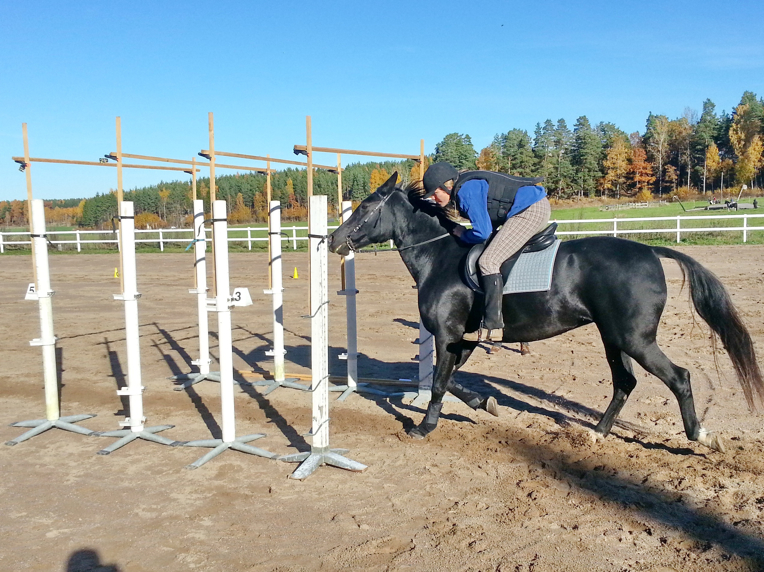 Nanette and Calinka
About a year ago I heard about TREC for the first time. It sounded as something that would suit my horses so I joined the Swedish Facebook group and read a little about the sport. Because of my own pregnancy and the age and pregnancy of my mares the goal for this year was to participate in one training – without horse. Not long ago I realized that the year is going to end soon and therefor I asked at the FB group if there would be any training in the neighborhood during the Autumn… It ended with a training at my place! This Saturday.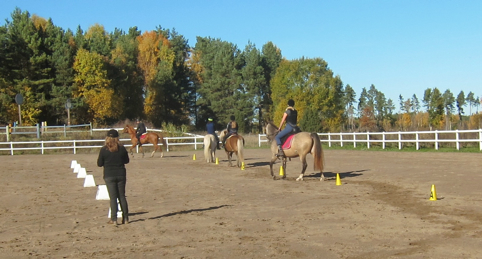 Slalom
As an old and rather well educated lady Calinka could participate and then I wanted to try the Rockies. Because of a hungry baby I didn't bring Pepper: first time around other horses I want to be able to focus solely on him as I don't know how he is going to react. Percy was my first choice tas I have spent more time on her back. If Bunny hadn't looked a little bit stiff/lame/something I would have brought her to, but she got to stay home.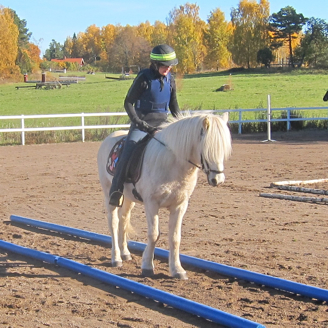 Camilla.
Nannette got Calinka and tried the orienting phase with her. I led Embla directly to the training area while my friend Helena brought Percy. David was carried at my stomach. I turned out to be a long day at the cross-country course that is a couple of kilometers away. I brought Embla as it seemed to be the easiest solution. If she had been home all my horses had to spent all day indoors.There were twelve horses totally (+ Embla) and some more people on the ground.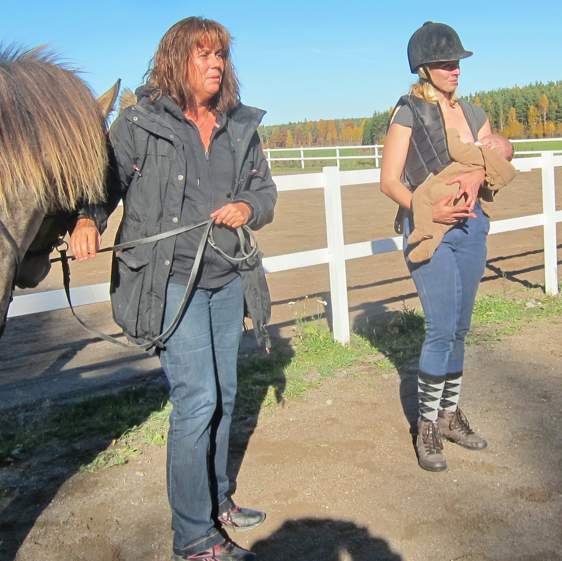 Felt as I feed David half of the time…
Percy behaved perfectly: she started of with jumping a log – she has never been jumped with a rider before. First time she stopped and took it from a stand still, but the next it worked a little better. We missed the water, but passed thru it on our way to the arena to try some other obstacle. No problems according to Percy – as she followed the others. Then we tried the labyrinth (no problems, strangely enough as she can't sideway aids very well). Then backing up between the pole. It went ok, but she as only been asked to back up at two training sessions before. And Calinka had bigger problemes (She hates to back up between poles and only walks at them). Slalom, under low branches and between poles was no problems and we did it in both walk and gait.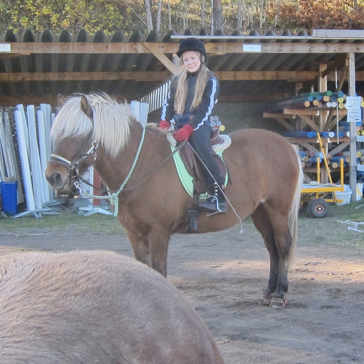 Amanda and her Icelandic hors
We finished with jumping up and down and Percy didn't like to get down. She thought she needed to make a huge jump to get down… We tried it some time with me leading her but she didn't like it any better. Then my bridle broke and we got to put the halter on and walked back home some time after that. But first I got on Calinka's back and persuade her to jump up as she seemed to have forgotten that she could.
All over I don't have the best idea how Calinka did, but I think it was ok. She got a bit worked up at the beginning. However she seemed content at the end of the day. Embla also did fine, neighing some for her mum as she watch by the side.
Goals for next year? I don't know yet: maybe that all horse should have tried a "real" training? That we travel somewhere for training? Or a competition? I wait some to deiced. That both mares are having babies next year is also a bit in the puzzle. At least this year I more than fulfilled my goal!
And a big THANK YOU for those that helped; the instructors, all participant and to all that I "leased" my "things", baby, dog and car. That made it possible for me to work Percy.
Photos from Nanette and Helena. Sadly not all horses and riders got caught and I missed some of the horses names.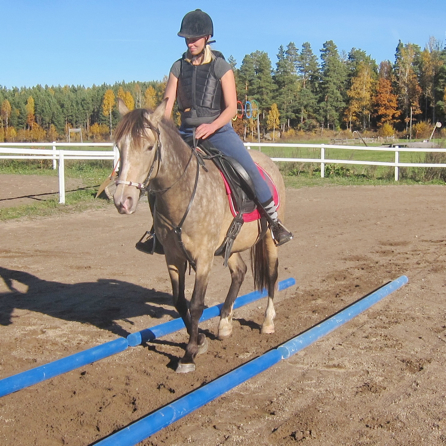 Backing up.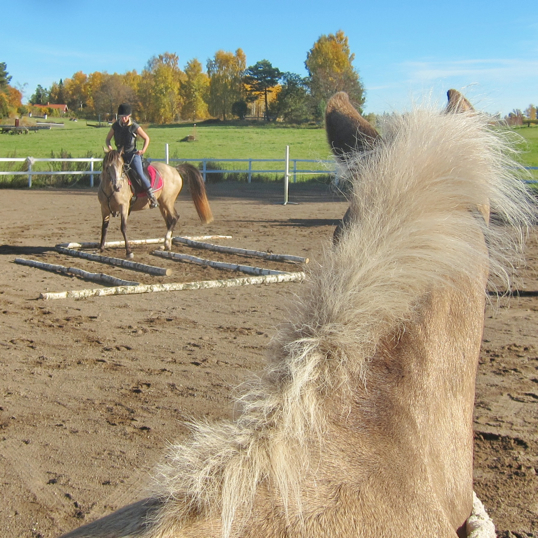 Embla watching mum.
The labyrinth.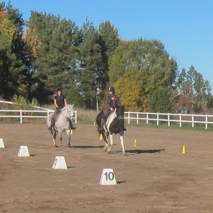 Sylvia and Sunshine and Natalie and camargue Vicomte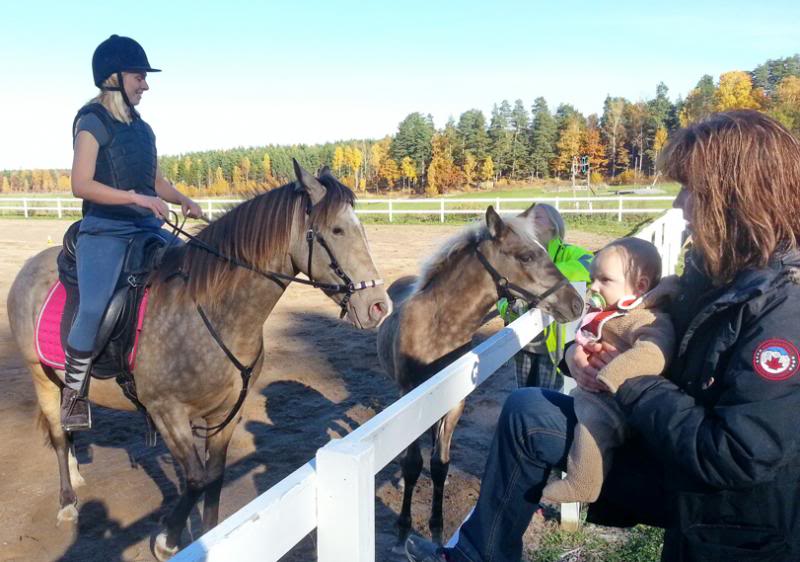 Embla and David – both about the same age – watching TREC.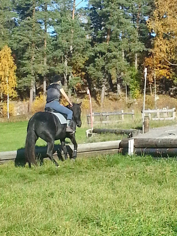 The jump that made me got on Calinkas back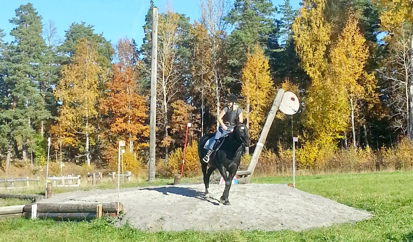 Me and Calinka again.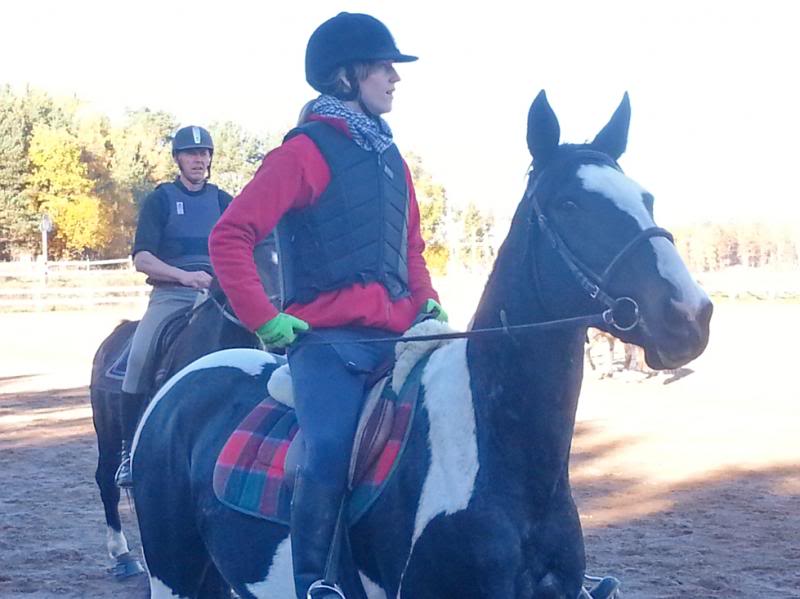 Frida and Diva in the front, Greger behind.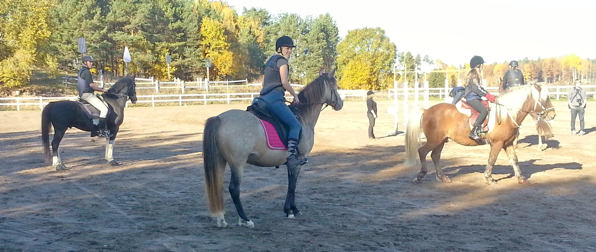 From left: Greger, Percy and I, Amanda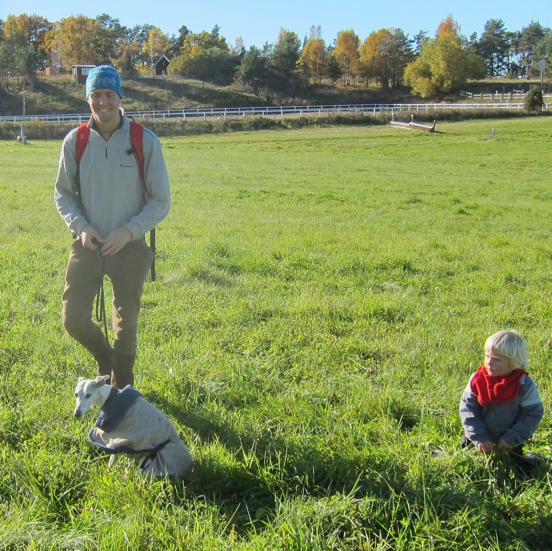 Nanettes husband Björn, their daugther Tora and Mika helping out form the ground.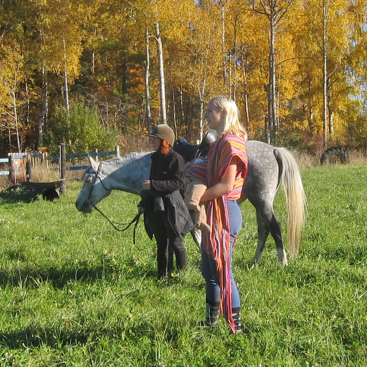 AnnSofie and arabian Minsta and me with David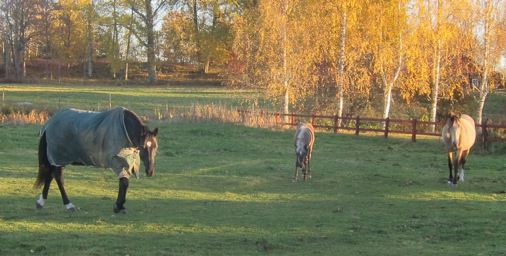 Back home, nice to relax.
http:///ullekalv.se/wp-content/uploads/2015/09/ullekalv_header_logo.png
0
0
Ingrid Amadori
http:///ullekalv.se/wp-content/uploads/2015/09/ullekalv_header_logo.png
Ingrid Amadori
2013-10-13 10:56:00
2013-10-13 10:56:00
TREC