3 timmar och 4 hästar jobbade. Jag är nöjd! Må vara att det inte blev så långa pass, men bra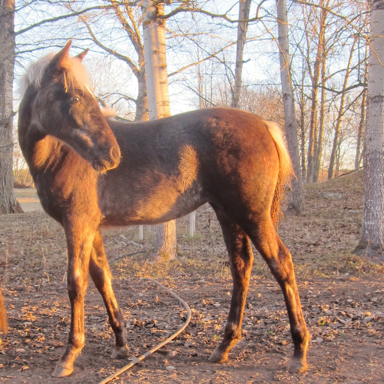 Embla posing.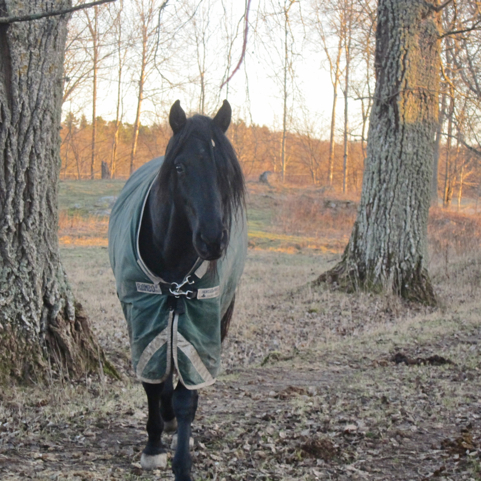 Pepper
sådana. Skulle jag lagt mer tid på något skulle det varit att mysa i stallet. Calinka fick ett kort dressyrpass; banan var hård och knagglig och hon var ute igår. Bunny fick även hon jobba på banan och visade sig förstå sidoförflyttning på volt utan att vi provat det tidigare. Kul! Sedan vaknade David, men de 10 minuterna tror jag var effektiva och lärorika för Bunny. David somnade om mot stallet så jag kunde fixa med mat och vatten. När han vaknat och fått lite mat blev det ett kort tömkörningspass av Percy (hon tröttnar lätt på banan) och lek med Pepper i hagen medan Embla fick vara utan mamma i hagen (mer om det i annat inlägg). En nöjd David i bärsjal så klart.
Nice day
3 hours and 4 horses worked. I am content! It wasn't very long working sessions, but good ones. I hadn't put more time even if I have had it, I should have spent it cuddling in the stable maybe. Calinka was worked shortly at dressage; the arena was hard and she worked yesterday as well. Bunny also got to work in the arena and learned to work in a circle, making it larger and smaller by crossing her legs/sidepass. We had not tried that before so it was nice that she did so good. Even if David woke up after 10 minutes I think this was a really good session for Bunny. David got back to sleep so I fixed food and water and then he had woken up again and got feed. The day ended with a short long rein session with Percy (she easily gets bored) and some play with Pepper in the field while Embla was turned out alone for the first time (more about that in another post). David was happy being carried around with me.
http:///ullekalv.se/wp-content/uploads/2015/09/ullekalv_header_logo.png
0
0
Ingrid Amadori
http:///ullekalv.se/wp-content/uploads/2015/09/ullekalv_header_logo.png
Ingrid Amadori
2013-12-02 19:56:00
2013-12-02 19:56:00
Härlig dag