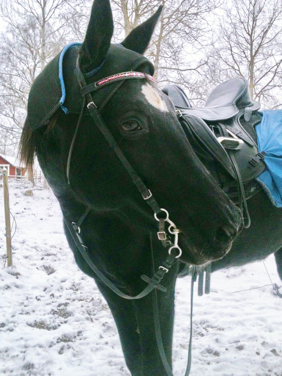 Idag var jag 2,5 timmar själv i stallet. Det måste vara det längsta sedan David föddes. Jag hade hoppats att kunna rida ut, men is ute och obroddad häst verkade vara en dålig kombination. I alla fall tog jag Calinka till ett närbeläget fält och red runt det. Calinka ville springa – fort – och jag insåg hur länge sedan det var jag gjorde något sådant – jag var väldigt mycket fegare än jag någonsin upplevt. Inte precis vad jag förväntat mig, särskilt inte på Calinka som är min gamla pålitliga häst. Calinka var inte heller i kanon form – efter ett galoppvarv flåsade hon bra (men nöjt). Vi får nog lägga oss i träning båda två, jag i modighetsträning och ridmuskler (de känns också av de också) och Calinka i kondis.
Jag hann även med Bunny och red en kort barbacka tur.
Out of shape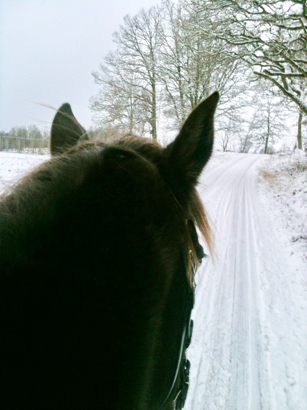 Today I got 2,5 hours in the stable, alone. It has to be the longest visit alone since David was born. I had hoped to trail ride but ice and no good shoes at the horse made me think twice. But I found a nearby field and took Calinka there. Calinka wanted to canter – fast – and I realized that it was a long time since I did that. I also realized that I wasn't totally comfortable about that. Much more of coward than I have ever been. Not what I expected, especially not with Calinka, my old reliable horse. Calinka wasn't in great shape either, after a lap in canter she took breath heavily (but happily). Guess both of us have to start training – I need more courage and muscles for riding (I feel them as well) and Calinka some more condition.
I also got time to take a short trip bareback with Bunny.
http:///ullekalv.se/wp-content/uploads/2015/09/ullekalv_header_logo.png
0
0
Ingrid Amadori
http:///ullekalv.se/wp-content/uploads/2015/09/ullekalv_header_logo.png
Ingrid Amadori
2013-12-08 23:07:00
2013-12-08 23:07:00
Ur form