Pepper har varit full av energi när Frida har ridit honom har jag fått höra. Igår provade de att hoppa och det ska ha gått bra. Första gången Pepper blev hoppad med ryttare på ryggen.
Jag hade helt rätt i att Calinka var full av energi även om hon i början av turen var lite tveksam. Men, som vanligt blev det full fart när vägarna medgav lite högre tempo. Kul nog orkade hon turen bättre än på länge, hennes ork verkar äntligen vara på rätt väg. Väl hemma blev det stretching, arnika på muskler som kommer att bli ömma och en stor filt att torka under innan hon släpptes ut.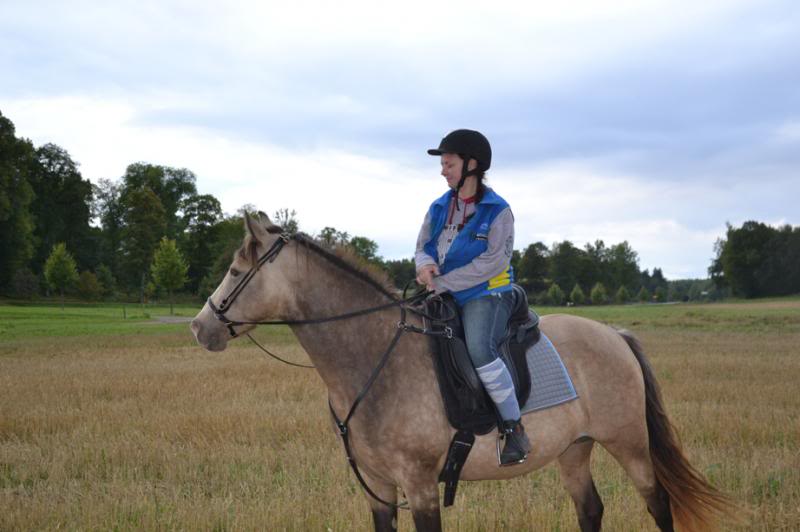 The bridle that Bunny lost – it should need a chinstrap to stay on better.
Medan Calinka torkade tog jag ut Tea på promenad. Vi tog med oss plast att slänga och sedan började vi hoppa över diken. Hon är så duktig och följer med bra, till och med när det blir lite tuffare. På väg tillbaka gick vi upp på ett antal träramper och det är inte heller några problem. Vilken duktig liten häst jag har! Som avslutning fick hon vara ute själv medan jag jobbade Percy på ridbanan.
Percy som igår verkat seg och ovillig till motion visade att så inte alls var fallet – oj vad hon ville springa! Jag trodde jag skulle stå på näsan i leran när hon drog iväg i galopp på ridbanan som bara är delvis instängslad. Nåja, inga problem och det blev därmed ett tuffare pass än vad jag hade räknat med. Jag är väldigt nöjd med den form hon har.
Eftersom tiden fanns testade jag även tömkörning med Bunny – även hon var lika pigg som Percy. Ingen vila för dem ännu alltså! Bunny hade samma utrustning som Percy, men när hon drog i galopp lyckades hon få av sig det bettlösa tränset och plötsligt hade jag en lös häst som till råga på allt stod i tränset. Om någon skadade sig, eller något gick sönder? Nejdå, hon är ju en Rocky. Jag lyckades hålla fast henne och lyfta på benen för att få ut huvudlaget, satte på det igen och fortsatte passet. Nästa gång blir det annat huvudlag på henne, det är då ett som är säkert.
Eftersom det verkade tråkigt att inte ägna Pepper en tanke borstade jag honom och tog in preseningen till honom. Jag kastade den på honom, klädde in honom i den, prasslade massor med den. Pepper reagerade inte alls. Calinka däremot, i boxen mitt emot såg till att flytta sig så långt ifrån oss som möjligt…
A lot of energy
Pepper has had a lot of energy lately when Frida has been working with him. Yesterday she tried to jump with him, first time he jumped with someone on his back. It went fine.
I was right about Calinka having a lot of energy, even if she was a bit reluctant at the beginning. But,a s soon as the roads became good for speed she wanted to go fast. For the first time in a long time she had as much power in her body as in her brain, otherwise her body hasn't really been up to what her mind wants. Back home she got some extra care, arnika on muscles that might turn soar, stretching and a big wool blanket.
While she dried up I brought Tea along to throw some plastic garbage. Then we played, jumping over ditches. She did great and followed easily even when it became a bit more difficult. Back home we passed some small wood "bridges", not any problem there either. She is such a good girl! To end with she had to stay alone in the pasture while I worked Percy.
Percy that yesterday seems tired and bored was a new horse today while I long reined her. I wondered if she might get me to fall when she canters with high speed in the arena that is only partly fenced and now full of mud. She didn't, but I worked her harder than I had planned. She works in a very nice frame.
As I had some time I did the same thing with Bunny. And once again I wondered if I would fall in the mud. They don't seem to be ready to take maternity leave just yet. Bunny had the same equipment as Percy had, but when she set of in canter she lost the bitless bridle and got caught in it. If someone got hurt or something broke? No, she is a Rocky. I manged to keep her calm while lifting her feet and de-tangled her from the bridle before I got it back on her and continued. But, next time I am going to use something else on her.
As I felt sad that I hadn't spent any time with Pepper I brushed him and brought the tarp in to him . i throw it at him, dressed him up in it and made a lot of noise. He couldn't care less. Calinka on the other hand, tried to get as far away from us as possible in her stall…
http:///ullekalv.se/wp-content/uploads/2015/09/ullekalv_header_logo.png
0
0
Ingrid Amadori
http:///ullekalv.se/wp-content/uploads/2015/09/ullekalv_header_logo.png
Ingrid Amadori
2014-02-23 21:41:00
2014-02-23 21:41:00
Energin flödar