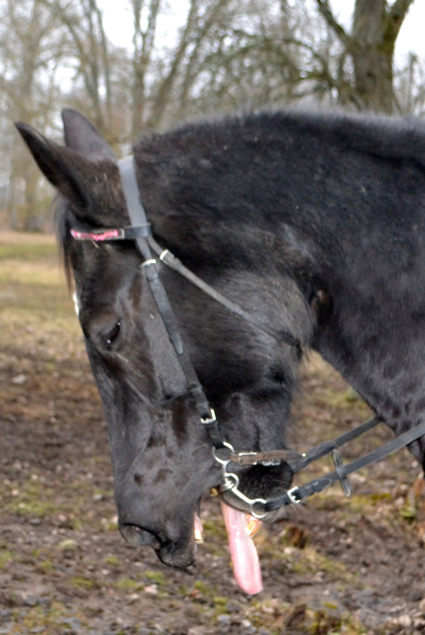 And no, no pulling at the reins her either even if it might look a little bit like it.
När Calinka sätter igång på dressyrbanan brukar hon gäspa stor och sträcka ut tungan. Man ser hur hon stretchar igenom kroppen och tydligen behöver tungan väldigt mycket stretch… (Det sker dessutom ofta på långa tyglar, oavsett bett och försvinner när hon har värmt upp.) Någon bild har jag inte lyckats få eftersom jag oftast sitter på hästryggen, men nyligen passade hon på att visa mig hur det ser ut från marken medan hon stod still och väntade på att ge sig ut på ridtur med annan ryttare.
Calinka tounge
When Calinka starts to work in dressage she often yawns and strech her tounge. I feel how she streches all her body and apperntly her tounge need a lot of streching… (Often the reins are long, the type of bit doens't mater and it disaperas when she has warmed up and streched her body). Usually I don't get any picture as I am on her back but this time she did it when I had the camera and she waited to get on a trail ride with another rider so I was on the ground.
http:///ullekalv.se/wp-content/uploads/2015/09/ullekalv_header_logo.png
0
0
Ingrid Amadori
http:///ullekalv.se/wp-content/uploads/2015/09/ullekalv_header_logo.png
Ingrid Amadori
2014-03-14 18:56:00
2014-03-14 18:56:00
Calinkas tunga