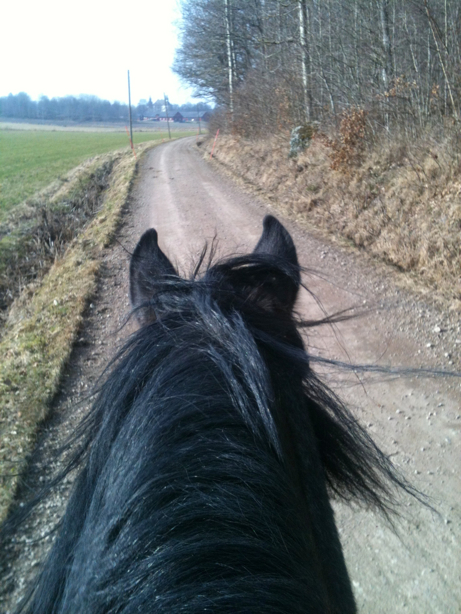 Äntligen en lugn söndag tänkte jag, fint väder var det också. Massor med tid att pyssla och leka lite på hemma plan med hästarna. Kanske prova att träna trick, ta fram presenningen eller leka med vagnen… Ta ut Tea på en tur som handhäst till Calinka.
Fast först skulle jag åter en gång kolla på Pepper. Han började vara hovöm efter förra helgens ridning och hade inte förbättras över veckan. Jag har kollat honom och Frida har kollat, men ingen har hittat något. Under lördagen satte jag ner hoven i en hink med jodopax om det kunde hjälpa. (Han stod snällt själv medan jag borstade andra hästar). När jag då kollade ytterligare en gång på söndagen upptäckte jag att det satt fast en lite sten och fick bort den, det fanns flera stenar och en hålvägg visade sig… Det känns både bra och dåligt – troligen är det anledningen till varför han varit så hovöm, men nu har jag fått problem med hovar på tre av sex hästar i samma hagar med hålväggar och börjar misstänka att det på något sätt "finns i marken" och att leran det senaste halvåret inte varit någon hälsokur. Pepper är ju annars hästen med hovkvaliten som hovslagaren brukar berömma….
Eftersom stenarna var borta tog jag ut Pepper på en tur, men tyvärr kom nya stenar direkt så han blev lika öm. Därmot fungerade han perfekt på gräs så vi jobbade lite med dressyren. Allt pyssel med Pepper gjorde däremot att det inte alls blev den tid för annat som jag hade tänkt, det blev bara en krot tur med Calinka och Tea och övriga hann jag inte alls med.
Peppers hoofs
Finally a slow Sunday I thought, and a nice weather. A lot of time to cuddle with the horses. Time to care for the horses and play at home. Maybe try some trick training, bring the tarp out and play with the wagon… And pony Tea with Calinka.
But first I planned to check on Pepper. He had been tender in his front hoofs after last weekends trail rides and hadn't improved during the week. I had looked at him and Frida had looked at him, but we couldn't find anything. During Saturday I put the hoof in a bucket with antibacterial solution to see if that would help.(He stood nicely while I brushed the other horses). When I looked once more during Sunday I found a small, stone and when I rid of that I found more. It turned out to be a pretty big hole… It felt both good and bad – probably that is the reason why Pepper has been tender, but now I have had hood issues with 3 out of 6 horses in 6 months. I start to wonder if it is something in the ground, especially as Pepper has the kind of hoofs that the farrier praise…
As the stones were gone I tried if Pepper wanted to get out and have some fun. Sadly, new stones got into the hole and he only wanted to work at grass. So, we went back home and did some dressage. All work with Pepper made my time to fly away and I hardly had time to pony Tea.
http:///ullekalv.se/wp-content/uploads/2015/09/ullekalv_header_logo.png
0
0
Ingrid Amadori
http:///ullekalv.se/wp-content/uploads/2015/09/ullekalv_header_logo.png
Ingrid Amadori
2014-03-10 21:46:00
2014-03-10 21:46:00
Peppers fötter