Idag frågade en jobbkamrat hur mycket jag hann rida egentligen. Det här är vad jag borde ha svarat:
En gång i tiden red jag ungefär en timme, sex dagar i veckan, med lite tur blev det mer på lov och helgerna. När jag skaffade egen häst och jobbade eller pluggade blev tiden per pass något kortare och ibland smög sig en extra vilodag in för att hinna med. Största förändringen var nog ändå att det inte fanns lika bra ridvägar så att det blev mycket skritt istället för att ha varit hårdare arbetspass.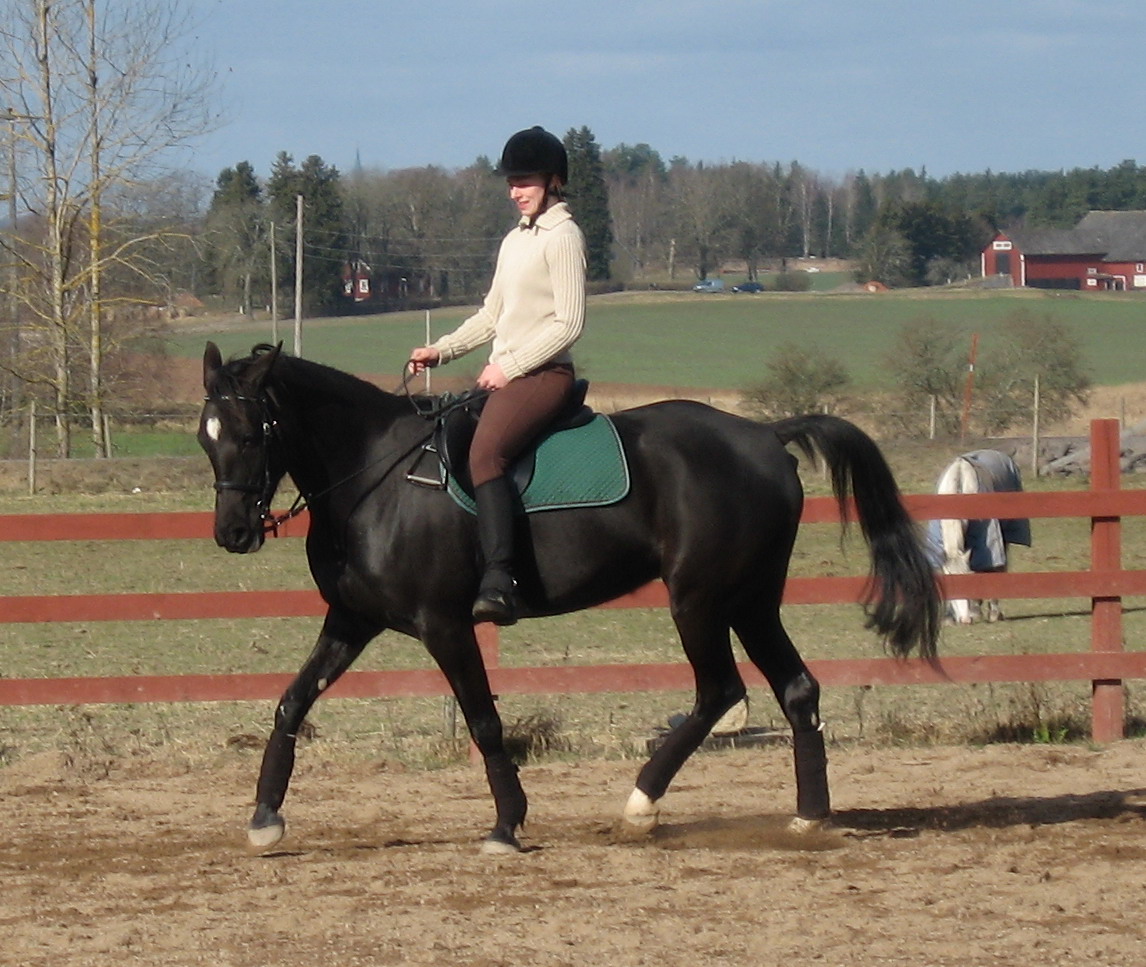 Sedan föddes Isac och ridningen minskade än mer, utan barnvakt är det svårt att jobba häst. Dessutom fanns få rundor att rida där vi då var uppstallade – antingen blev det väldigt långa, väldigt lugna eller en kort och snabb. Så, när Isac äntligen var lite större skaffade jag Rockisarna och det innebar än mer jobb med att få iordning till dem, att fixa, rida in unghäst, jag allt möjligt. Konstigt nog sjönk ridtiden och Calinkas vilodagar blev allt fler… Första året med Rockairna gick till historien som det år då jag haft minst tid i stallet, Isac sjuk, jag sjuk, Kristian bortrest (många gånger), jag sjuk länge igen, Isac sjuk… När och hur skulle jag kunnat sitta på hästryggen? Eller jo, när det äntligen började komma igång på hösten igen blev Pepper dålig och var inte ridbar och sedan blev jag gravid…
Summa sumarium: Min ridtid verkar bara sjunka, trots att antalet hästar ökat. Även när jag väl vill rida passar det sällan, om inte annat så är hästarna inte i form (de har föl/är dräktiga/ sträcker sig/är inte i form/isgata utomhus… även den listan verkar oändlig).
Nåja, en dag blir det nog mer tid och bättre flyt. Just nu roar det mig mest att jag rider mycket mindre än när jag hade en häst och medryttare… Å andra sidan lägger jag mer tid på tömkörning och avsuttet arbete med hästarna. Särskilt sådant där man kan ha med barnen.
Och, idag hann jag faktikst med flera minuters dressyr på Calinka!
Horse back time
Today a friend at work asked how much time I rode. This is what I should have answered:
Once I rode about an hour a day, six days a week, and with some luck even more during holidays and weekends.When I got my own horse and worked and studied each work-shift often got a little shorter and sometime the horse got an extra day of. The biggest changes were probably the lack of good trails and that walk became the most used gait instead of trot and canter as before.
Then I got Isac and I got even less time with my horse – without a babysitter it is hard to ride. Once again I got problems with the trails, they were either long and good (but I hadn't the time), mostly made for walking and one (too) short and good. When Isac got a little older I got the Rockies and that turned into even more days of for Calinka. We had to get the place in order before the horses arrived, then start Percy, and a lot of other small stuff. The time at horse back become even less. The year the Rockies arrived turned into the year that I had the least time to spend in the stable ever. Isac was ill, I were ill, Kristian got away with work (many times), I got ill for a long time (again), Isac got ill… When should I work the horses? When everything seemed to get back to normal Pepper wasn't ok and then I got pregnant…
Conclusion: My time at horseback only seems to get less and less, even if the amount of horses has increased. When I finally have time the horses are not fit (they have foal/are pregnant/injure them self/is out of shape/ it is so icy that it is hard to walk… even that list seems to be endless).
Well, one day it probably becomes more time and better timing. Right now I have to see the fun in that I spend much less time at horseback than when I had one horse and someone that worked her once or twice each week… On the other hand I have been long reining much more and tried a lot of thing from the ground, especially things that allows me to bring children around.
And today I actually got to do dressage with Calinka!
http:///ullekalv.se/wp-content/uploads/2015/09/ullekalv_header_logo.png
0
0
Ingrid Amadori
http:///ullekalv.se/wp-content/uploads/2015/09/ullekalv_header_logo.png
Ingrid Amadori
2014-04-02 20:22:00
2014-04-02 20:22:00
Tid på hästryggen