Tårtor, tidsbrist, flughuvor och Falsterboförberedelser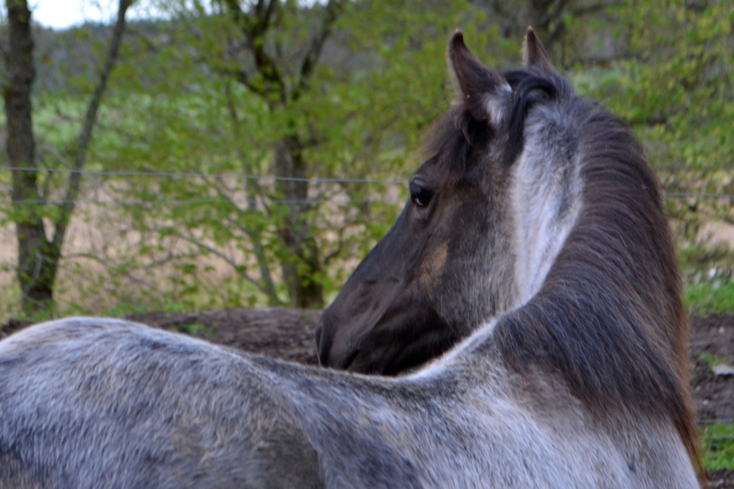 Old picture of Tea that got forgotten.
Återigen flyger tiden fram trots att det känns som om jag inget får gjort. Idag har jag äntligen lyckats motionera Percy, Pepper och Calinka, men det var ett tag sedan sist. Jag vet egentligen inte vad som upptar min tid, men jag misstänker att två födelsedagar och midsommar kan vara del i det hela. Att jag däremellan jagat saker inför Falsterbo resan och fått kalla på veterinären eftersom Percy plötsligt blev väldigt halt en dag har inte hjälpt. Nåja, vi har inte hittat något, så nu blir det fortsatt träning för henne. Tyvärr innebar detta ett upphåll i träningen som vi så väl behöver.
Hästarnas flughuvor försvinner med vindens hastighet och en dag när jag red Calinka runt i betet hon går i hittade jag 5 flughuvor – men aldrig den jag sökte… Just nu är det bara två huvor som är borta, men frågan är om jag någonsin hittar dem.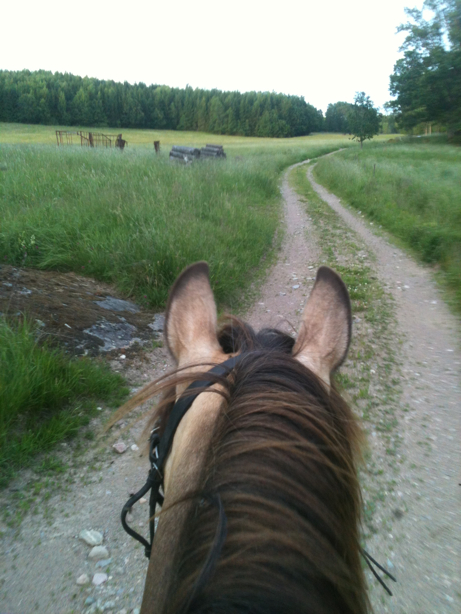 Trying new roads with Percy
Nu är sista tårtan uppäten, på Davids 1 års dag, så kanske, kanske kan jag börja komma igång igen. Fast, jag måste nog ägna tid åt att trimma mer kring staketen och Bunny ska ultraljudas (Pepper betäckte henne för ett tag sedan) och…
Mira växer i alla fall och verkar trivas väldigt bra med sin nya kompis.
Cakes, lack of time, fly masks and Falsterbo preparations
Once more time flies and it feels as nothing gets done. Today have I finally managed to work Pepper, Percy and Calinka. I really don't know why that takes that much time, but I guess two birthdays and midsummer can be a part of it. Between that I have been searching for things for Falsterbo and called for the vet as Percy suddenly got very lame. Still, we couldn't find a reason and she was fine the day. It gave us a break in the so much needed training for Falsterbo, but right now we are back on track again.
The horses fly masks disappears all the time and one day when I rode Calinka in the pasture I found 5 fly masks – but not the one I were looking for… Right now I only miss two hoods, but I doubt that I ever find those two.
Now, when the finally cake is eaten at Davids first birthday, maybe, maybe I can start to get things to work again. But, I should be working around the fences and Bunny is getting ultra-sounded (as Pepper covered some time ago) soon and…
Mira is growing and seems to enjoy her new friend a lot.
http:///ullekalv.se/wp-content/uploads/2015/09/ullekalv_header_logo.png
0
0
Ingrid Amadori
http:///ullekalv.se/wp-content/uploads/2015/09/ullekalv_header_logo.png
Ingrid Amadori
2014-06-26 19:05:00
2014-06-26 19:05:00
Tårtor, tidsbrist, flughuvor och Falsterboförberedelser