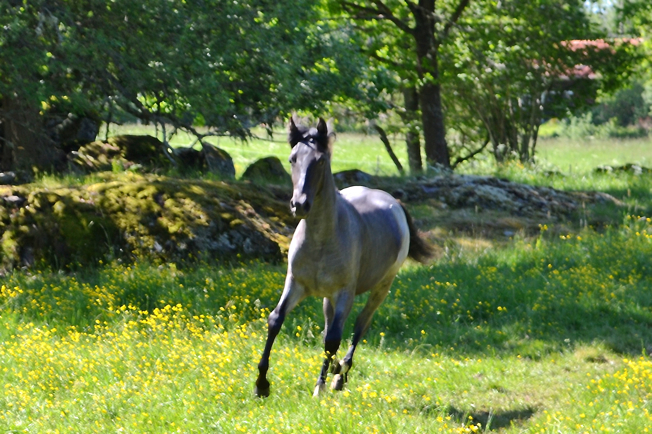 Tea
Idag blev en lång och jobbig dag för Tea – för första gången sover hon "borta" – och alldeles själv. Eller, i alla fall är ingen av henne gamla kompisar med. Idag har vi nämligen gått till ett sommarbete som ligger 7-8 kilometer hemifrån. Först promenerade Tea, Mika och jag alldeles sjäva till Sylvia. Tea skötte sig jättebra, men var lite nervös. Så långt bort har vi aldrig gått tidigare. Bilarna hon såg på långt avstånd och for fram så fort gillade hon inte. Däremot gick det bra när de passerade oss.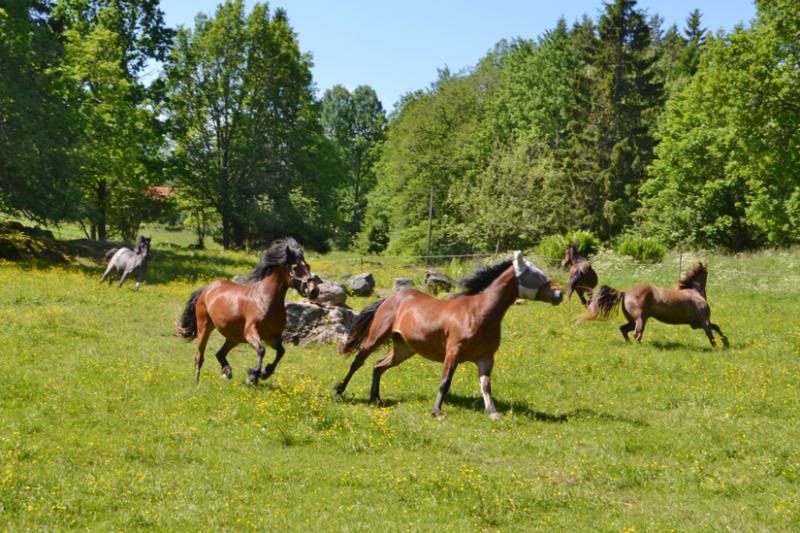 All 5 horses
Sedan vilade vi lite hos Syliva innan det var dags för Faegan (4 år Kentucky Mountain valack) och
Qarousell
(1 årig quartervalack) att följa med ytterligare 3 kilometer. I hagen möttes vi av 2 nordsvenskatravar ungston (2 och 3 år gamla). Det blev full rulle på hästarna, även om Tea tog det lugnt väldigt snabbt och tittade på när de andra sprang. Hon var nog helt färdig av alla nya saker – nya hästar, lång väg, bilar, hus och ny hage.
Enda probelmet är att hagen är så fylld med gräs att hästarna riskerar att bli för tjocka. Tea får i alla fall möjligheten att leka med fler unga hästar – säkert kul omväxling mot damerna hemma.
Tea at summer vacation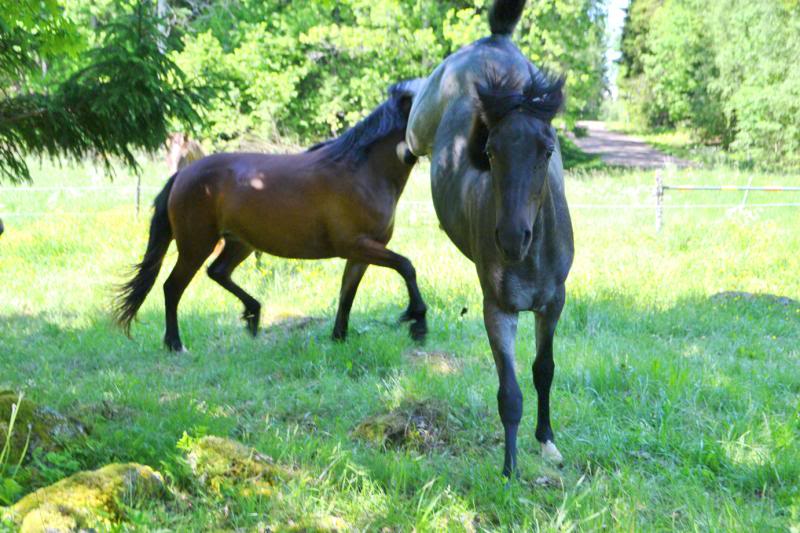 Tea
Today was a long and hard day for Tea. First time she sleeps over and she is all "alone". Or, at least none of her old friends is there. Today we walked to her summer pasture 7-8 kilometers away from home. First Tea, Mika and I walked to Sylvia. Tea did great but got a little nervous. She had never been that far away from home. The cars that she saw far away was very strange and a little scary. Luckily she did great with car that passed by.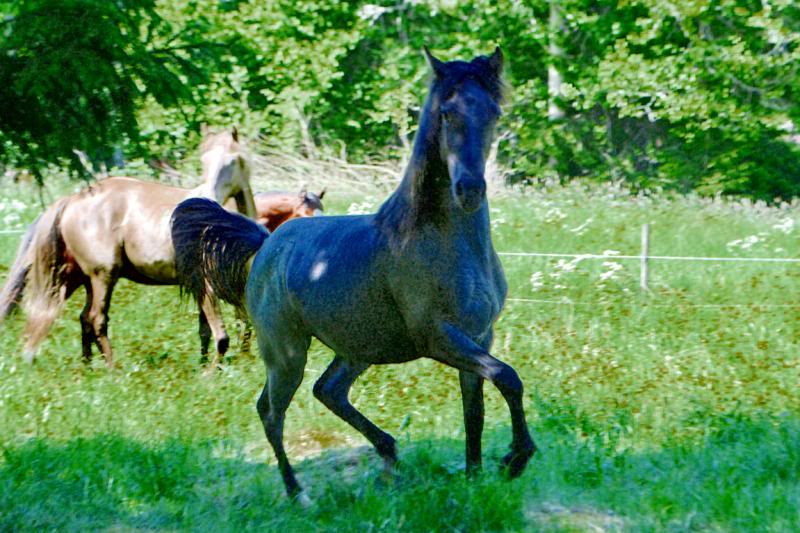 Tea
We rested for a while at Sylvia before we brought Faegan (4 year old KMSHA gelding) and
Qarousell
(1 year old quarter gelding) with us to continue 3 more kilometers. We were greeted by two North Swedish trotter females (2 and 3 years). The horses had a lot of fun, running around even if Tea stopped rather quickly. Probably she was rather tired by all new things, a long walk with houses, cars and other stuff, new friends and a new pasture.
The only problem is that the grass is to nutritious. The horses might get to fat. Anyway, Tea get a chance to play with other young horses – a nice difference from her normal home.
http:///ullekalv.se/wp-content/uploads/2015/09/ullekalv_header_logo.png
0
0
Ingrid Amadori
http:///ullekalv.se/wp-content/uploads/2015/09/ullekalv_header_logo.png
Ingrid Amadori
2014-06-08 19:26:00
2014-06-08 19:26:00
Tea på sommarlov