Falsterbo – sammanfattning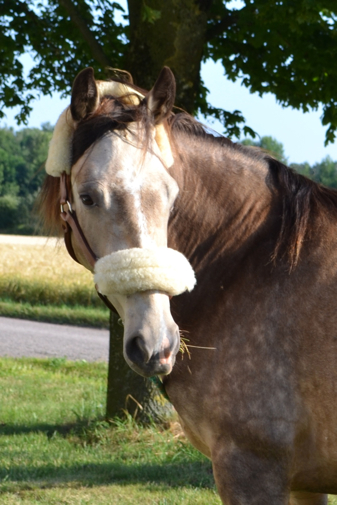 Percy in the morning at the stable where she stayed over night.
Igår blev en lång dag, men nu är jag hemma, uppackad och börjar komma iordning… Så här kommer en redogörelse för min och Fridas vistelse!
Första dagen hamnade vi i långa köer på nerväg, men de som kom efter oss missade nästan uppvisningen på grund av dem. Inte var det kul att stå i kö när det var 30 grader varmt ute med tanken på hur varmt det måste ha blivit för Percy.
Percy skötte sig bra på uppvisningen av töltande hästraser även om det var varmt. Bara ett par timmar efter att vi ankommit Falsterbo och trots att hon inte varit inne på banan tidigare. Troligen var där 2-300 personer som kollade, trots att vi var på en banan som låg längst bort och ny för året. Det hon ogillade mest var applåderna som fick henne att tappa gångart. På kvällen provade Frida att rida henne på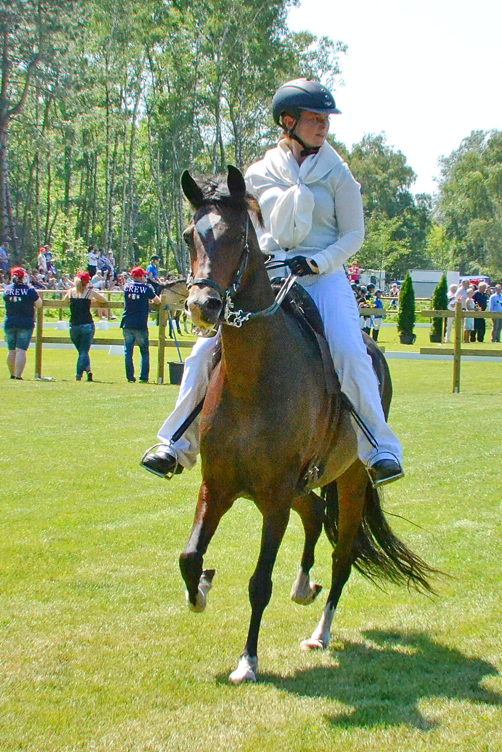 banan – det är ju få förunnat att få rida på Falsterbo. När hästarna inte rids står de flesta på box, men det fanns ett område där man kunde beta dem även om få utnyttjade det. Jag vet eftersom vi spenderade flera timmar där varje dag för att Percy inte skulle få lite mindre förändring från hur hon haft det ett par dagar tidigare när hon gått på bete dygnet runt.
Torsdagen var lugn för oss – inget på schemat, men det kom att vara två internationella Paso Peruanotävlingar – de första i sitt slag. En i tregång och en i tölt. Istället betade vi Percy, gick på mässan och kände in oss. På kvällen skulle vi tränat på tävlingsbanan, men något hade gått fel så vi kunde inte vara där utan kom att rida på parkeringen eftersom det inte fanns någon plats vi kunde vara på.
Gårdagen började med att jag betade Percy medan Frida mockade ur boxen för att spara tid till senare. Klockan 11 var det den första internationella tävlingen för töltande hästar i Sverige (dvs. för andra raser än islandshästar). Vår klass fanns med i programmet tillsammans med alla andra. Totalt deltog 7 hästar, 2 paso peruano, 2 saddelbred, en töltande travare, en Kentucky Mountain Horse och så jag och Percy. Domare var Walter Feldmann. Han är bland annat skapare till rasen
Aegidienberger och har deltagit i Tyska landslaget för Islandshäst.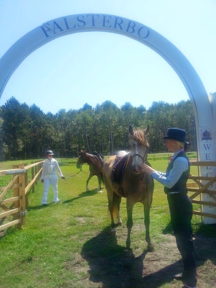 Before we did our first show. I only wore the hat for the picture.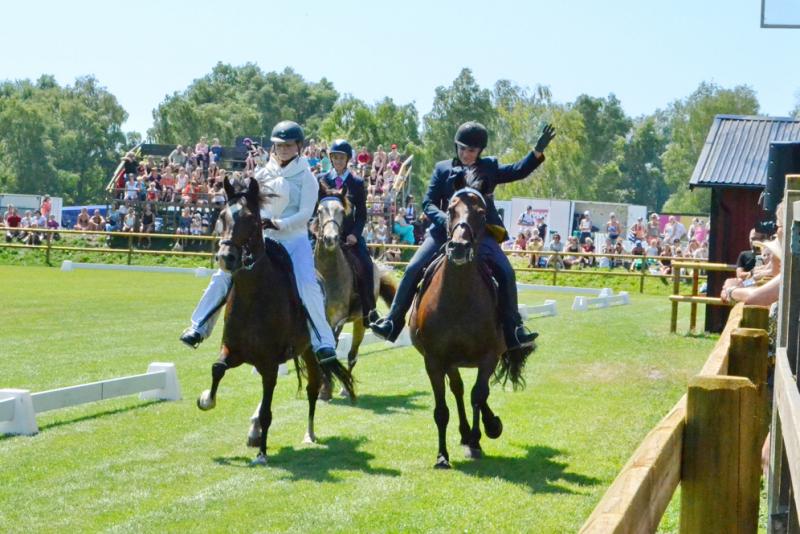 The first show – Peruvian Paso Ameli and Marie Wretfors and gaited Standardbred Kaiser and Sarah Isaksson. Percy and I in the backg
Nu fick Percy för sig att hela området med högtalare och publik var lite konstigt vilket gjorde henne lite ovillig att passera och att hon tappade gångarten. Kvällen innan hade hon varit fantastisk… Nåja, vissa stunder fick vi till det och var mycket bättre än onsdagens uppvisning. Till min förvåning kom vi inte sist utan på 5:e plats. Bra jobbat Percy! Vann gjorde en paso peruano hingst som dessutom vunnit båda tävlingarna föregående dag.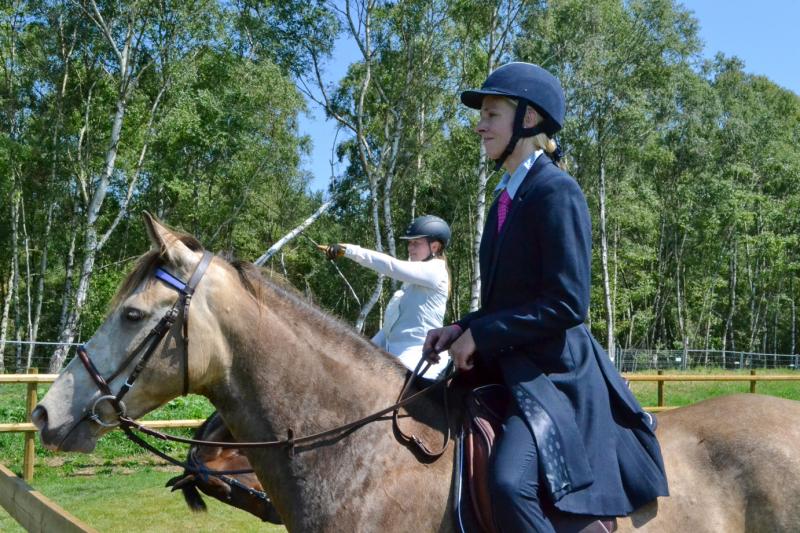 Marie and I discuss something.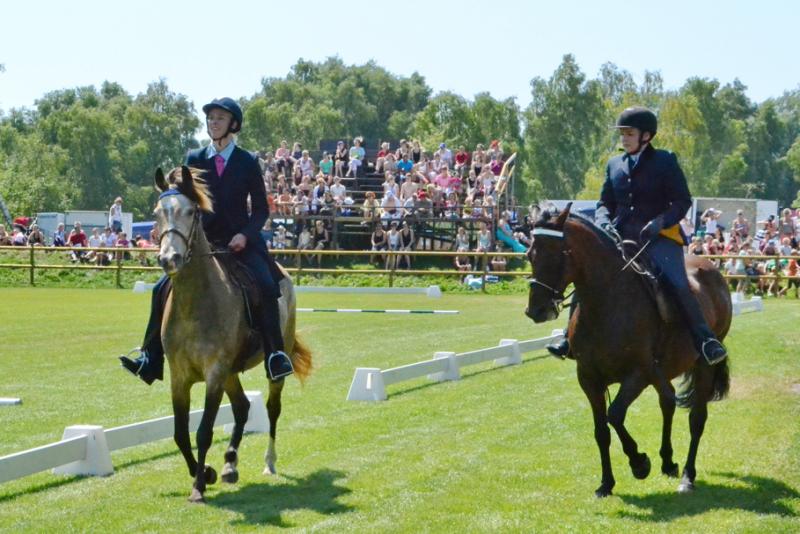 Gaited Standardbred Kaiser and Sarah Isaksson and Percy and I.
Det blev en snabb tur tillbaka mot stallet (då vi mötte ett antal svenska kända ryttare) och avspolning av häst för att mindre än en timme senare sadla på igen och ge sig tillbaka till arenan. Nu skulle Walter Feldmann hålla i en clinic. Först red alla deltagande ryttare ett par varv runt och sedan red Walter varje häst och kommenterade hur de gick. Percy skötte sig bra trots att hon var själv på arenan och för ovanlighetens skull gick hon i passgång mest.
Väl klara blev det full fart hemmåt, Frida plockade ihop materialet i den monter vi haft vid banan medan jag började göra iordning Percy och byta om. På rekordtid var vi lastade och på hemväg (14.40 – var vi först 🙂 ?). Trots att vi bara stannade en gång för att tanka och byta förare var klockan tjugo i nio innan vi kunde lasta ur Percy igen.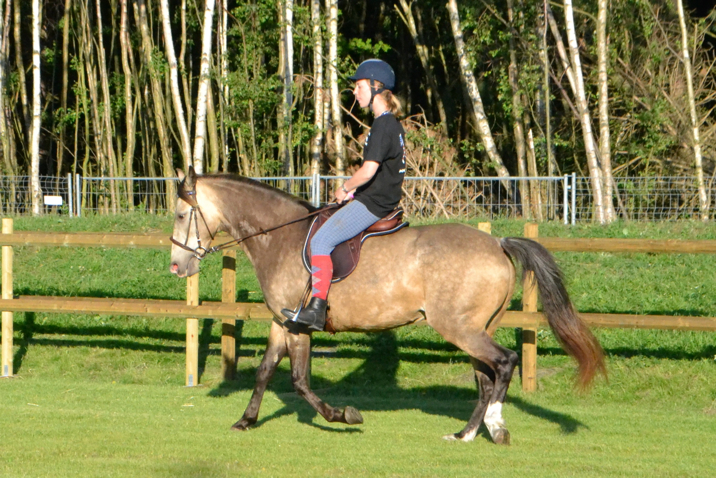 Frida riding at Falsterbo.
Percy verkade nöjd över att komma hem och Pepper var ännu nöjdare, han skrek och hoppade av glädje. Mellan förmiddagens tävling och eftermiddagens clinic märkte jag att Percy började titta på andra hästar på ett nytt sätt. Jag trodde hon var på gång och skulle brunsta. Däremot visade hon inga andra tecken. Väl hemma visade det sig stämma – hon stod för Pepper som inte var sen på att betäcka henne bar några minuter efter att hon släpts in i hagen…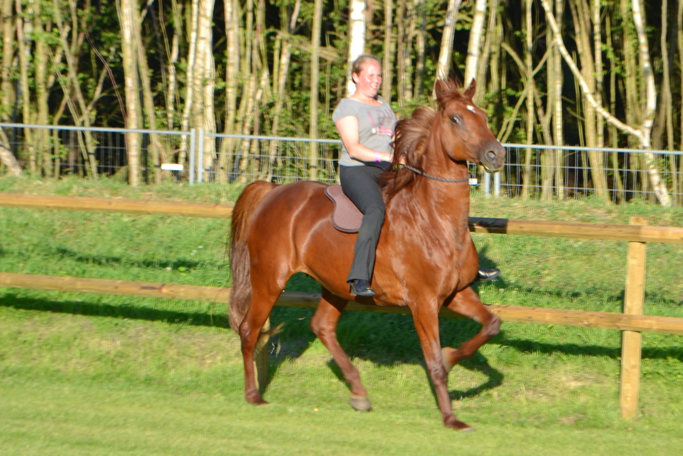 Wednesday evening training. Therese Larsson took of the saddle and bridle from Saddlebred Dolly and showed that she gaited well anyway. I hope to see them like this more times!
Jag är så nöjd mer hur Percy tog den här resan – hon var alltid lätt att ha att göra med. Att överhuvudtaget genomföra denna resa utan några problem när vi aldrig har åkt iväg någonstans, aldrig tagit en ridlektion tillsammans och ingen av oss någonsin har deltagit i en riktigt tävling tidigare… En äkta mountain häst!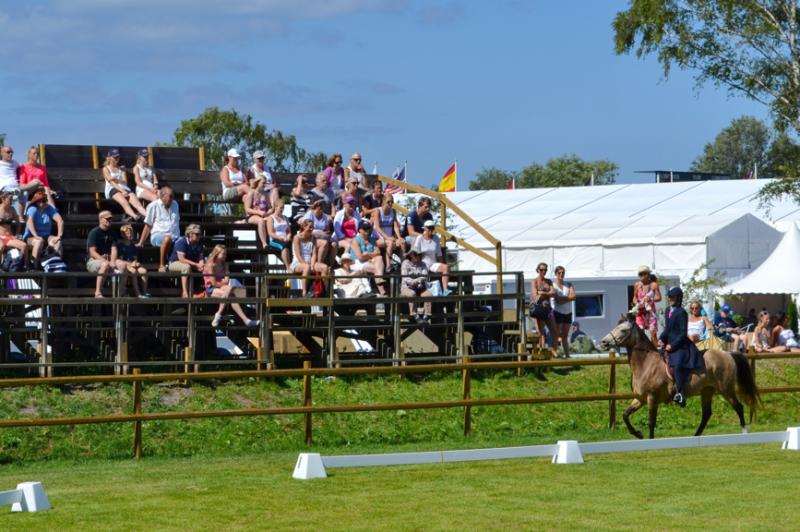 Competition time – we have some visitors!
Falsterbo – all about it
Yesterday was a long day, but now I am home, have unpacked and start to get back to normal.. So, here comes the story about Frida's and my trip!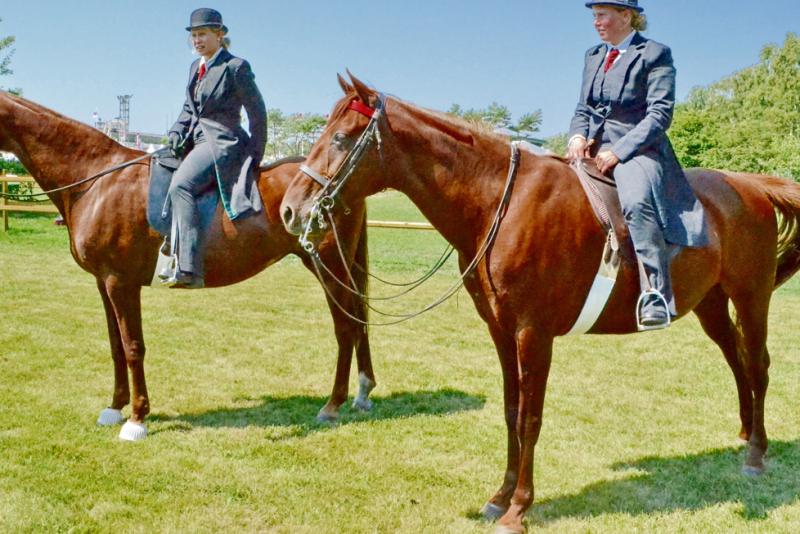 The Saddlebreds – Gullan and Anna-Lisa Lundqvist & Dolly and Therese Larsson
On our way to Falsterbo we got in a long queue, but the ones in my group that got there slightly later nearly missed our show because they got stuck even longer. It wasn't fun to stay in the queue knowing how hot it had to be for Percy as the termometer said about 30 degrees (Celsius).
Thursday we had a day of – but it was 2 international peruvian paso competitions, one in gait only and one 3 gaited competition. We grazed Percy and took a look at the vendors and the competitions.
In the evening we should train at the show arena again, but some mistake made that impossible and we ended up at the parking as there were no other place for us.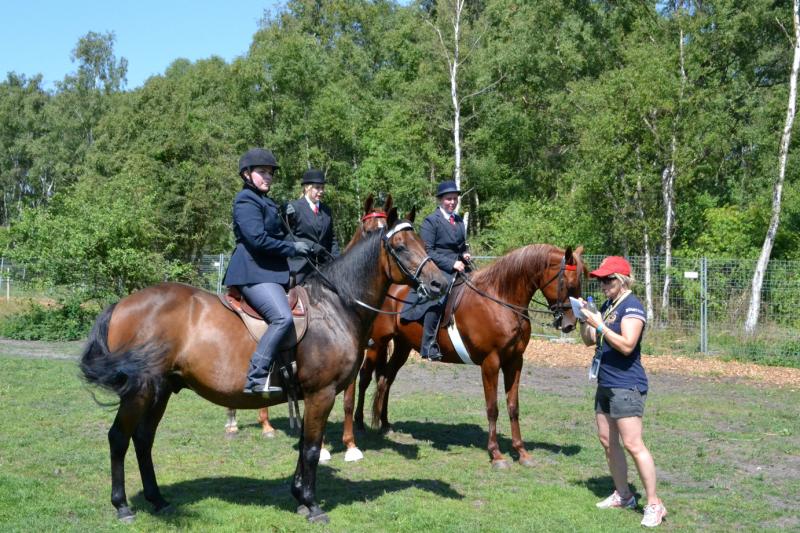 Kaiser + Sarah, Anna-Lisa + Gullan, Therese + Dolly
Percy behaved well during the show of gaited breeds even if it was hot. Probably we had about 2-300 spectators. Still, she wasn't very happy about all applause that got her out of gait. At the evening Frida tried Percy at the show arena – few people get the chance to ride at Falsterbo. When the horses aren't ridden most stay in the stall, but there was a place to graze them even if few used that. I know as we spent several hours each day grazing Percy to try to keep things as close to before we left – living in the pasture all day around.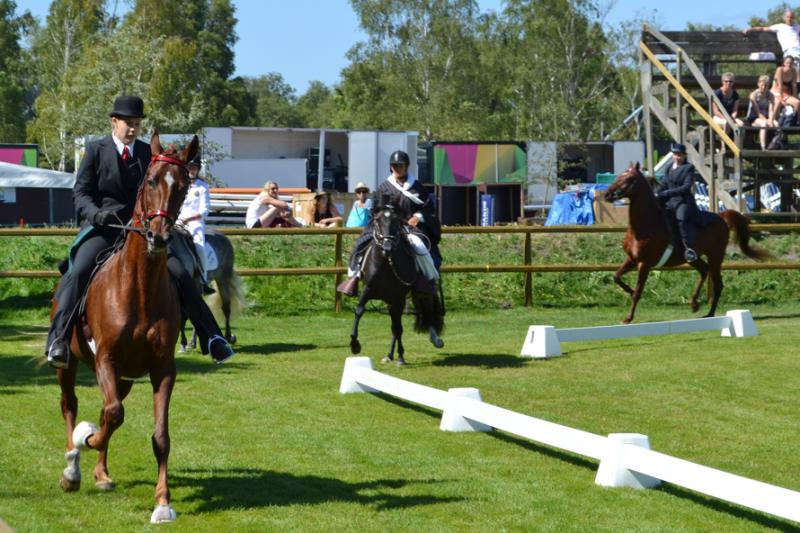 Anna-Lisa + Gullan in front, then the winner – Peruvian Paso stallion RTP Thalus + Jette Obelitz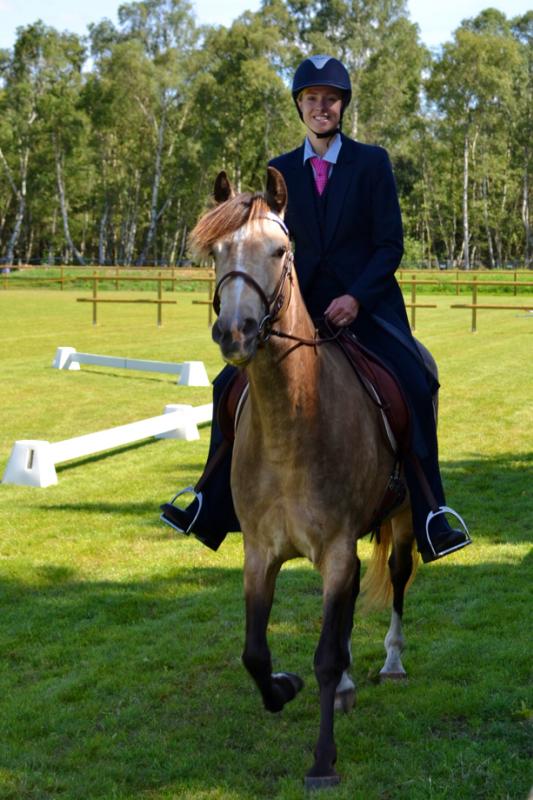 Percy
Yesterday started with me grazing Percy while Frida mocked out the stall to save time later. At 11 the first International competition for gaited horses in Sweden (= none Icelandics) was held. There were 2 peruvian paso, 2 saddlebred, a gaited standardbred, a Kentucky Mountain Horse and Percy and I. Walter Feldmann was the judge. He is the creator of the breed Aegidienberger and has been in the international team for Icelandic horses in Germany.
Now Percy got the idea that the speakers and the public was a bit scary and that made her a little bit suspicious to pass them and she lost the gait. The evening before she had been fantastic…Well, at some times she got very nice and much better than Wednesday's show. To my surprise we weren't last but as number 5. Good work Percy! The winner was a peruvian paso stallion that had won both classes the previous day as well.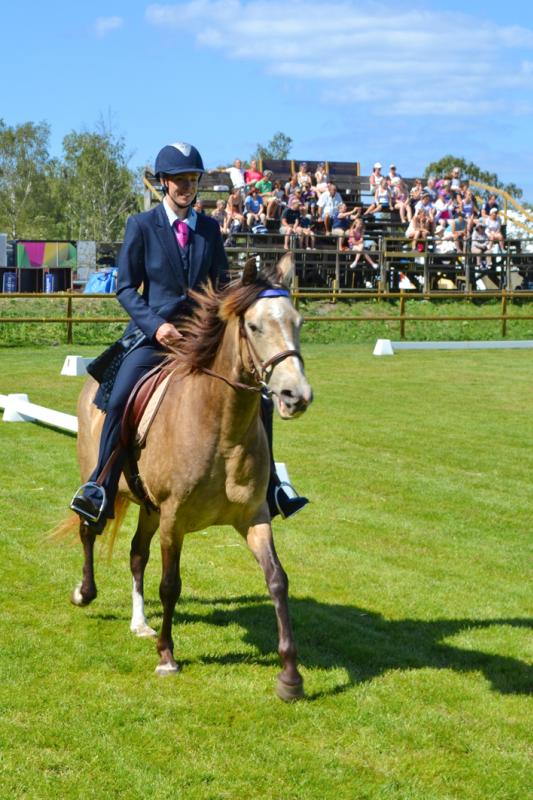 We hurried back to the stable (when we meet a lot of famous Swedish riders) and some cooling down of Percy before we less than an hour later put the saddle back and returned to the arena for a clinic with Walter Feldmann. First all riders took a couple of laps around the arena and the Walter tried all horses himself and commented on their gait. Percy behaved well even if she was alone at the arena. But she did a lot of pace – a gait that she hardly ever does otherwise.
When the clinic finished I headed back to the stable while Frida took care about the material we had to promote the breed close to the arena. We got changed and loaded in record time and hit the road home (14.40 – was anyone earlier? 🙂 ) Even if we only stopped for gas and to change driver we weren't home until 20.40.
Percy seemed happy to be home and Pepper was even happier; he jumped and screamed. Between the competition in the morning and the clinic in the afternoon I noticed that Percy changed her way of looking at horses. I thought that she was going into heat even if she showed no other signs. Back home Pepper covered her only minutes after she was put in his pasture…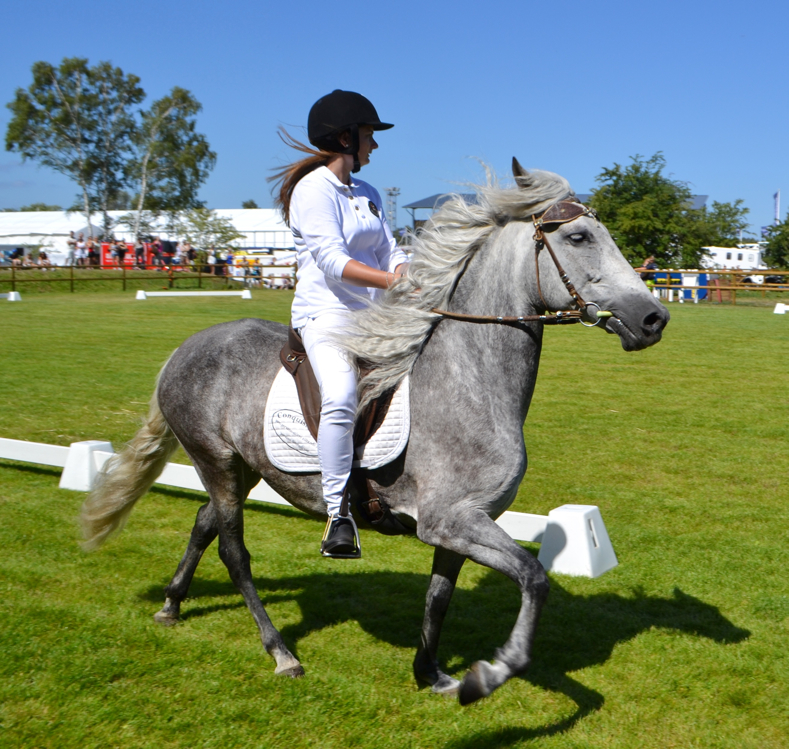 Peruvian Paso Lilly + Amanda Satryan
I am very pleased about how well Percy took this big adventure – she was always nice and easy to have around! This was the first time we traveled somewhere, we have never had a riding lesson together and none of us has never competed in a real competition before…A true mountain horse!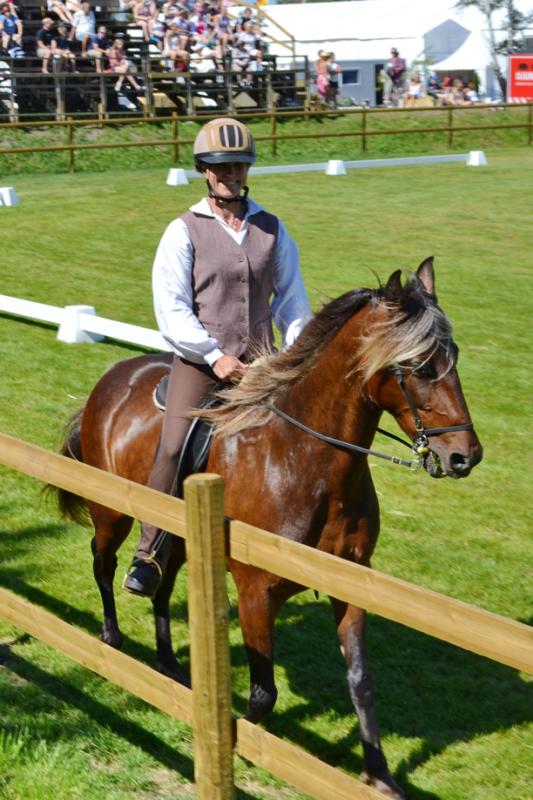 Kentucky Mountain SAddle Horse/Rocky Mountain Horse Bart's Sweetheart and Jessica Sannö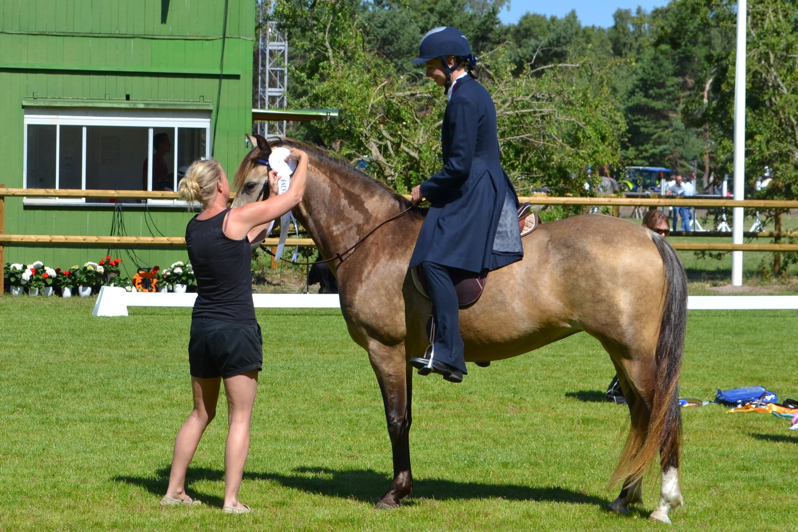 Percy's first ribbon – no problems!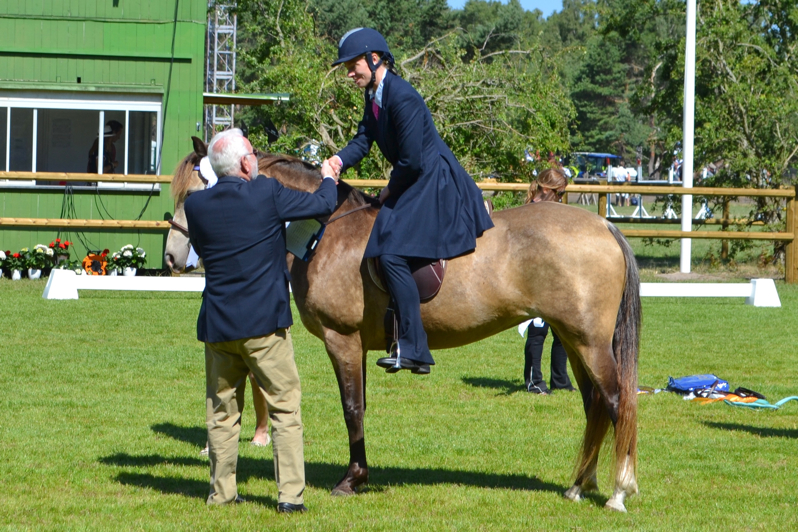 Walter Feldmann – the judge.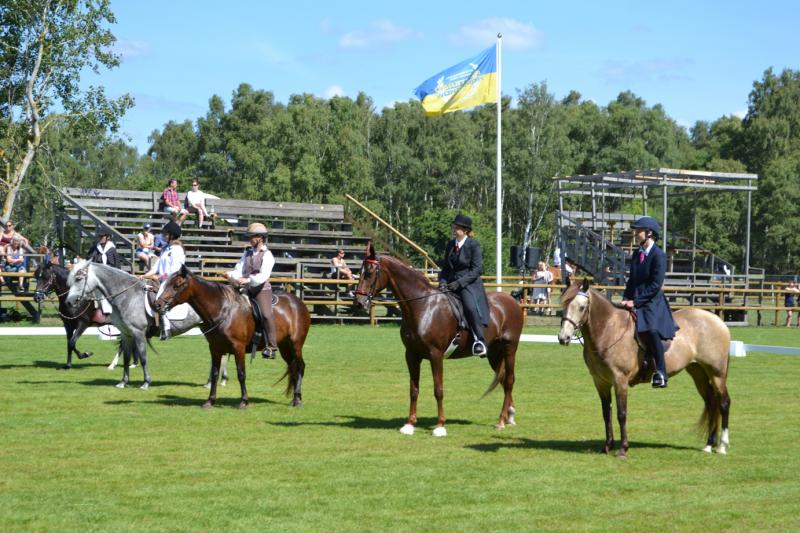 Most of the participant in the gaited class.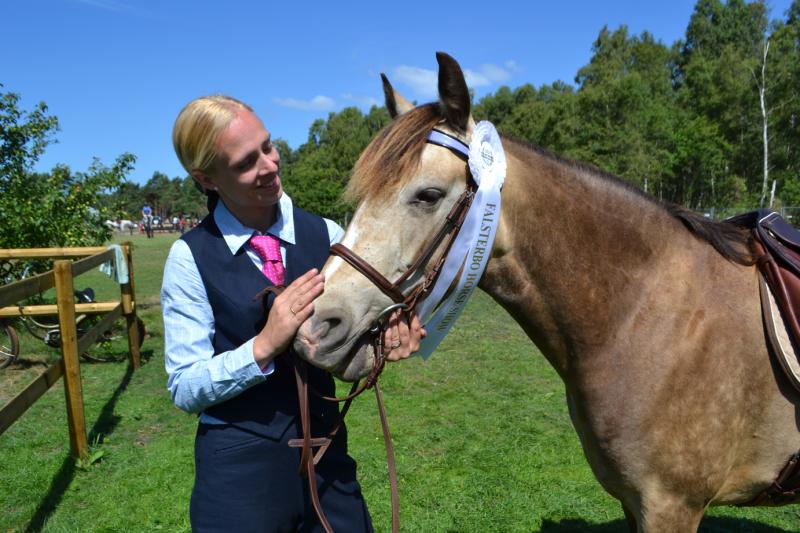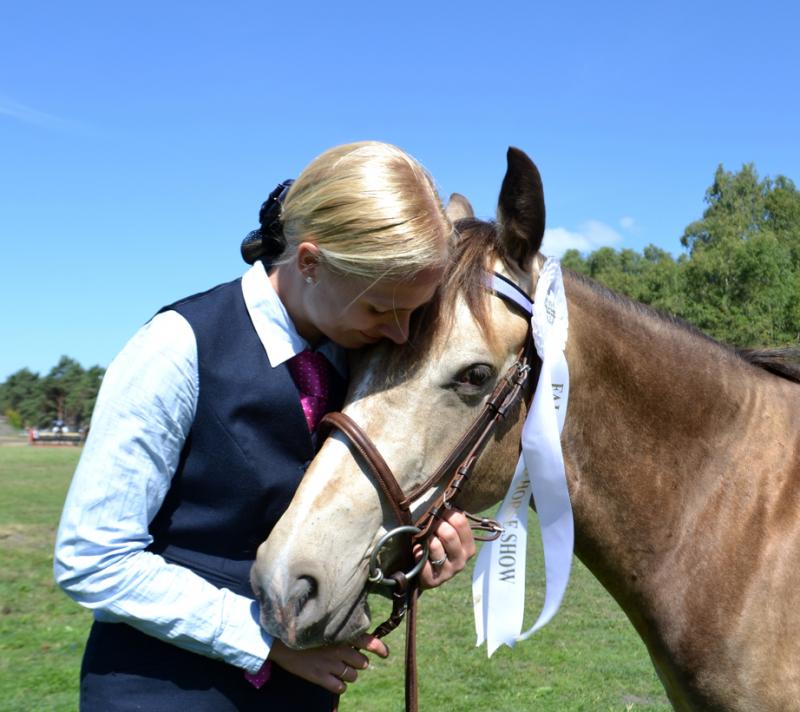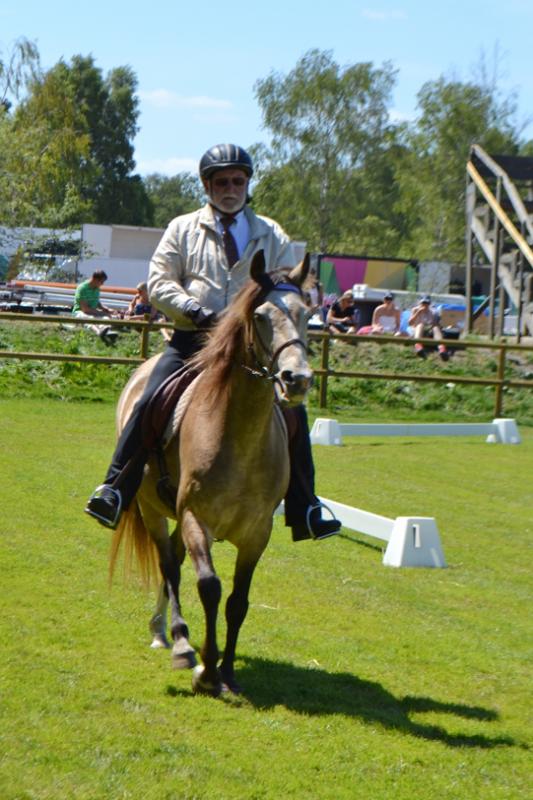 Clinic with Walter Feldmann – here he tries Percy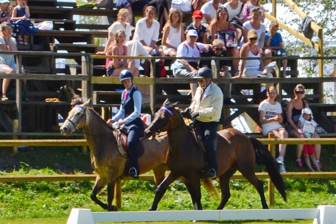 We got to help to try to get Kaiser in the mood to move around the arena.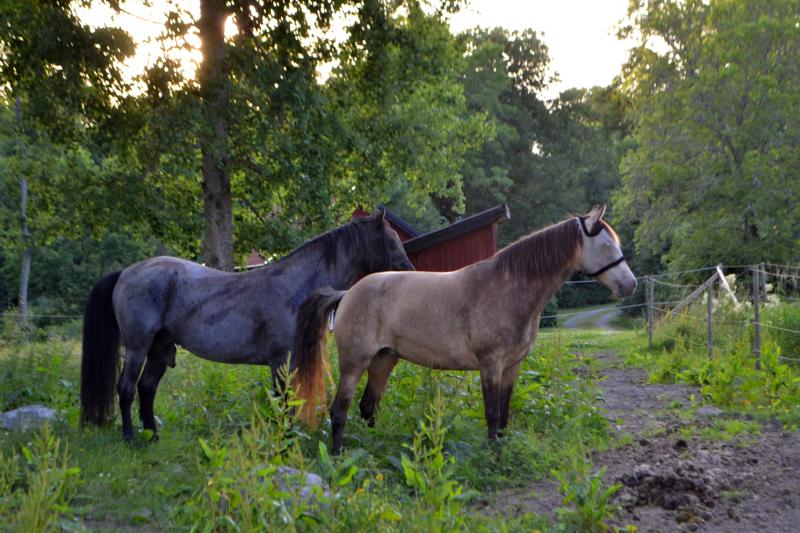 I still think Percy is happiest at home. I know Pepper is.
http:///ullekalv.se/wp-content/uploads/2015/09/ullekalv_header_logo.png
0
0
Ingrid Amadori
http:///ullekalv.se/wp-content/uploads/2015/09/ullekalv_header_logo.png
Ingrid Amadori
2014-07-12 22:46:00
2014-07-12 22:46:00
Falsterbo – sammanfattning