Till slut hittade jag en affär som sälde begagnade dräkter och som lyckades plocka fram det jag sökte, i min storlek och efter mina önskemål på bara någon vecka. När paketet kom fram satt allting perfekt – jag behövde inte ens gå till en sömmerska här för att fixa något vilket jag räknat med. Det enda jag behövde kompletra med var skor och skjorta – samt underpasses – det vill säga remmen under foten som ser till att ridbyxorna inte åker upp. Det blev till att sy egna underpasses och är jag ändå var i farten blev det remmar för att förhindra att man trampar på ridbyxorna när man inte sitter i sadlen. De ska nämligen vara så långa att man lätt gör det.
Bekymren var inte över där – ett typiskt pannband ville jag ha, men när jag hittade det perfekta skickade de inte till Sverige… Tillslut blev det Ebay och ett som skulle vara i brunt och lavendel. Jag ville nämligen undvika svart till mitt bruna träns. Väl hemma var kanterna svarta, lädret brunt och mitten lavendel. Nåja, det får duga, jag har inte hittat/hunnit leta efter vinyl som man använder till dessa. Nästa gång jag reser till USA beställer jag pannbandet jag vill ha!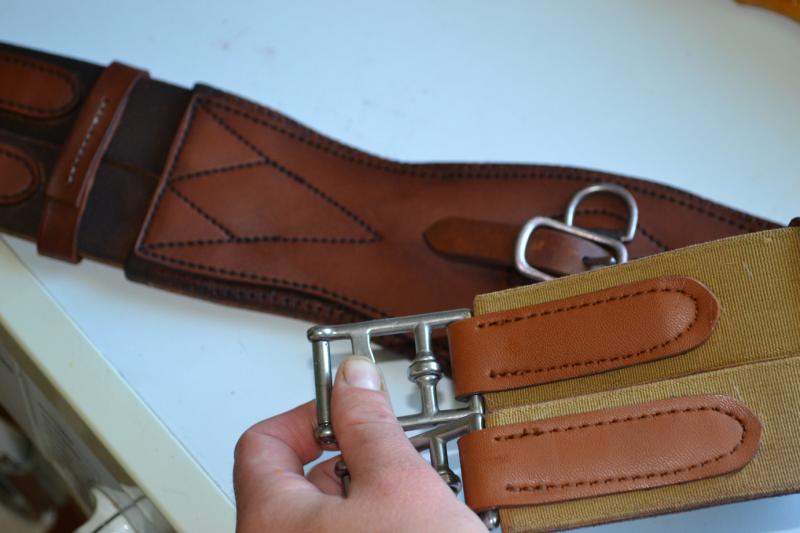 Two sides of the girth after working the color.
Falsterbo – equipment
To Falsterbo I wanted to find the appropriate clothes. I knew that would be a little bit hard as they only can be found in USA. Then sizes really becomes difficult and some companys don't ship abroad.I googled, read and tried to find what I was looking for – a navy saddle seat suit. I lost a very good deal by note being fast enough and continues my search – everything was very expensive for just a one time occassion.
Percy then? She needed a saddle. The jumping saddle that I have don't fit her and the treeless isn't good looking enough for Falsterbo. Googel got me into the Maxflex saddle and I thought of ordering one – but they had 8-12 weeks to delivery – that wouldn't work.Unbelievably I found a used on for sale and got the deal (among many other). So, a few days later David and I went to Västerås for my new saddle – a Maxflex Fina Island. A nice reddish brown one that would suit Percy perfectly.
And that was the beginning of the problems – that is not the color of the year. To find a matching bridle seemed impossible and then to find a dressage type girth that wasn't black was hard and one that was lighter than a dark brown…After many hours of searching I decided to order a bridle and a girth in the color "New Tsn", too light, but that can be made darker.After several oiling sessions I found out that the way to get the bridle dark enough was to put it in the oil. The girth on the other hand didn't react to oil at all. Part of the problem was probably that it wasn't only leather as I thought but part absorbing material. The solution? Brown shoe polish on the outside! After several treatments it now has an acceptable color. It has also got another fix – tas it is no dressage girth it lacked something to put the girth straps into. Luckily I know something about leather sewing (and has some material to do so) so I fixed that as well.
The "problems" didn't end – I wanted a typical browband and found a perfect one – but they didn't ship to Sweden. Finally I found one that seemed ok on Ebay, a brown and lavender one. I wanted to avoid black to my brown leather and most others had black in them.
At my place the leather end of the browband was brown but "border" was black. Well. it has to do, I haven't found/haven't have time to look for vinyl to make my own. Next time I travell to USA I order the one that I really want!
In the middle of all this it has been some DIY as well: A saddlebag, a couple of bags, a cotton rug (why couldn't I find that easy?) and a hat case (for my pretty homburg). And of course I constantly find things I need to buy – a new temometer, a saddle cloth (that doesn't fit well with my regular) etc…
http:///ullekalv.se/wp-content/uploads/2015/09/ullekalv_header_logo.png
0
0
Ingrid Amadori
http:///ullekalv.se/wp-content/uploads/2015/09/ullekalv_header_logo.png
Ingrid Amadori
2014-07-08 00:15:00
2014-07-08 00:15:00
Falsterbo – utrustning