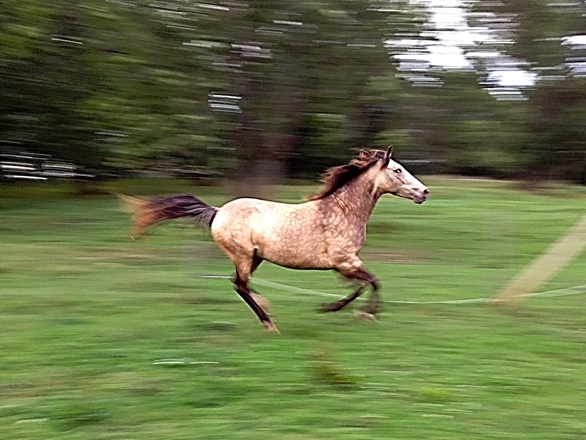 Nu är semestern slut – både för mig och hästarna. Eller, möjligen har hästarna ännu semester. Igår blåste det rejält så jag bestämde mig för att löslongera Pepper och tog med Percy när jag ändå var i farten. Det var rätt val för oj vad de sprang utan att jag ens motiverade dem… Dessutom blev det många bock och stegringar från Pepper – något han inte gör så ofta vid löslongering. Percy var jag däremot förvånad över att hon sprang som hon gjorde – kvällen innan hade jag ridit ut och galopperat henne mycket (för hennes träningsnivå. Fast inte blev hon trött för det).
Inspirerad av dem bestämde jag att löslongera även Tea – men låta Calinka vara med. Därför blev det först dressyr på Calinka en stund för att avslutas med bus i hagen för henne och Tea. Calinka däremot var helt nöjd med att inte busa – hon betade medan Tea sprang. Tea däremot verkar ha alldeles för mycket idéer och spring i benen – hon skulle behöva hitta på mera saker eller ha flera busiga lekkamrater.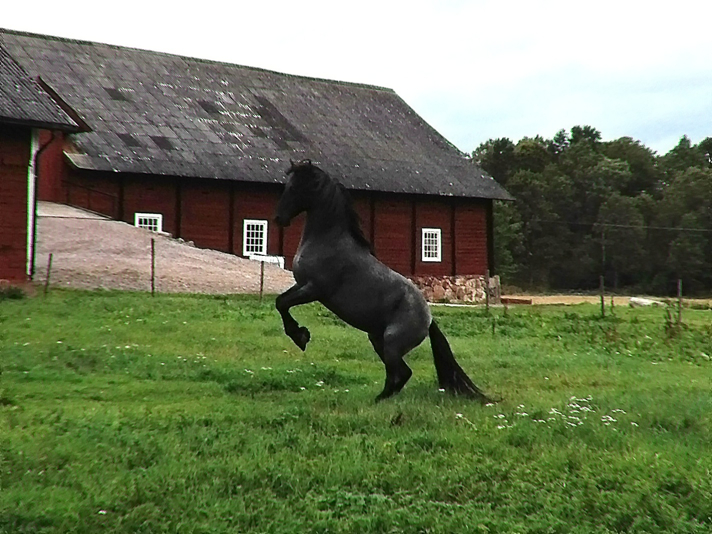 Vacation is over – for both me and the horses. Or maybe the horses still are at vacation. Yesterday it was rather windy so I decided to let Pepper and Percy run around loose in one of the pastures. That was the right choice, they ran a lot even before I started to encourage them. Pepper also reared and bucked much more than he usually does in those situations. Percy instead ran around much more than I expected – especially as she and I cantered a lot (for her training level) the evening before.
Inspired by all running I decided to let Tea and Calinka do the same. But I started with some dressage with Calinka. Then Calinka grazed while Tea played. TRea seems to have gotten to many ideas and wants to do a lot of things now. Guess I have to work her more or let her play with other horses.
http:///ullekalv.se/wp-content/uploads/2015/09/ullekalv_header_logo.png
0
0
Ingrid Amadori
http:///ullekalv.se/wp-content/uploads/2015/09/ullekalv_header_logo.png
Ingrid Amadori
2014-08-20 16:36:00
2014-08-20 16:36:00
Åter till arbetet