Uteritt med hingst, sto och valack
I lördags passade jag och Frida på att göra sällskap med Sylvia på Kentucky Mountain Saddle hästvalacken Faegan. Det var första gången Pepper träffade honom, men det var inga problem. Pepper ledde enkelt gänget genom terrängen, bitvis både över små diken, tajta passager och kladdigt underlag. Jag var glad att vara sist på Calinka – annars hade jag fått bråka en del med henne för att passera på flera ställen. Vädret var däremot sådär och kamerna tyckte det var väl mörkt att fota… Därav något suddig kvalité på filmen.
Trail ride with stallion, gelding and mare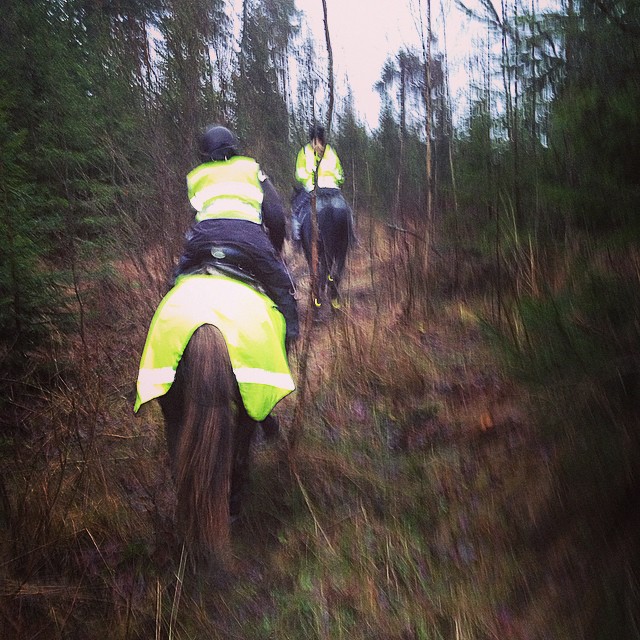 This Saturday Frida and I made company with Sylvia and her Kentucky Mountain Saddle Horse gelding Faegan. It was the first time Pepper meet him but there were no problems. Pepper lead us easily over small ditches, in small passages and at slippery ground. I were happy to be last with Calinka – otherwise she would have had problems with the road at some points. The weather wasn't at it best and the camera thought it was slightly to dark to make photos…
Therefore the quality on the film isn't the best.
http:///ullekalv.se/wp-content/uploads/2015/09/ullekalv_header_logo.png
0
0
Ingrid Amadori
http:///ullekalv.se/wp-content/uploads/2015/09/ullekalv_header_logo.png
Ingrid Amadori
2014-12-07 18:42:00
2014-12-07 18:42:00
Uteritt med hingst, sto och valack