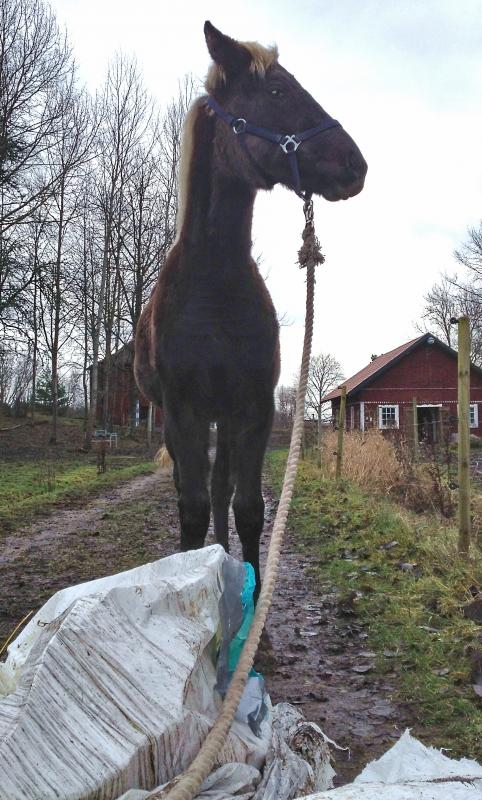 Nu händer det mycket för Mira. Dels har hon fått börja gå varannan dag utan mamma i hagen och dels har hon blivit lite mer ledtränad. Nu senast fick hon överta storasyster jobb – att vara sällskap till mig när jag slänger hösilageplast i en container en bit bort. Jag drar plasten på marken och har hästen med. Inga problem tyckte Mira – eller, jo, hon lyckades trampa på plasten flera gånger och då stannade vi. På vägen hem smet vi genom en loge och gick över en av de små träramperna in i ladugården. Inga problem sa Mira. Så duktig liten tjej. Men, det är mer go i denna flicka än mina tidigare föl. Hon sköttes sig så bra att jag kunde filma medan vi jobbade!
Dessutom är hennes RMHA papper klara och passet har kommit! Grundvaccinationen är även den klar liksom mikrochipet som behövdes till passet.
Mira has a lot to do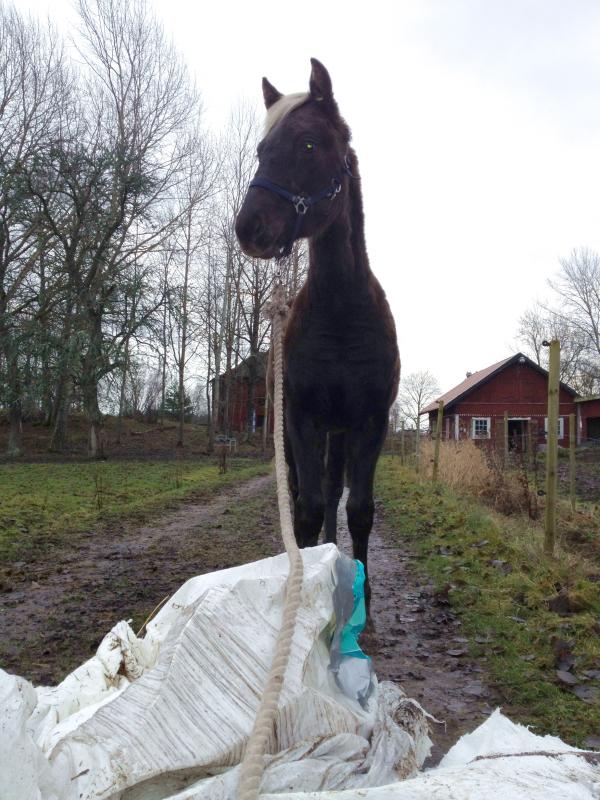 Mira is having a hard time. Not only is she spending only every other day with her mum but she has also got more lead rope training. Recently I let her try her big sisters usual work – to accompany me when
throw the plastic that surrounds the hay in a container a bit away. I drag the plastics along while leading the horse. No problems according to Mira – but she stepped at the plastic several times so I had to stop. On the way back we sneaked throw a barn and passed over one of the wood entrances to the building. No problems with this either. But this is a girl with more go than my previous foals. I even had the possibility to make a short movie while we worked!
Her RMHA papers are ready and her passport has arrived as well as she has got her vaccinations and her microchip.
http:///ullekalv.se/wp-content/uploads/2015/09/ullekalv_header_logo.png
0
0
Ingrid Amadori
http:///ullekalv.se/wp-content/uploads/2015/09/ullekalv_header_logo.png
Ingrid Amadori
2014-12-08 18:59:00
2014-12-08 18:59:00
Mycket för Mira