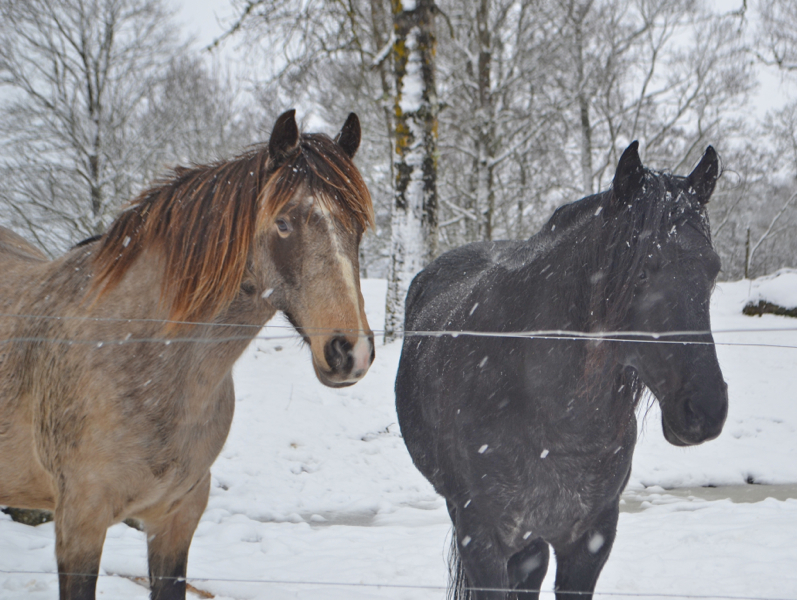 Percy & Pepper
Helgen har äntligen inneburit lite jobb av hästar – något det blivit lite av under veckan.
Jag trodde att jag skulle kunna trötta ut Pepper lite med tömkörning i djup snö i fredags men det fungerade sådär. Jag var varm och han verkade tycka att det var lite jobbigt att galoppera i snön men varm eller tungandad – inte en chans. Däremot fungerade det att rida ut 30-40 minuter på lördag morgon och låta honom galoppera en bit i snön. Inte för att han blev så trött, men lite varm i alla fall…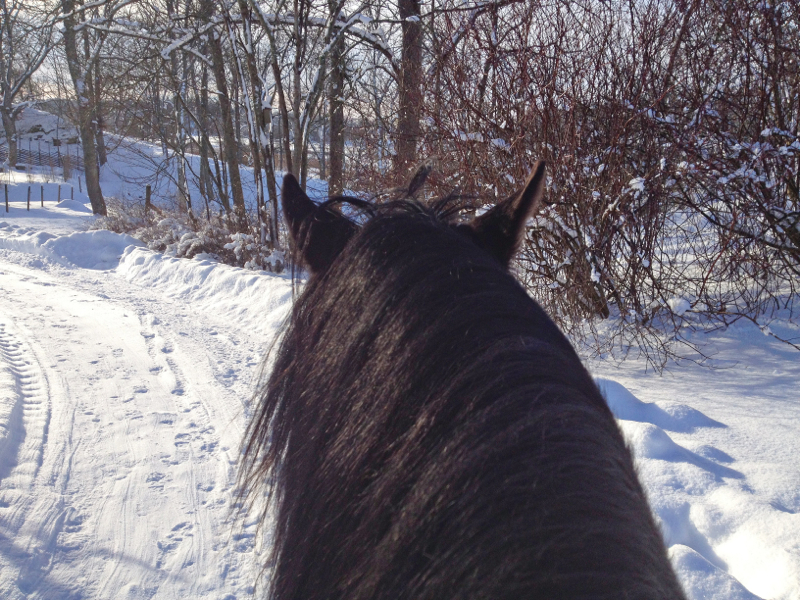 Pepper
Idag blev det mer skoj då en kompis med dotter kom förbi. Först tränade vi Tea på att dra snowracer och det gick lika bra som sist. Vi red ut på Pepper, Calinka och Bunny. Tyvärr var det halare än under lördagen men vi fick till lite mer än skritt. På hemväg tog vi samma fält och hästarna blev lite väl pigga i galoppen… Nåja, allt gick bra. Pepper som hade massor med energi fick ta ett varv till och tolkas efter. Tyvärr gick det inte alls lika bra som när Frida gjorde det förra året. Hon på skidor studerade snön på väldigt nära avstånd ganska många gånger… (Skidorna tvärtnitade lätt vid minsta ojämnhet – typ hästspår- i snön).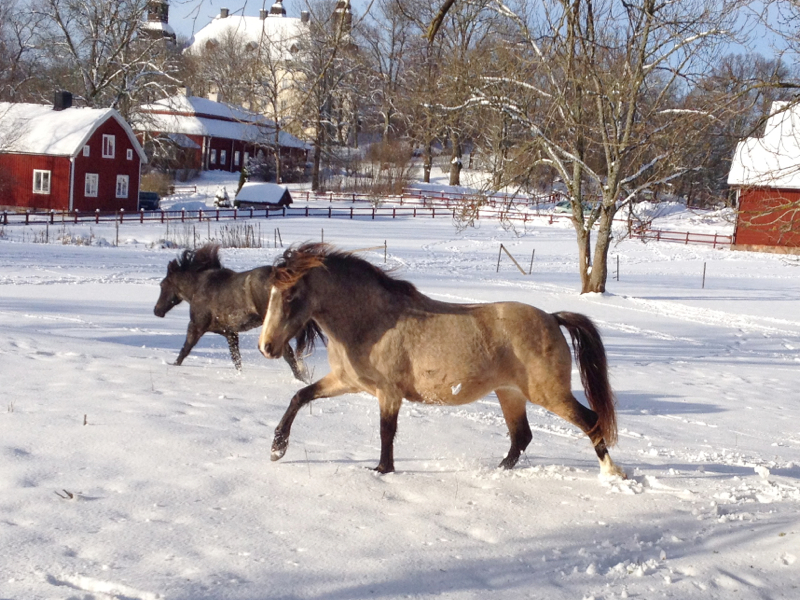 Tea & Percy
Percy däremot oroar jag mig lite för – hon har haft en mycket liten blödning och jag hoppas att det inte innebär att hon kastat detta årets föl. Därför fick hon ta det lungt även om hon helst velat följa med. Under lördagen red jag därför ett varv i hagen på Calinka för att se om jag såg några mer spår från Percy. Det gav flera lite roliga bilder när övriga hästar bestämde sig för att följa med.
The weekend has finally come with some exercise of the horses.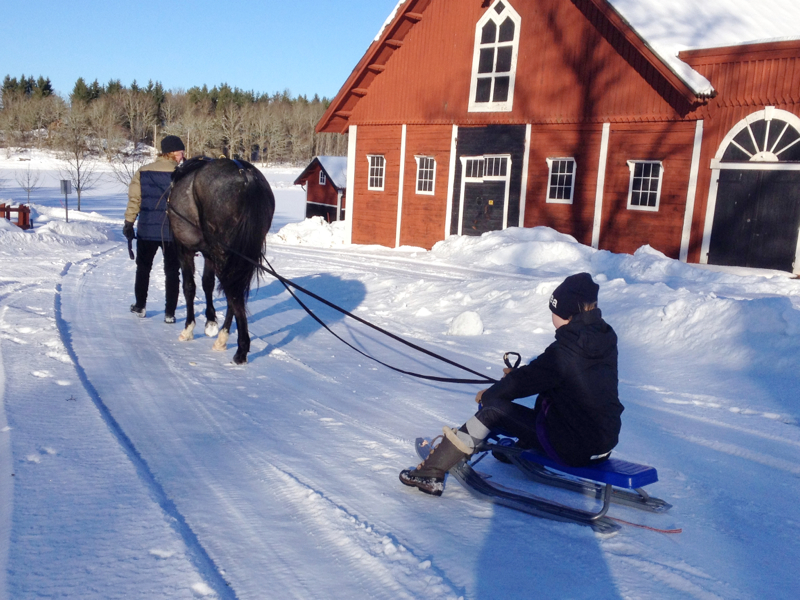 Tea
I thought I could make Pepper a little bit tired by long reining in the snow at Friday but I think I were wrong. I was warm but Pepper wasn't neither warm nor had a heavy breathing. It worked better to trail ride for 30- 40 minutes during Saturday and finishing with canter in the deep snow. Ok, he wasn't very tired but at least he got a little bit warm.

Today we had more fun. A friend passed by with her daughter. First we trained Tea to pull as last weekend and she did great this time to. Then we took Pepper, Calinka and Bunny for a short trial ride. It all went good but maybe a little to fast when we cantered in the deep snow on our way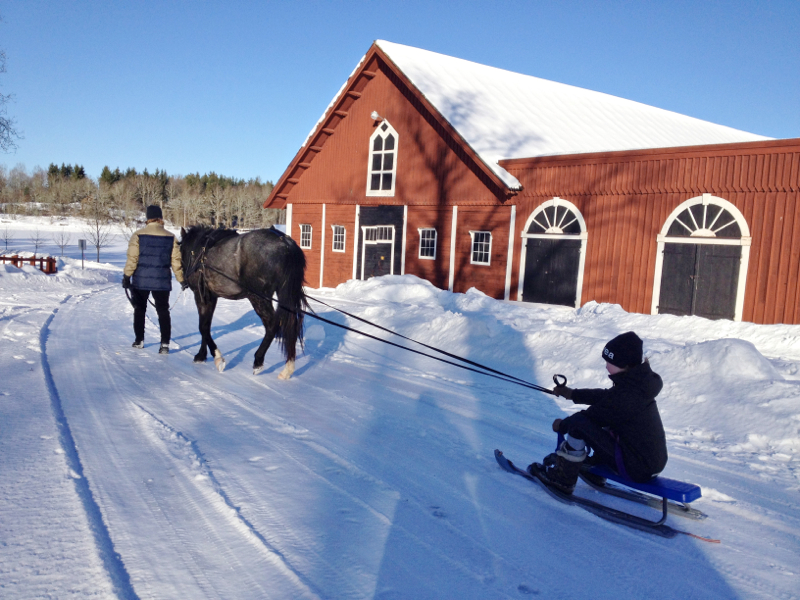 Tea
home and the horses got a little excited. Everything went fine and we brought the mares back to the stable. Pepper got to pull my friend on skies but it didn't work out as good as it did for Frida last year. My friend appeared to prefer to study the snow very closely. (The short skies easily got under the snow if any irregularities – like the track from a horse…)

When it comes to Percy I am a bit worried. It seems as she has had a slight bleeding and I hope that doesn't mean that she has lost her foal this year as well. Therefore she got to stay home and rest. I also took a trip in the pasture during Saturday at Calinkas back to see if I found any more tracks. As the other horses joined us I got some nice photos of them running around.


http:///ullekalv.se/wp-content/uploads/2015/09/ullekalv_header_logo.png
0
0
Ingrid Amadori
http:///ullekalv.se/wp-content/uploads/2015/09/ullekalv_header_logo.png
Ingrid Amadori
2015-02-08 20:56:00
2015-02-08 20:56:00
Äntligen lite tid