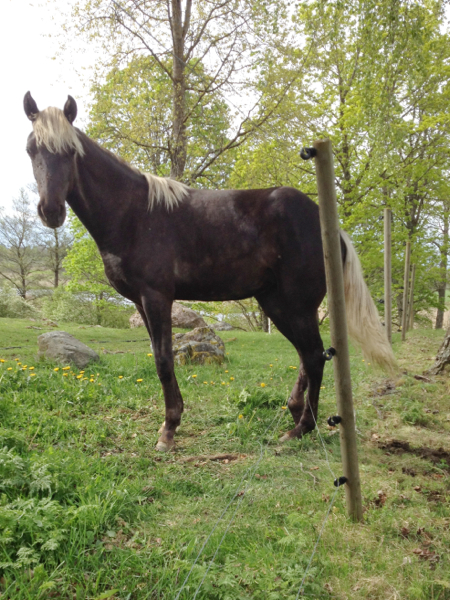 When I found Mira – look close and you see that she is caught.
Idag fyller Mira 1 år! Tyvärr har hon inte fixat någon bra födelsedagspresent – eller om man ska skylla på storasyster. När det gäller mina egna barn hittar den äldre ofta på hyss som den yngre får sota för; så verkar även vara fallet med mina hästar…
Tea smet nämligen genom staketet och lurade med lillasyster. Men lillasyster fastande. När jag kom gnäggade hon välkomnande åt mig där hon stod med vajer ett varv runt benet. Tur i oturen var elen inte på (kan även varit anledningen till att Tea gick igenom, men ändå). Det var bara att springa och hämta något att kapa tråden med så att jag kunde få loss henne. Som tur är stod hon still hela tiden. Jag måste säga att denna egenskap är helt fantastisk! Hon som annars vill vara med kompisarna stod, som det verkade, helt själv och bara tog det lungt till räddningen kom.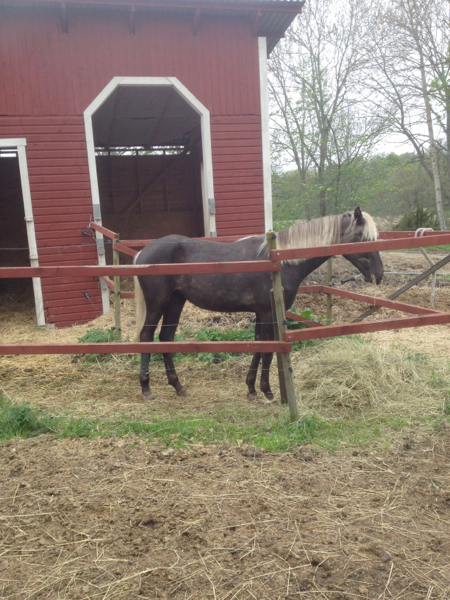 This is how she is going to celebrate her birthday.
Det verkar inte vara alltför allvarliga skador utan mer ytligt, men det blir till att ta det lite lungt ett tag så födelsedagen firas i sjuk/fölningsboxen. Det positiva kan välls ägas vara att jag fick akut åka och köpa lite hö till Mira. Det blev första vändan med egna transporten och det gick bra; både att få fast den på bilen och att backa runt.
Något syskon har däremot inte velat komma fram. Någon som vet hur man lockar ut ett föl?
Mira 1 year
Today Mira turns 1 year! Sadly she didn't get herself a nice present – or if I should blame her big sister. When it comes to my own children the older one often leads the younger into things that the younger might regret and it might be the same thing for my horses…
Tea got out of the fence and got her sister to join her. but her sister got stuck. When I came Mira neigh welcoming at me even if she was caught in the fence. Luckily the electricity wasn't on (or maybe that was why Tea got out at the first place). I ran to get thing to cut the wire and untangle Mira. She stood still all the time. I have to say that trait is fantastic! She that want's to be with friends stood there calmly until someone would save her.
It don't seem to be to severe, but she has to rest a little for some time so she spend some time in the foaling/ill stall. The positive thing for that day might be that I had to get hay so I got my new trailer out and it worked out fine!
But still no sight of any sibling. Someone know how to get it to come out?
http:///ullekalv.se/wp-content/uploads/2015/09/ullekalv_header_logo.png
0
0
Ingrid Amadori
http:///ullekalv.se/wp-content/uploads/2015/09/ullekalv_header_logo.png
Ingrid Amadori
2015-05-13 07:36:00
2015-05-13 07:36:00
Mira 1 år