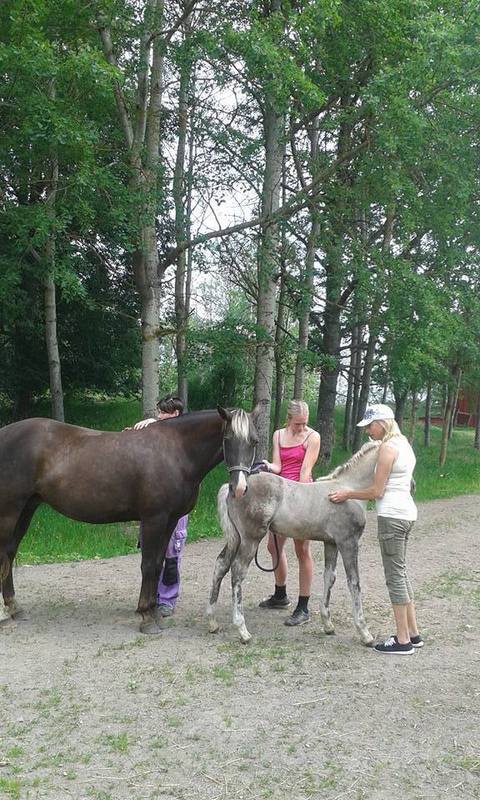 Sylvia har tagit för vana att ordna med lite olika arrangemang i trakten och nu fick hon hit equiterapeuten Camilla Persson (miviamotus.se) som gick igenom ett gäng hästar under de hittils varmaste dagarna för året. Hennes tankar om vad som var fel på hästarna stämde bra överrense med mina tankar. passade på att behandla alla mina vuxna hästar, dvs Bunny, Percy, Pepper och Calinka.
Bunny är ju jobbad mycket lite men har ibland sett aningen kantig ut utan at tjag kunnat sätta fingret på om det är något eller inte. Hon var ockås den häst de träffat under helgen med minst problem. Räknar därför inte emd att känna någon större skillnad på henne, särskilt inte som hon ännu bara jobbats mycket lätt hitlls.
Percy hade problem för ett år sedan då kiropraktorn hittade låsningar som sedan återkommit en gång. Nu misstänkte jag att de återkommit igen men eftersom hon då var så tjock med Iris i magen har det fått vänta. Pga det lilla jobb hon nu gör tror jag inte heller att jag kommer att märka någon stor skillnad ännu på henne.
Pepper har ibland kännts aningen kantig, min tanke har vairt vad jag tror varit en rest från misstänkt sträckning för ett par år sedan. Det skulle dessutom passa bra med att han var lite spänd i vissa muskler. Sedan har jag inte varit säker på om lösningen varit lösgörande arbete eller terapi.'
Calinka har ju alltid haft problem med låsningar och spänningar men de var faktiskt mindre än vad jag förväntat mig. Fick dessutom återigen höra hur fin hon är i kroppen och att det är svårt att tro att hon är en travhäst. Alltid lika kul!
Bunny och Percy är det svårt att veta om det har gjort någon skillnad på då de är så lite ridna på länge. Men, jag tyckte Percys galopp var något bättre när jag provade den. Pepper hade lite lättare för galopp i mitt tycke och bjöd lätt på lite mera tölt så jag tror även han haft nytta av det hela. Calinka kändes bara väl genomarbetad och inte kantig i ena diagonalen i trav. Så, troligen har alla hästar ahft nytta av det, men på lite olika sätt!


Sylvia has arranged some horse events in the neighborhood and got epuiterapeut Camilla Persson (miviamotus.se) to look throw some horses during the warmest days (so far) of this year. Her thoughts was close to mine about the horses when she checked them up.

I am happy to say that they all seemed to be a little better than usually when I started to work them.
http:///ullekalv.se/wp-content/uploads/2015/09/ullekalv_header_logo.png
0
0
Ingrid Amadori
http:///ullekalv.se/wp-content/uploads/2015/09/ullekalv_header_logo.png
Ingrid Amadori
2015-07-12 13:19:00
2015-07-12 13:19:00
Equiterapeut besök