De slutar aldrig att förvåna mig; de visar mig om och om igen vilka härliga individer de är.
Förra veckan tömkörde jag Tea. I mörkret, men pannlampa. Jag märkte att hon var nervös, mest på hållningen. Men, hon gick lätt fram och sedan jobbade vi en stund på ridbanan. Alla gångarter och plötsligt började hon sänka huvudet, en början till "lång och låg", ett tugg som visade att hon slappande av, var med och förstod. Så härligt att se! Särskilt hos en tvååring som inte tömkörts på länge, i mörkret, bettlöst och efter 5-10 minuters arbete.
Dagen därpå jobbade Calinka så fint i dressyren – det kan vara en fröjd att rida henne. Frida anmärkte samma sak när hon provade henne för första gången ett par dagar senare – vad hon är duktig och kan mycket!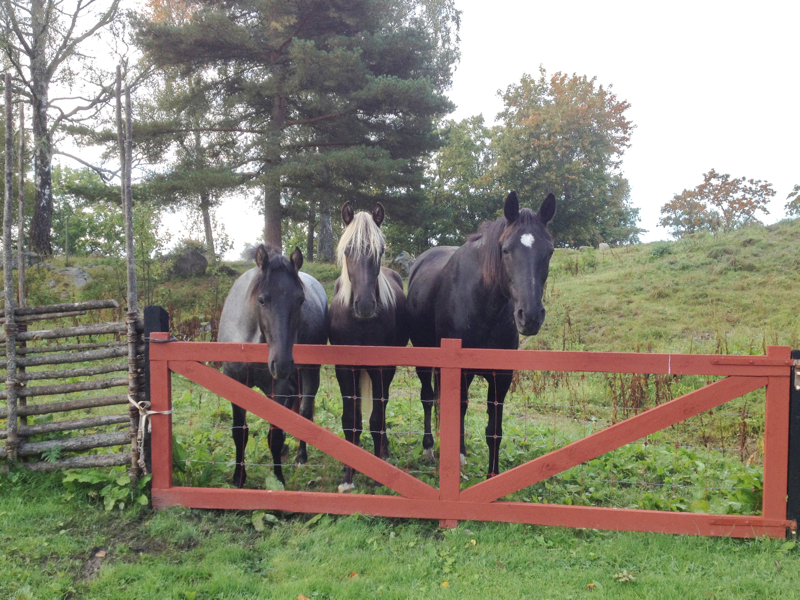 Mira som inte tömkörts sedan i somras tyckte det var lite jobbigt att behöva gå först, särskilt ifrån övriga men har inget emot utrustningen eller vad man gör.
Bunny har blivit lite grinig mot de som står utanför henne box och nyligen var det värre än på ett bra tag. Men, så fort hon fick komma ut på tur vart hon helnöjd. Hon gillar verkligen att jobba och börjar tycka att det är en skön paus från Joe tror jag. Inte konstigt om hon är sur när hon inte får göra det!
Joe och Iris har fått gå ut i hagen i grimma och kommer ihåg ledlektionerna som vi gjorde för ett tag sedan – de följer med väldigt bra. Båda är så enkla och kloka individer – om än med olika personligheter!
Wonderful horses

They never stop to amaze me; showing over and over again how wonderful individuals they are.

I long reined Tea last week. In the darkness with a head lamp. She started of a bit nervous, shown most by her posture. Still, she moved forward easily and then we worked in the arena for a short while in all gaits. Suddenly she started to lower her head and neck, chewing a little just to show she was relaxing and listening. Wonderful to see in a two year old, in the darkness, bitless and after 5-10 minutes work!
The day after Calinka did dressage in a nice way. Frida were also impressed about what she can and how easy it is when she borrowed her a little later.

Mira hasn't been long reined since Summer but did fine with the equipment even if she finds it a bit difficult to walk in the front.

Bunny has gotten a bit grumpy about people when she is in the stall. Recently she was worse than for a long time. But as soon as I took her out for a short trail ride she became happy. She really seems to like that and to get a short break form Joe. Guess it isn't that strange when she gets grumpy if she don't get that attention.

Joe and Iris have been practicing with the halter recently. They both remember the lessons given earlier and follows nicely. Both are easy and clever individuals – even if very different!
http:///ullekalv.se/wp-content/uploads/2015/09/ullekalv_header_logo.png
0
0
Ingrid Amadori
http:///ullekalv.se/wp-content/uploads/2015/09/ullekalv_header_logo.png
Ingrid Amadori
2015-10-20 19:01:00
2015-10-20 19:01:00
Underbara hästar