På midsommar afton tog jag en härlig skrittur med Calinka och Whizzy på släp. Det var precis vad jag behövde. Plötsligt rider jag väldigt lite då Frida har hand om Pepper, Maria Percy och Calinka bara skrittas nu. I alla fall var det en sådandär härlig sommardag som gav dagen en bra start. Men bromsar och blinnigar började göra intåg.
Igår tömkörde jag Pepper och han bjöd bra framåt – kanske även för att komma undan alla bitande insekter trots skyddande täcke. Tänkte var att hitta på något med Iris (Calinka är känsligast av alla och att hålla på med henne när insketerna är igång är inget kul…) Men inte ens Iris skulle tycka det var så kul – så vad gör man då?
Först fick hon ha tömkörningsgjorden på sig i stallet och sedan tog jag ut och testade att duscha henne lite. Hon skötte sig utmärkt. Jag har bara vattenslang och håller dem samtidigt så att hons stod stilla så att jag fick skölja av manen och även få vatten över stor del av kroppen tycket jag var mycket positivt. Var nog skönt med värmen som var. När jag ändå var igång fick även Whizzy prova och hon var lika duktig hon. Däremot försökte jag i
nt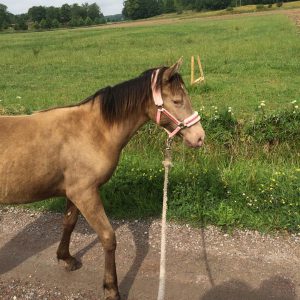 e ta kort – tillräckligt många saker som det var att hålla reda på.
Girls got a bath
On midsummer I took Calinka for a nice walk, ponying Whizzy. That was really what I needed. I spend very little time in the saddel now as Frida cares for Pepper and Maria for Percy and Calinka is only walked. ANyway, it was such a nice time that got the day to start right. But I noticed that the big biting isects had got to us.
Yesterday I long reined Pepper and he was more forward than usual. Maybe because he wanted to get rid of all insects even if he had a protective rug. I planned to do something with Iris as well (Calinka is so sensitive about insects that I never even thought of her). But probably Iris would be bothered to. So, what to do?
First she got to try the long rein girth in the stall and then I brought her out to try and shower her. She behaved perfectly! I only have a hose and hold them at the same time so when she was still to let me clean her mane was a very good thing. She got water over most parts of her body.Probably nice in the heat. When I was at it I tried with Whizzy as well. She did great too. But I dindn't try to get any photos – enough things to keep track of.
http:///ullekalv.se/wp-content/uploads/2015/09/ullekalv_header_logo.png
0
0
Ingrid Amadori
http:///ullekalv.se/wp-content/uploads/2015/09/ullekalv_header_logo.png
Ingrid Amadori
2016-06-26 21:43:41
2016-06-26 21:43:41
Badade småtjejer