Hingstvisning och första betäckningen för året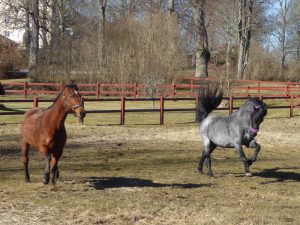 Man märker att avelssäsongen är i antågande. Det börjar komma förfrågningar om att betäcka med Pepper och nu är det tredje helgen i rad som jag har besökare som är intresserad av att träffa Pepper. Kul! Intresset verkar öka lite från år till år tycker jag.
Sedan är det inte helt lätt att veta vad man ska vis, vad vill folk veta? Det brukar bli ganska långa besök. Det som jag uppfattar som en gemensam nämnare är att de som hör sig för med mig är ute efter en trevlig allroundhäst, de rider gärna ut. Vissa är intresserade av tölten, medan andra inte är det alls. Det är kul att träffa nya människor och höra olika synpunkter.
Helgens besök resulterade i en bokning och så kom första stoet på besök; ägaren var här för ett par helger och hälsade på. (Och Pepper visade sig från sin sämsta sida…) Det stoet (ett varmblod) bor i närheten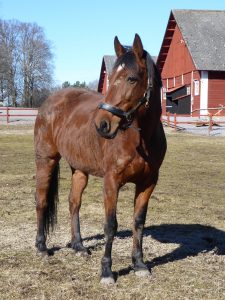 och kom förbi för en snabbdate. Sedan åkte hon hem igen och återkommer troligen i veckan för ytterligare ett kort besök.
Är du sugen på ett Pepper föl är det dags att börja bestämma sig om du vill kunna välja när vi ska ta emot.
Showing the stallion and this years first breeding
The breeding season is coming. It has started to be questions about Pepper for breeding and this is the third weekend when peopel have visited to look at him. It seems as there is more people each year that get interested.
It isn't easy to know what to show, or what people want to know. Most visits takes there time. But I think I start to see a red thread. Most want a nice all-round horse and they often trail ride. Some like the idea of gait, some don't care about it. Either way it is nice to meet new people and here what they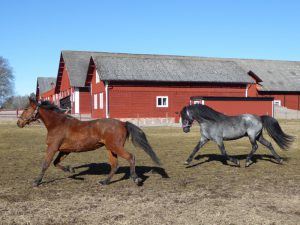 have to say!
This weeks visit became a booking and the first mare arrived. Her owner visited a couple of weeks ago. (And Pepper just show his worst side that day). This mare (a STB) lives close by so she only came for some hours and might return during the week.
http:///ullekalv.se/wp-content/uploads/2015/09/ullekalv_header_logo.png
0
0
Ingrid Amadori
http:///ullekalv.se/wp-content/uploads/2015/09/ullekalv_header_logo.png
Ingrid Amadori
2017-03-19 16:04:37
2017-03-19 16:04:37
Hingstvisning och första betäckningen för året