Idag har Percy gått 320 dygn på sin dräktighet. Så, snart är det dags. Hittills har hon inte gått mycket längre än så, tror inte ens hon gick 330 dygn med sitt första föl och de två senare betydligt kortare. Än ser hon däremot inte färdig ut. Råmjölk av bra kvalité finns förvisso redan i juvret, men bäckenbanden borde kunna släppa en hel del till. Vaxproppar har jag tidigare aldrig sett så det är inget jag förväntar i år heller. Så, jag tror (och hoppas) att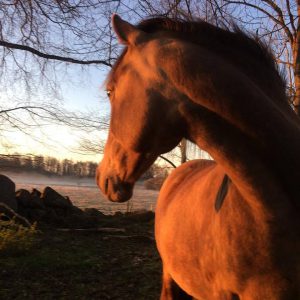 det dröjer ytterligare några dagar – kanske är hon redo till helgen?
Den här gången ser hon heller inte lika eländig ut som hon ofta har gjort mot slutet av dräktigheten tidigare år. Så kanske kan hon gå ännu längre och vänta in mera grönt gräs och högre temperaturer?
Today has Percy been pregnant for 320 days. So, it is getting close. So far has she not been waiting much longer, I don't think she waited 330 days with her first foal and the other two has been much less. Still, she doesn't look ready yet. There is colostrum of good quality in the udder but the ligaments around the tail isn't as relaxed as I think they should be. I have never seen her waxing so I am not expecting that this year either. But, I think (and hope) that it takes some more days – maybe she is ready next weekend?
This year she doesn't look as suffering as she usually do in the end of her pregnancies. Maybe she even wait longer for the grass to get greener and the weather to get warmer?
http:///ullekalv.se/wp-content/uploads/2015/09/ullekalv_header_logo.png
0
0
Ingrid Amadori
http:///ullekalv.se/wp-content/uploads/2015/09/ullekalv_header_logo.png
Ingrid Amadori
2017-05-01 09:28:09
2017-05-01 09:28:09
320 dagar