Tidigt i söndags morse fölade Percy äntligen. Hon har sett ut ungefär som om det varit timmarna kvar sedan i onsdags eftermiddag… Allting gick bra och det blev ett litet silversvart stoföl. Möjligen har hon även konstantskimmelgenen, men det visar sig tydligare till första fällningen.
Det enda som var lite klurigt var efterbörden som inte riktigt ville komma ut. men, jag och Percy samarbetade så att jag jagade på henne lite i hagen (fölis fick springa efter så vi anpassade allt efter henne). När efterbörden började hänga för mycket tog vi det lugnt så att jag kunde knyta upp den en gång till och så fortsatte vi. När vi vilade lite han lillan dia vilket än mer stimulerade att efterbörden kom ut.
Namn är inte spikat ännu. Tölt var den första gångart jag såg efter skritt.
Percy's foal
Early Sunday morning Percy had a silver black filly. She might carry the roan gene as well but that will be clearer when she first shed. Percy had been looking as it was very close since Wednesday evening so it was a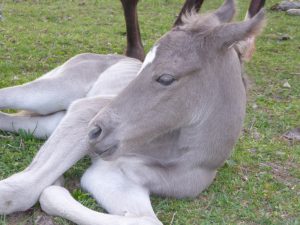 relief when she finally foaled and everything went fine.
The only thing that was a bit of a struggle was the afterbirth that took some time. But – Percy and I cooperated. I got her to move around in the pasture, adjusting the speed to the baby and when some more placenta arrived I knot it up a little more and then we worked out some more. And when we rested baby got to drink and stimulate mum even more.
The name isn't decided on just yet. She has been gaiting right from the start.
http:///ullekalv.se/wp-content/uploads/2015/09/ullekalv_header_logo.png
0
0
Ingrid Amadori
http:///ullekalv.se/wp-content/uploads/2015/09/ullekalv_header_logo.png
Ingrid Amadori
2017-05-08 17:29:48
2017-05-08 17:29:48
Percys föl