Små vardagslösningar på vattentransport
Ibland får man försöka lösa olika problem. Eftersom vi ännu inte har rinnande vatten på gården har det i år v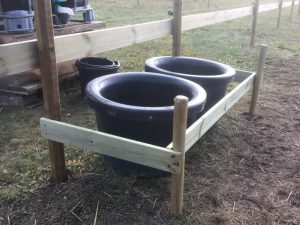 arit fokus på vattenförsörjningen.  En gammalt vagnsunderrede byggdes sporadiskt ihop med en stor tunna för att ha vatten för några dagar i taget, men när det började frysa och traktorn hade snöplog istället för skopa fick vi dra vatten med en gammal timmerkälke som jag tursamt hittade i ladugården.
Hästarna har även haft en ovana att knuffa iväg vattenkaren och då går ofta elkabeln som värmer upp dem sönder… Även det har jag försökt lösa och det verkar ha fungerat bättre än tidigare.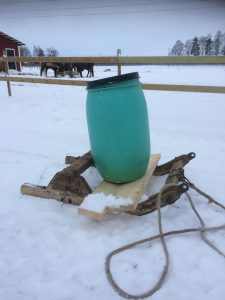 Sometimes you get some problems to solve. As we still don't have running water at the farm, much time have been spent to bring water. We rebuilt an old wagon so it could hold a big water tank on top so the water would last much longer. But, with freezing temperatures that didn't work any longer. Instead I found an old timber sled that we could pull by the car when the tractor was occupied with plowing snow instead of carrying water.
The horses has also got in the habit of playing with the water bins. That often makes the cable that warm them up to break. So, I have tried to solve that to, and I think is works better than before.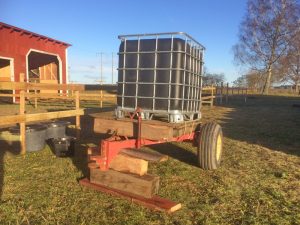 http:///ullekalv.se/wp-content/uploads/2015/09/ullekalv_header_logo.png
0
0
Ingrid Amadori
http:///ullekalv.se/wp-content/uploads/2015/09/ullekalv_header_logo.png
Ingrid Amadori
2018-02-14 09:34:36
2018-02-14 09:34:36
Små vardagslösningar på vattentransport