Embla riden och bus i paddocken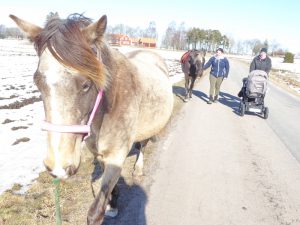 Igår testade jag Embla i kanske tio minuter runt gården. Det gick bra och jag fick några steg i något som inte var trav. Idag vägrade Leo låta någon annan än mamma ansvara för honom så jag fick ta Percy på promenad och så red Mathilda Embla istället. Hon skötte sig exemplariskt. En pigg lite häst som glatt gick fram i skogen. Ingen trav utan tölt/ foxtrot. Känns hoppfullt!
Jag red även Whizzy och Iris samma varv igår och fick fram Iris i tölt några steg. Hon har en tendens att hamna i stepping pace. Jag tror att det främst handlar om att hon ännu är så lite riden, men också att hon behöver gå på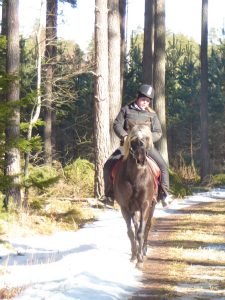 framåt för att gå över i tölt. Whizzy var jag i början så orolig för att hon inte skulle tölta, men så fick jag till det redan första gången jag bad henne. Men nu – nu är det bara trav, eller väldigt nära trav hon gör. Nåja – det finns ju där i alla fall. Idag tog jag och Mathilda tjejerna på en kvart eller så i omgivningen med samma resultat.
Bunny fick busa i paddocken med Calinka och Honey.
Yesterday I tried Embla for about ten minutes in the surroundings. She did well and I got some steps in something that wasn't trot. Today Leo only wanted his mum so I walked Percy and Mathilda rode Embla. She behaved perfectly. Forward going in the new forrest and tolt/fox trotting. Good girl!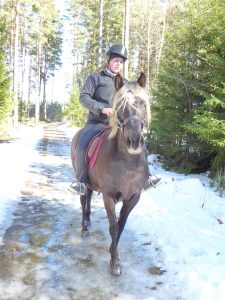 I rode Iris and Whizzy shortly yesterday and got some steps of tolt from Iris. She has a tendency to step pace. I think that is mainly because she is so inexperienced, but also that she needs to tolt with some speed. In the beginning I were so nervous that Whizzy wouldn't gait, but she did from the start. But now has she started to trot. Well – at least I know that she got it. Today Mathilda and I took the girls for another ten minutes with about the same result.
Bunny got to play in the arena with Honey and Calinka.
http:///ullekalv.se/wp-content/uploads/2015/09/ullekalv_header_logo.png
0
0
Ingrid Amadori
http:///ullekalv.se/wp-content/uploads/2015/09/ullekalv_header_logo.png
Ingrid Amadori
2018-03-25 20:22:55
2018-03-25 20:22:55
Embla riden och bus i paddocken