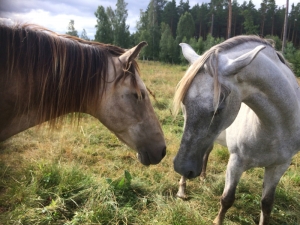 Honey har inte bara gått i hagen utan har fått göra lite smått och gott. Några promenader i tuff terräng, gå mellan halmbalar och så handhäst. Hon har fungerat bra till allt. Som handhäst har hon varit helt enastående redan från första turen och Calinka har bara blivit lite sur på henne en gång. Trots att jag rider barbacka följer hon lätt med och vi har travat, passerat tät vegetation, upp och nerför små backar, förbi hus, skällande hundar, traktorer, rådjur och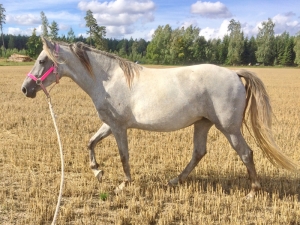 trafik. Vi såg till och med ett tåg på en bits avstånd.
Honey hasn't only been in the pasture, she has also been doing a little work. It has been some walks in ruff terrain, passing between straw rolls and ponying. She has been doing all of it great. She has been is perfect at ponying right from the first time. And Calinka has only been grumpy about her once so far. Even if I ride bareback she follows easily and we have trotted, passed throw tight vegetation, up and down small hills. passed houses, barking dogs, tractors, row deer and traffic. We even saw a train at a distance.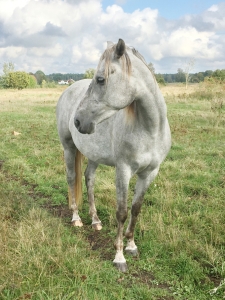 http:///ullekalv.se/wp-content/uploads/2015/09/ullekalv_header_logo.png
0
0
Ingrid Amadori
http:///ullekalv.se/wp-content/uploads/2015/09/ullekalv_header_logo.png
Ingrid Amadori
2018-09-14 21:29:25
2018-09-14 21:29:25
Honey arbetas