Pepperinos roliga färgskifte
En av alla roliga saker som hänt under sommaren är Pepperinos färgskiftning. Han är konstantskimmel, men ingen av tidigare föl har visat det så roligt som han. Plötsligt fick han en vit fläck på halsen och sedan kom en vit ål. Nu har båda försvunnit och han är mera jämnt ljus. Däremot funderade jag på vad RMHA skulle säga när jag skickade in bilder inför registrering då man lätt skulle kunna tro att han hade en vit fläck på halsen. Och det är inte tillåtet i rasen.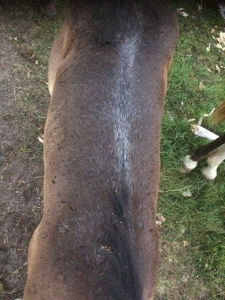 Och nej, han är inte brun. Bara väldigt solblekt. När han är nyfödd syns tydligt att han är svart och det kommer att komma tillbaka.
One of all the fun things that has happened during the Summer is Pepperinos color shifting. He got a roan spot on his neck and then a nearly white eel stripe. Both has now disappeared and he is more all over roan. But iI got a bit scared when I sent the pictures for registration as it easily could have been mistaken for a white spot, which isn't allowed.
And no, he isn't bay. Just very sun bleached. In new born pictures is it very clear that he is black.
http:///ullekalv.se/wp-content/uploads/2015/09/ullekalv_header_logo.png
0
0
Ingrid Amadori
http:///ullekalv.se/wp-content/uploads/2015/09/ullekalv_header_logo.png
Ingrid Amadori
2018-09-11 21:16:55
2018-09-11 21:16:55
Pepperinos roliga färgskifte