Vi blev inte så många i år, men vädret var underbart och kul att fixa till hästarna lite och bra träning för alla. Percy, med Elsa på ryggen, var taggad på att komma ut i rosa, Pepperino var så på att han började springa tillbaka till de andra hästarna ett apr gånger när vi skiljts åt i skogen för att ta ett varv med lite högre tempo än enbart skritt och ett för de som skrittade. I skogen var han lös, men på vägen dit gick han i grimma och grimskaft – den längsta promenad han gjort hittills. Det skötte han utan minsta problem!
David ville gärna rida, så han fick ta Calinka och Maggan ledde honom (och Honey när jag höll i Pepperino). Mot slutet satt jag upp på Honey och red henne barbacka. Inga problem! Nåja, vi behöver träna lite på start, stopp, höger och vänster, men hon accepterade mig på henne rygg. Jag hade bara ridit henne ett par gånger på gårdsplanen hemma förra vintern innan så detta var hennes första uteritt.
We weren't very many this year, but the weather was wonderful and it was fun to dress the horse up in pink. Percy, with Elsa on her back was really in the mood for a pink ride. Pepperino was so excited that he started to run back to the other horse when we split up for some time so some of us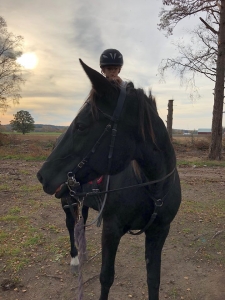 could go faster than only walk. Pepperino was running free in the forrest, but he was lead there – the longest walk in a lead rope so far for him.
David wanted to ride so he got Calinka and Maggan leaf him (and Honey when I had my hands full with Pepperino). At the end I got on Honeys back and rode her bareback. No problems! Or, I need to install the break, the start and turning equipment, but she accepted me on her back. I had only sat on her at the home a couple of times last winter before so this was her first "trail ride."
http:///ullekalv.se/wp-content/uploads/2015/09/ullekalv_header_logo.png
0
0
Ingrid Amadori
http:///ullekalv.se/wp-content/uploads/2015/09/ullekalv_header_logo.png
Ingrid Amadori
2018-10-13 21:02:30
2018-10-13 21:02:51
Pink Ride 2018