I lördags var det dags för sjunde upplagan av RMHA's Pink Ride. I år blev fokuserade vi på barnen och vi hade fem ridhästar med sju ryttare, tre föl och så tre personer som promenerade. Alla skötte sig väl även om Alba blev busig när närmade oss hemma och fick ett par hästar att hoppa till en aning. Inte Pepper och Percy däremot då de tyckte det gick för långsamt och efter en stund ökade hastigheten från skritt och därmed kom hem före oss övriga. Det var en vacker höstdag och vi hade tur med vädret då det precis började regna när vi nästan var hemma och när vi kom in för fika öste det ner en stund.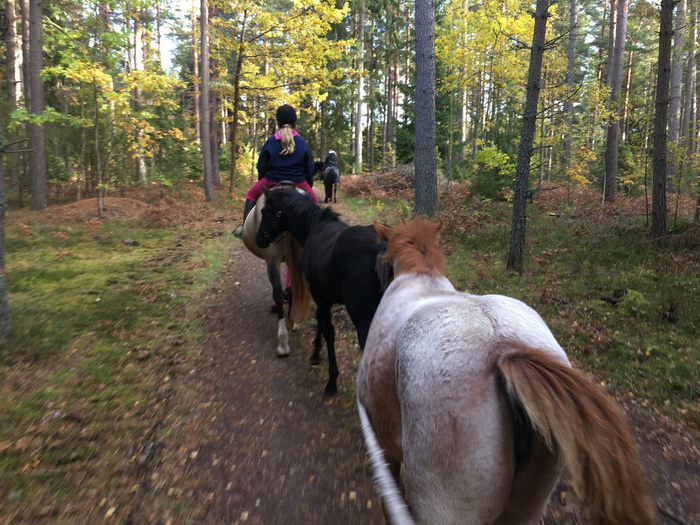 Bunny

Calinka managed to take two riders.

Mathilda & Rose

I took two foals until ALba got to tired and we had to drag her around – then she got to be free.

Chili

Calinka and our farm in the background

Rose carried both Mathilda and her son.

Pepper

Alba &Bunny
Last Saturday was RMHAs seventh annual Pink Ride. This year did we focus on the kids and had five ridden horses with seven riders, three foals and three people walking. They all behaved well even if Alba got a bit happy when we nearly was home and surprised some of the others a bit. But not Pepper and Percy – they had already left the group as they wanted to go faster than walk. It was a beautiful Autumn day. We had a good timing with the weather as well as it just started to rain when we nearly was at home. When we had gotten inside for some cake did it start to pour down.
http:///ullekalv.se/wp-content/uploads/2015/09/ullekalv_header_logo.png
0
0
Ingrid Amadori
http:///ullekalv.se/wp-content/uploads/2015/09/ullekalv_header_logo.png
Ingrid Amadori
2019-10-14 22:39:27
2019-10-14 22:39:28
Pink Ride 2019