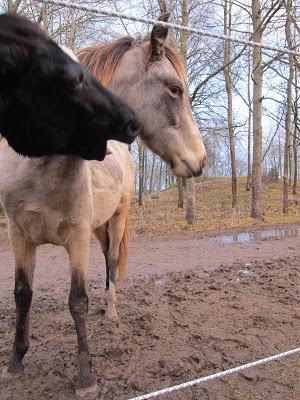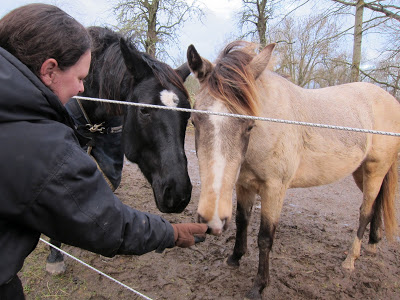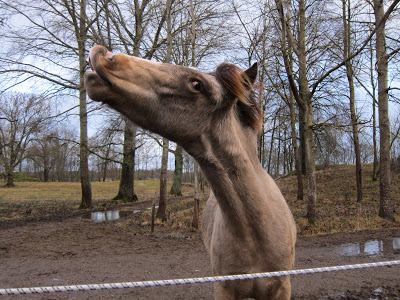 Jag förstår inte varför, men jag blev trots allt nervös när det var dags för veterinärbesök. Pepper och Percy skulle veterinärbesiktigas inför försäkringen och så behöver de grundvaccineras. Även Calinka fick sig en spruta och hotade veterinären när hon väl var stucken. Veterinärens kommentar var: Det är tur att de inte kan prata (..för hennes kommentar hade man inte velat höra…)Dessutom var ju inte Calinka i centrum…. Eftersom vi inte fick denna händelse på bild fick det bli en på när "hajen" attackerar Percy istället. Man kan inte klaga på att hennes kropsspåk inte är tydligt. Men ofta är det just det – tydligt – och bara ett hot.
Pepper skötte sig ypperligt liksom Percy, även om Percy inte gillade det här med böjprov. Nåja, allt gick bra. Synd bara att Percy precis verkar ha fått ett överben fram. Kan hon ha sparkat sig själv, eller sprungit på något tro?
Percy fick även träna på att ta hästgodis, efter några försök gick det…
I don't understand why, but I got a little nervous when it was time for the vet's visit. Pepper and Percy needed an examination for the insurance and vaccinations. Calinka also got a shot and thretend the vet (when the shot was already given). The vet comment: Luckily they don't talk (..as we wouldn't have wanted to her what she have had to say right now…) Above all, Calinkas wasn't in the center of all attention…As we didn't get a picture of this event I has to be one of "the shark" attacking Percy instead. Can't complain that her body language isn't clear…Luckily it is just that – very clear but just threats.
Pepper behaved very well, as did Percy, even if Percy didn't like the flexion test. Well, it worked out. Sadly, Percy seemed to have gotten a splint on her frontleg. Maybe she has hit her self or run into something?
Percy also got to train on eating horse candy. After a few times she tried it…
http:///ullekalv.se/wp-content/uploads/2015/09/ullekalv_header_logo.png
0
0
Ingrid Amadori
http:///ullekalv.se/wp-content/uploads/2015/09/ullekalv_header_logo.png
Ingrid Amadori
2012-01-05 16:25:00
2012-01-05 16:25:00
Veterinärbesök