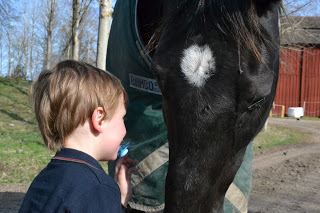 Idag fyller Calinka 17 år och nuförtiden blir jag alltid lite nostalgisk denna dag. Kan inte förstå hur tiden har gått så fort, allt vad som hänt sedan dess och att jag har den där söta lilla fölungen jag träffade en söndag för 17 år sedan hemma hos mig idag.
För Calinka är speciell, hon kommer alltid att ha en särskild plats i mitt hjärta. Min första egna häst, hästen som följt mig sedan tidiga tonåren, som jag red in, levde på studiebidrag med och som har en underbar personlighet. (Nåja, det är inte riktigt alla som tycker det). Hästen som jag redan första gången jag träffade henne visste var speciell, som jag redan då fick en föraning om att hon var min. Att jag en dag skulle äga henne och göra allt det vi gjort. Men verklighetne ahr varit bättre än drömmen.
Igår när vi red ut i solen roade hon mig med att frysa fast, titta rejält på fåren och på alla sätt visa att de var då inte att lita på. Trots att hon gått på bete med får, trots att vi passerat fåren ett par gånger sedan de släptes ut. Fast då hade hon Percy med och var så klart tvungen att vara en stabil kompis. Nu var det bara matte så du kunde hon pasa på med dessa hyss. Det är en av anledningarna till att jag gillar henne så mycket – hon vet ofta var och när det går att göra saker och passar på att busa när det går.
Idag var jag och Isac och grattade henne med en morot.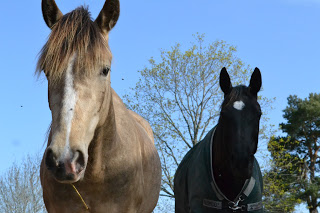 Today Calinka turns 17 years and I always get a bit nostalgic this day. I can't understand how fast those years have passed by, or everything that actually have happened, and that the small, sweet foal that I met a Sunday 17 years ago is in my stable today.
Cause Calinka is special, she holds a special place in my heart. My first own horse, the horse that has been at my side since early teen ages, that I broke, that I kept while studying and payed everything for, the one with a wonderful personality. (Well, not every one seems to believe that). The horse that I knew was special the first time I meet her, that I already then got a feeling that she belonged to me. That I one day would own her and do everything we have done so far. But reality have been better than the dream.
Yesterday when we trail road in the sun she froze, stared at the sheep and showed that the was not to be trusted. Still, she has been in the pasture with sheep and we have passed those specific sheep a couple of times since they got into this pasture. But then she was with Percy and had to act as a grown up horse. Now it was just me so she could play a bit. That's one reason why I like her so much – she usually know when and where she can act out and when not.
Today Isac and I patted her and gave her a carrot.
http:///ullekalv.se/wp-content/uploads/2015/09/ullekalv_header_logo.png
0
0
Ingrid Amadori
http:///ullekalv.se/wp-content/uploads/2015/09/ullekalv_header_logo.png
Ingrid Amadori
2012-04-30 19:30:00
2012-04-30 19:30:00
Calinka 17 år