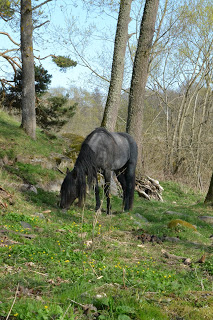 Hjälp – så har redan en dag till gått! Men, det har varit en väldigt vacker dag – strålande sol och blå himmel. (För första gången på flera år har jag bränt mig i solen.)
Kristian och pappa jobbade återigen på stallet (kommer det någonsin att bli klart?). Isac ville inte riktigt som jag och eftersom jag tänkte jobba samtidigt som han var med blev det sådär. Det blev inte bättre av att vi lyckades låsa in bilnmyckeln i den ena bilen och därmed inte kom åt Isacs festis, nappen eller hans solglasögon… I slutet fick jag i alla fall nästan allt gjort som jag hade tänkt.
Percy tömkördes och gick bättre än någonsin – nu gick det att börja jobba. Hon gick att styra med minimala hjälper, hon började kröka lite på nacken och hon "gaitade" på töm i flera korta pass. Kanske var det bra att hon fått tänka över det några veckor?
Pepper reds och skötte sig bra, men sidvärtes är svårt. Vi testade att galoppera några steg i båda varven – första gången på mitt initiativ. Det är en sådan skillnad från Calinka. Det har tagit år att få henne att galoppera som Pepper gör utan träning. Det går också bättre och bättre att trava runt på fyrkanten och han söker sig allt mer i rätt form. Än är det nog mer krök i nacken än äkta form, men han kan sänka ryggen mycket mer än vad han gör nu. Som avslut red vi en kort bit utanför ridbanan och mötte dessutom en bil.
Som avslut på dagen började jag slå staketstolp för att förstora Peppers hage och ge honom lite utrymme att springa. Hans hage är väldigt kuperad och har massor av stenar så han kan inte sträcka ut mer än några språng i taget. Det kan ha varit en anledning till problemen i vintras när han verkade ha för mycket energi. Eftersom det finns en helt platt yta precis utanför hans hage som tidigare betats får jag stängsla den. Det kommer både att ge mer mat och rejält med yta att springa på. Just nu går det väldigt lätt att slå ner stolpar, så jag ska förska hinna med lite varje dag framöver.
Help – one more day has passed by! But, it has been a wonderful day – sunny and ca clear blue sky. (For the first time in years I got sunburned.)
Kristian and dad continued working on the stable (will it ever be ready?) Isac didn't really want to do things as I wanted and the thing I had planned to dfo didn't really work out. It didn't get better when one car got look with the car keys inside. In the car was Isac juice, his sunglasses and his bite… In the end I almost got everything done anyway.
I long reined Percy and she worked better than ever. It was possible to turn left and right with minimal aids, she bent her neck a bit and "gaited" some short distances. Maybe it was good that she have had some time to think it over ?
I rode Pepper and he behaved well, but to do move sideways is hard. We tried to canter a couple of steps in each direction on my command. It is such a differences from Calinka. It is so easy for him to canter, it has taken years to get Calinka to canter as he does without training. He also trots around the arena better and better and tries to find a better frame.It is still more bend in the neck than true collection, but he can work much less with his back than he does now. For finally we did a short trip at the roads and meet a car.
I finished the day by starting to fence an area to enlarge Peppers pasture and give him some area to run. His pasture is full of stones and small hills, but there it is hard to find places to stretch, it is only few steps ion a row. That might have been one problem this winter when he got to much energy. As it is a flat area just outside his pasture that used to be a pasture i am allowed to fence that as well. That is going to be much more food and a lot of space to run. Right now is a perfect time to fence as the poles just melts into the ground so I hope that I can do a little each and every day.
http:///ullekalv.se/wp-content/uploads/2015/09/ullekalv_header_logo.png
0
0
Ingrid Amadori
http:///ullekalv.se/wp-content/uploads/2015/09/ullekalv_header_logo.png
Ingrid Amadori
2012-05-01 22:09:00
2012-05-01 22:09:00
Sol och klarblå himmel