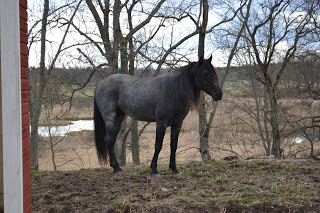 I fredags tog Maria hästarna och jag fick "ledigt" och gick ut och dansade…
Lördagen började med att mina föräldrar kom och att min pappa och Kristian åkte upp och jobbade på stallet medan mamma och jag passade Isac, jobbade i trädgården, byggde sandkakar etc. Efter lunchpaus åkte vi allihopa tillbaka så att min mamma fick se hästarna (hon hade inte träffat dem tidigare). Hon och Isac tog en promenad med Mika (ett av fyra djur motionerade). Jag red Pepper (två av fyra djur motionerade). Han var lugnare än vanligt, så han fick bygga självförtroende med att hoppa diket (han blir så stolt över sig själv). När jag longerade honom (typ 3 var i varje riktning) var det inte så mycket energi som senaste så jag satt upp direkt istället. Han verkade ha glömt det här med skänkelvikning eller flytt i sidled, men vi jobbade på det. Tyvärr kom stona rusande. Tyvärr eftersom de sedan för första gången fick Pepper att tänka på annat; han gnäggade djup och visade att han helst vill gå och snacka med dem. Ingen fara på taket, men koncentrationen försvann till viss del. Så, efter att ha jobbat ett tag till skrittade vi för att möta min mamma på hemväg från promenaden. Lugn och cool kille och vi joggade en kort bit.
Maggan skulle rida ut med mig, men jag hann få in stona innan hon kom. Tyvärr höll grannen på att hämta jord från en stor jordhög i Peppers hage så det var provosorisk stängsling för att underlätta hans arbete. Det innebar i praktiken att det inte fanns någon grind i närheten av stallet för att ta in stona. Nåja, jag fick dem att gå över tråden när den låg på marken och att ta in båda samtidigt. Medan jag slet med en fällande Calinka kom Magga och hjälpte till att borsta bort pälsen som faller i drivor.
Vi testade vända som Percy tröttande av efter halva turen de första gångerna – nu var det inga probelm. Problemet var bara att hon helt glömt att hon kan tölta. Innan har hon varit väldigt töltsäker. Antar att det är ett steg i hennes utveckling och i övrigt var hon stabilare än någonsins och svarade väldigt bra på avsaktning med sätet. Som avslut tog vi en avstickare till en hage där Calinka sedan galoppjobbades (fyra av fyra djur motionerade). Men först provade jag att galoppera några steg i varje varv med Percy. Duktig tjej!
Som avslut på kvällen blev det Kristians hembakade pizza för alla.
Tanken var att jag skulle hinna bli klar med detta inlägg, men eftersom söndagen också har hunnit gå fyller jag på med vad som hände idag:
Kristian och min pappa jobbade nu mer i stallet och jag och Calinka testade nya ridvägar i det underbara vårvädret. Vi möte en grupp med islandshästar och de var allmänt konstiga i Calinkas ögon liksom fåren som hon borde ha hunnit se några gånger nu… I alla fall hittade vi en jättefin väg, mycket gräsväg och vacker natur. Det kommer att bli en favoritvända, särskilt som underlaget är så bra hela vägen.
Oplanerat blev det även så att jag fick hjälp att köra bort några dåliga hösilagebalar så nu är det snyggt och städat igen. Medan jag väntade på traktorekipaget lekte jag med Pepper och han följde mig så lätt när jag sprang iväg i hagen. Han var så social och en helt annan attiyd än annars, bara vara med och mysa med näsan. Ibland får jag glimtar av hur det kommer att bli när vi känner varandra bättre, när vi litar än mer på varandra. Det kommer blir något alldeles extra – det är då säkert.,
At Friday Maria tok care of the horses and I got a day of so I went dancing…
The Saturday begun with that my parents arrived and that my father and Kristian went to work in the stable while my mum and I took care about Isac, worked in the garden, played in the sand etc. After lunch we all went back to the stable so my mum could see the horses (she hadn't meet them before). She took Isac and Mika for a walk (one of four animals exercised). I rode Pepper (two of four animals exercised). He was calmer than usual, so he built some confidence jumping over the ditches (he gets so proud of himself). When I longed him (like 3 laps in each direction) he didn't have as much energy as last time so I climbed up on his back and we started to do dressage. He seemed to have forgotten how to move his body side ways so we worked with that. The mares came to watch and for the first time Pepper showed that he preferred them. He called them with a dark voice and wanted to show of, but we handled the situation. We continued to work a bit longer but had problem with concentration so went to meet my mum as she, Isac and Mika returned from their walk. A very calm and relaxed boy and we even jogged a bit.
Maggan was supposed to join me but I had already got both mares indoors when she arrived. Problem was that the neighbor was getting soil for there garden from a big pile in Peppers pasture. To make the work easier they did some temporary fencing. Result? There was no gate between the stable and the mares pasture. A got them to get over the thread when I put it on the ground – both at the same time.. While I was grooming a shedding Calinka Maggan arrived and helped me.
We took the way that made Percy tired halfway the first times I rode her.Without any problems. The only problem was that she had forgotten her gait. Previously she has been very easy to gait and not doing anything else. I guess it is just a part of her learning curve. Besides of that she responded very well when I asked her with my seat to sloe down and all over she felt more stable. Instead of getting back home we added a extra bit to the ride – canter in a nearby pasture. Good girl! Then Calinka cantered a little bit more as she is in a much better shape. (Four out of four horses exercised).
The day ended with Kristian's home made pizza to each and everyone.
The plan was that I should have posted this part earlier, but as Sunday has passed by I add what happend today as well:
Kristian and my dad kept working on the stable and Calinka and I tried new roads in a wonderful spring weather. We meet a group of Icelandic horse that Calinka thought was very strange, as well as the seep as she has had a couple of days to watch previously… Anyway, we found a wonderful new road, and beautiful nature. It is going to be a favorite, especially as the road it self was such a good one.
Unplanned I also got help with some old silage rolls that wasn't healthy when I opened them and therefore never got feed to the horses. Now the area look nice and clean again. While I waited fort the tractor to arrived I played with Pepper and he came after me easily as i ran in the pasture. He was very social and had a different attitude compared to many other times. He just wanted to be close and to cuddle with his nose. Sometimes I get flashes of how it is going to be when we learn to know each other better, when we trust each other more. It is going to be something very special – that is for sure.
http:///ullekalv.se/wp-content/uploads/2015/09/ullekalv_header_logo.png
0
0
Ingrid Amadori
http:///ullekalv.se/wp-content/uploads/2015/09/ullekalv_header_logo.png
Ingrid Amadori
2012-04-29 21:10:00
2012-04-29 21:10:00
Helgen som gått