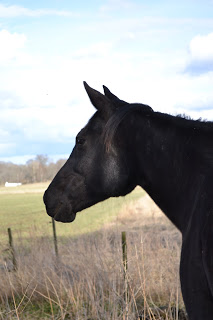 Efter att ha insett att hästarna faktiskt inte smutsat ner sig för mycket äver natten var vi redo för besök av Ridsport. Det verkade helt lungt trots att troligen ingen av hästarna gått ute med täcke tidigare (för att inte nämna tailbag). Percy verkade däremot lite trött efter gårdagens bad.
Vi hade jättetrevligt under besöket och pratade massor. Vi får väll se hur det blir i sammanfattning sedan. 🙂 Maria passade ju på att fota och hennes bilder finns ju i ett eget inlägg. Jag valde att rida Percy (åttonde gången under ryttare tror jag det blev). Eftersom jag så gärna ville få med pannbandet som är typiskt på Rocky Mountain häst shower (och inköpt när jag var i Kentucky) fick det bli bett vid ridning för första gången. Senast red jag med både bettlöst och bett samt dubbla tyglar. För att "spica upp" det hela lite fick det även bli barbacka. Jag är så van att rida Calinka barbacka, så det skulle väll inte vara något problem? Men oj så liten och tunn Percy kändes – det tog ett tag innan jag balanserade om mig. Percy skötte sig i alla fall utmärkt.
Pepper fick visa upp sig på töm – där känner jag att vi är bäst befästa ännu. Pepper har gjort bättre jobb, men nu jobbade jag ju på att få till så att han visades från rätt sida, inte gick över fotografen och så vidare. Nåja, form får vi jobba på nästa gång. Sedan blev det bilder på dem lösa i hagarna också.
På eftermiddagen blev det ytterligare en vända till stallet. Nu med resten av familjen för att jobba vidare på lösdriften. Det verkar vara ett evighetsjobb. Det känns som om det är bara detaljer, men oj vilken tid de tar. I alla fall kom vi lite längre på den fronten. Mika var med hela dagen och låg och tyckte synd om sig själv.
After realizing that the horses hadn't got all dirty again over night we brushed them of and was ready for Ridsports visit (big Swedish horse paper/magazine). They both seemed cal even if probably none of them had been outdoor with a rug before (not to speak about tail bag). But Percy seemed a bit tired since yesterdays bath.

We had a really nice visit and talked a lot. Wonder how that turn up in short later. 🙂 Maria took pictures and they are in there own post. I choose to ride Percy (probably eight time under rider). As I wanted her to wear her "Rocky Mountain Show" browband (bought in Kentucky) I had to bridle her up. First time under saddle with a bridle. Last time I rode her with both the bitless and a bit and double reins. To spice things up I also chose to ride her bareback. I am used to Calinka bareback, so this shouldn't be any problem? But Percy felt so small and tiny – it took awhile before I got balanced on her. Anyway – Percy did great.
Pepper posed long reining – that is where I feel that he works the best so far. Then we got some pictures in the pasture as well. Pepper have worked better, but today was a bit about showing of the mane, not running over the photographer etc. We can work on the frame next time.

In the afternoon I returned to the stable – now with my family. We continued to work on the barn. It seems to be a work that never ends. It feels as it is only details left, but it takes ages. At least we got some more things done. Mika joined me all the day, mostly feeling sorry for her self.
http:///ullekalv.se/wp-content/uploads/2015/09/ullekalv_header_logo.png
0
0
Ingrid Amadori
http:///ullekalv.se/wp-content/uploads/2015/09/ullekalv_header_logo.png
Ingrid Amadori
2012-04-15 20:55:00
2012-04-15 20:55:00
Heldag i stallet