Percy och Pepper var dagens träningsobjekt men när jag fått in Percy såg jag att hon hade en svullnad från navel till juver. Hon verkar inte öm, hade ingen feber eller ljusa slemhinnor, men jag gillar det inte. Tanken gick mot navelbråck (men inte så långt bak?) eller irritation över insekter som lett till en allergisk reaktion. Så Percy fick gå ut igen och så får jag hålla koll på vad det kan vara för något.
Peppers tur då istället; han var lugn och sansad och det kändes ovanligt bra oss emellan. Jag tänke sitta upp direkt när vi kom till ridbanan men bestämde att jag ville flytta honom lite från marken. Det brukar gå bra att backa och att flytta på bakdelen, men framdelen gillar han inte att flytta – och då kom energin fram. Han föredrog ett antal longeringsvarv runt mig – han reagerade redan bättre på mina kommandon än förra gången. Lättlärd. När han så kunde flytta bogen blev satt jag upp och så blev det ett kort dressyrpass – det är så svårt att flytta sig i ena varvet. Nåja, vi kämpade på. Vi travade lite runt fyrkanten och avslutade med att skritta av på vägarna utanför. Då var det svårt att få honom til en bra uteritts skritt utan han gick i ett mycket lugnare tempo.
Medan jag jobbade Pepper sprang stona runt så jag antar att Percy mådde bra – det fanns i alla fall fart i henne.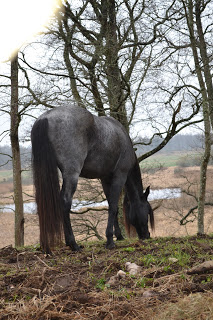 Percy and Pepper was today's horses to work, but when I had Percy in the stable I found a swelling from her udder to her belly button.. She didn't seem to be soar, didn't have any temperature and her mouth color was fine, but I don't like it. I thought about umbilical hernia (but not so far back?) or an allergic reaction towards insects as they have come. I let Percy out again without working her and I have to keep a close eye on her belly.
Then it was Pepper, he was calm and it felt unusually good between us. I planned to get on his back as soon as we got to the arena but decided just to move him a bit from the ground first. Then he showed his energy, he don't like to move his shoulders when I ask him – the quarters and backing up is usually ok. He preferred to be lounged around me instead of move his shoulders and this time he reacted better to my aids for him changing direction. Easy to train. After I got him to move the shoulders I got into the saddle and we did some dressage for a short while. We did some sideway movements and he finds that hard. But he is getting better and I fee the differences. We also trotted a bit around the arena and then finished by walking outside the arena a little longer than last time. He was hard to get into a nice and active wall by then – he preferred a much slower walk.
While I worked Pepper the mares run around in their pasture so it seemed as Percy was fine. At least she had a good speed.
http:///ullekalv.se/wp-content/uploads/2015/09/ullekalv_header_logo.png
0
0
Ingrid Amadori
http:///ullekalv.se/wp-content/uploads/2015/09/ullekalv_header_logo.png
Ingrid Amadori
2012-04-24 22:05:00
2012-04-24 22:05:00
Överraskande tisdag