Insektshel***te och "otäcka saker"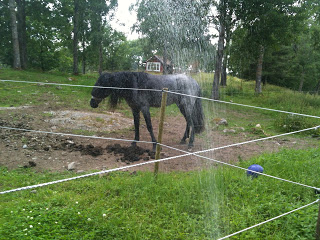 Pepper get a "shower" from the other side of the fence while I get Percy habituated to the water…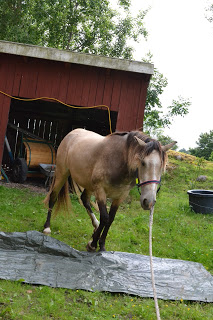 Idag hade Calinka reagerat rejält på flygfäna. En varm och lite kvalmig dag, alltså perfekt för blodsugare… Eftersom Calinka var värst åtgången fick hon prova nyaste täcket – Rambo Fly buster. Längre hals och magplatta var kanon! Dessutom impregnerat med flugavstötande medel – tyckte hon kunde behövas. Lyxhästen – hon provade ju amigo flugtäcket tidigare – men nu fick Pepper ta det…
Percy tränades idag – vatten i slang var otäckt. Men, hon vågade gå förbi strålen ett par gånger, men hon behöver träna mer. Och nej, hon badade inte, jag bara lät henne se vattenslangen speja vatten. Pepper däremot – han hade inget emot ett bad från andra sidan staketet….(hållandes i Percy)
Percy fortsatte med att gå över en presenning. Lite otäckt, men hon skötte det bra. Vi jobbade kasnke 5 minuter totalt på detta… Sedan var det hinder introducering. Hon ville helst gå på sidan av det 10 cm höga hindret – i alla fall om man kom i fart. Nåja, hon följer ju egnetligen snällt med och insekterna blev allt jobbigare.
Pepper verkade inspirerad så han fick prova presenningen. Han "fastande" på den första gången. Gräset var ju så gott på andra sidan. Inte ens när jag veck ut presnningen till max storlek, men honom till viss del på den reagerade han…
Calinka had a lot of nasty bites from all insects. A warm and humid day – perfect for those blood eating animals… As Calinka looked the worst she got the newest rug – Rambo fly buster. A longer neck and a stomach patch was great! As a plus it was impregnated with fly repellant that she might need the most. The "luxuary horse", just a week ago she tried the new Amigo fly rug – now Pepper got that.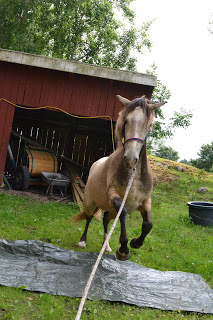 Percy worked to day – water was scary. But, she managed to pass by underneath it a couple of times, even if more training is required. I didn't bath her – just habituate her to water and how it comes out when showering a horse. Pepper on the other hand – I sprayed him from the other side of the fence…(holding on to Percy)
Percy continued by stepping over tarp. A little scary, but we worked about 5 minutes and I got her over as many times as I intended. Then we introduced jumping. Percy wasn't impressed by the poles and tried to walk by them and the small (10 cm?) jump – at least in some speed. Well, the insect got worse and she tried.
Pepper seemed inspired and got to try the tarp. He "got stuck" on it the first time. The grass was so nice on the other side. He didn't even react when I unfolded the tarp while he stod on it.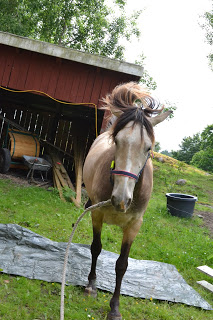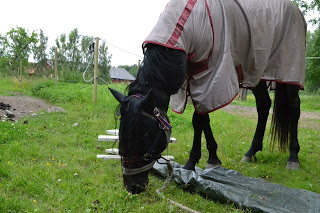 Peppers first crossing – I even managed to get the camera before he walked of the tarp…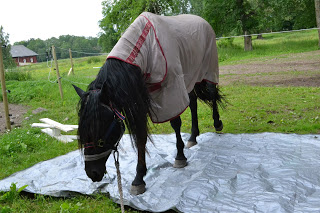 He didn't even think before he step on this one…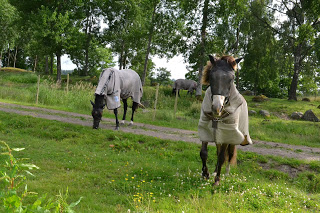 All three horses in one pic.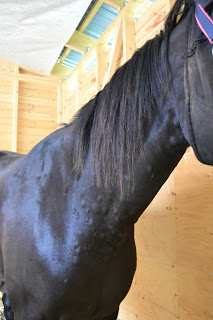 Calinkas neck today – to many bites.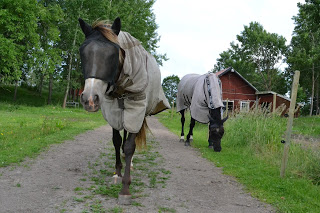 Percy – wearing an old Rambo Protector
Pepper in the Amigo Mio Fly Rug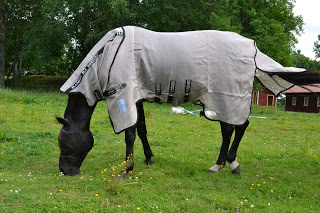 Calinka and the Rambo Fly Buster
http:///ullekalv.se/wp-content/uploads/2015/09/ullekalv_header_logo.png
0
0
Ingrid Amadori
http:///ullekalv.se/wp-content/uploads/2015/09/ullekalv_header_logo.png
Ingrid Amadori
2012-07-07 21:09:00
2012-07-07 21:09:00
Insektshel***te och "otäcka saker"