Jag har ännu inte fått svar på Pepper CEM test så jag ringde veterinäern. SEMESTER i fyra veckor. Jippei! Som tur var hittade jag ett sätt att kontakta SVA som gör testen och så kom jag på att kolla i Blåa Basen. Och där står det faktiskt att han är ua… Så det borde väl stämma? Vi får väll se om det kommer ett svar från SVA också…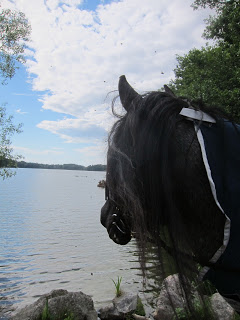 (CEM är ett test som man måste ta på alla hingstar som ska användas på semin eller som har varit utomlands, innan de betäcker).
Och, jag fick svar från SVA – han är ok!
I have not got the results from Pepper's CEM test so I called the veterinarian. VACATION, for four week. Luckily I found a way to contact SVA (that analyses the samples in Sweden) and then I got the idea to look at "Blåa Basen" (A computer system on the internet where all horses that have their passports from Svenska Hästavelsföreningen can be looked up … And all Swedish horses needs a passport and I used this place for my Rockies). Anyway, in that registry is seems as he is ok! So I guess that is correct? I'll see if I get a direct answer from SVA as well…
(CEM is a test that is required from all stallions prior to breeding, if used for insemination or if the stallion has been abroad).
And, I got an answer from SVA – he is ok!
http:///ullekalv.se/wp-content/uploads/2015/09/ullekalv_header_logo.png
0
0
Ingrid Amadori
http:///ullekalv.se/wp-content/uploads/2015/09/ullekalv_header_logo.png
Ingrid Amadori
2012-07-09 18:51:00
2012-07-09 18:51:00
CEM test