Att ha huvudet med sig – eller nått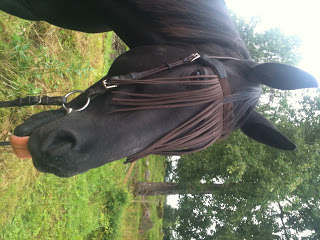 Idag skulle jag ta en lättare tur på Calinka, skorna gav upp så hon är för ömfotad för grusvägarna. Som tur är kommer hovslagaren imorgon. När jag skrittat iväg en bit inser jag att jag inte har något på huvudet. Hjälmen var kvar i stallet! Däremot hade jag säkerhetsvästen på. Jag antar att jag är mer rädd om mina inre organ än mitt huvud?
För många år sedan, när jag var typ fjorton, gjorde jag samma sak en gång – på Calinkas halvbror som var långt ifrån en säker häst att rida. Då kom jag i alla fall på det snabbare. Maria åkte för någon månad sedan av (ingen av mina hästar) och hade länge huvudvärk och kände av problem. Själv har jag lyckats slå huvudet i en sten (med hjälm). En annan kompis åkte av och svimmade så där 45 minuter (hon vet inte hur länge eftersom hon var själv, även hon bar hjälm). Därför använder jag alltid hjälm. Utom idag då, tredje gången någonsin på Calinka. Första gången var på mitt bröllop (och då hade jag ledare), andra gången några minuter på bilden i bloggen för ett par veckor sedan och så idag…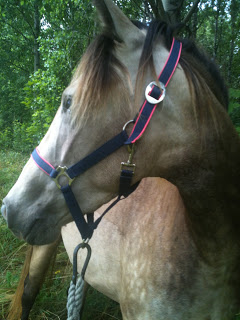 Pepper tömkörde jag idag och Percy fick en promenad i terrängen. Bunny har jag äntligen kunnat försäkra. A2 förvisso, men innan flygdatum fanns var inte ens det möjligt.
Today I planned an easier trail ride
with Calinka as her shoes gave up and she say that her feet hurts on everything except grass. Luckily the farrier is going to be here tomorrow. We got away and and after a while I realize that I don't have on my head. The helmet was left in the stable! But I did have my safety west. Guess I am more concerned about my inner organs than my head?
Many years ago I did the same thing – riding Calinka's half-brother that was far from a safe riding horse. At least I realized it quicker that time. Maria fell of about a month ago (none of my horses) and had a headache and other problems for many days. I have managed to hit my head in a stone while falling of (with a helmet). Another friend fell of and passed out for about 45 minutes (she don't know as she was alone and she wore a helm as well). Therefore I always use a helmet. Except for today, third time ever on Calinka. First time without a helmet at Calinka was for my wedding (and then I was on a lead line), the second time, and just for some minutes, some weeks ago when we took the picture that I showed her at the blog a couple of weeks ago.
I long reined Pepper as well and Percy got a short walk in ruff terrain. I have finally been able to insure Bunny. Not something that covers a lot, but before I had a flight date even that was impossible.
http:///ullekalv.se/wp-content/uploads/2015/09/ullekalv_header_logo.png
0
0
Ingrid Amadori
http:///ullekalv.se/wp-content/uploads/2015/09/ullekalv_header_logo.png
Ingrid Amadori
2012-08-09 21:36:00
2012-08-09 21:36:00
Att ha huvudet med sig – eller nått