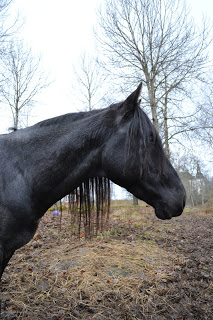 Tanken var att Isac skulle följa med sin pappa till en släktning och jag ägna hästarna extra mycket tid. Men, eftersom det inte var vad Isac önskade blev han hemma med mig istället. Därmed lite ändrade hästjobbsförutsättningar. Så, istället för att ta igen lite för att jag varit bortrest med jobbet onsdag och torsdag blev det istället bara en snabb visit under fredagen för att se att hästarna levde. Tur att Maria motionerade Calinka och Bunny när jag var borta. Bunny fick dessutom sin första tur själv i skogen. Tydligen inte helt populärt i böjan, men efter en bit hade det fungerat bra.
Så idag fick Isac följa med upp till hästarna. Vi ankom stallet någon timme efter att vi ätit lunch och redan då började tjat om att få fika. Som ledde till en mindre katastrof när den elaka modern nekade. Det kan ha varit anledningen till att Pepper såg monster i änden på ridbanan när jag tömkörde honom. I alla fall såg han fin ut, men lite svår att manövrera pga spöken – han har bara varit så här en gång tidigare – när jag hade radion på i mörkret.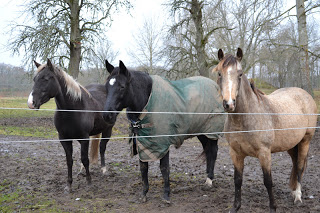 Calinka var nästa häst på tur och det blev en kort tur – hon visade sig vara rejält svullen i vänster framben. Jag vet inte vad hon har gjort, men det kommer dröja innan hon går för fullt igen. Isac fick hon bära ett varv runt husen för att jag skulle komma ut på lite bättre mark och se hur hon rörde sig och om rörelse hade någon effekt på svullnaden.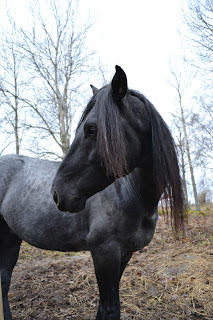 The plan was that Isac should join his dad to a relative and I spend some extra time with the horses. But, as Isac wanted to stay home with mum instead the plans changed. Instead of making up for being away with work during Wednesday and Thursday a could only make a short visit during Friday to see that all horses was alive. Luckily Maria worked Calinka and Bunny while I was away. Bunny went on her first trail ride without company. I was told it wasn't appreciated in the beginning, but got better after a while.
Isac joined me today, we arrived at the stable about an hour after lunch and then the talk about food started. That got into a small catastrophe when the mean mother refused. It might also have been the reason why Pepper saw monsters at the end of the arena when I long reined him. He looked good, but was harder than usual to manage because of the monsters – he has only been like this once before – when I turned on the radio in the darkness.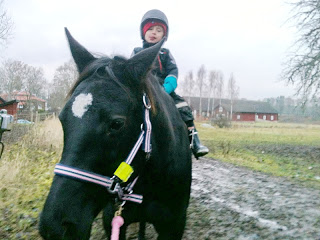 Calinka was next horse up, but turned out to have a big swelling on her left front. I don't know what she has done, but it is going to take some time before she is doing full work again. Still, I got her to carry Isac around a short distance so I could watch her walking in a better area than the muddy pasture, and if moving would do anything for the swelling.
http:///ullekalv.se/wp-content/uploads/2015/09/ullekalv_header_logo.png
0
0
Ingrid Amadori
http:///ullekalv.se/wp-content/uploads/2015/09/ullekalv_header_logo.png
Ingrid Amadori
2012-11-10 21:13:00
2012-11-10 21:13:00
Ändrade planer