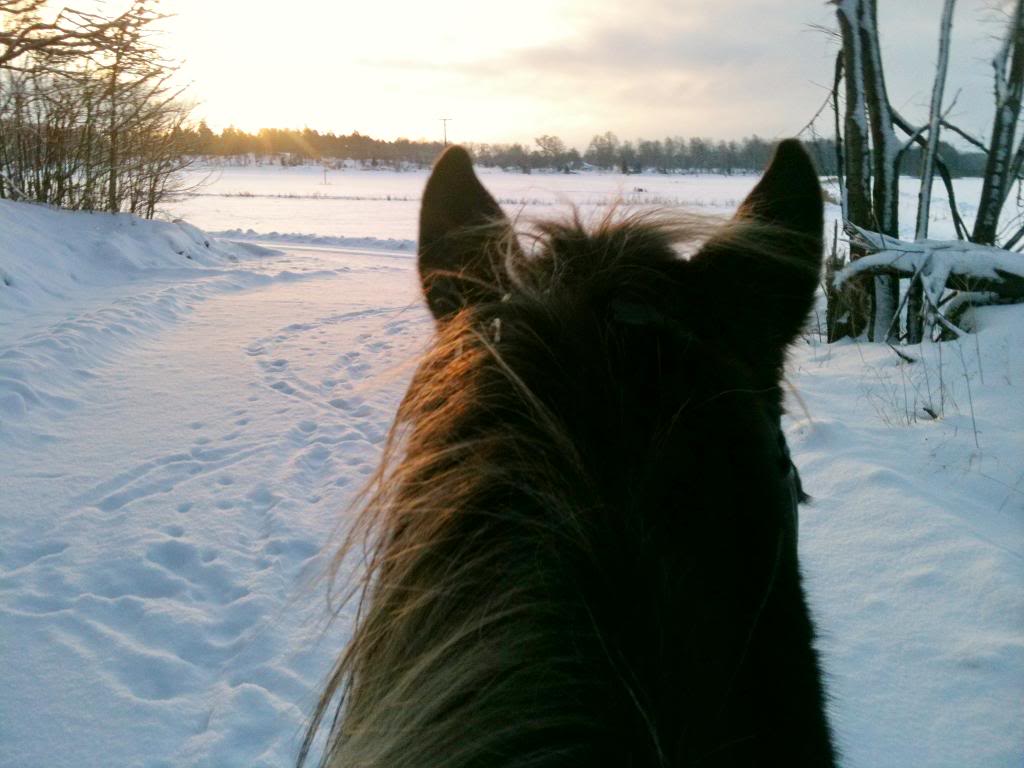 Bunny
Ännu en vecka flugit fram. Calinka har blivit lite moionerad och börjar komma igång igen, det känns bra. Percy har börjat hosta och det är så klart mindre positivt. Anledningen kan vara väderomslagen, kallt till fuktigt och regning och kallt igen. Men, efter att ha fått täcke verkar hon blivit bättre, ett nytt sätt att bli lyxhäst kanske? I slutet av veckan hann jag äntligen med Pepper och tömkörde och promenerade honom. Kul! Sedan blev det åter en tur med Calinka i dagsljus(lyx). Hon var pigg och busig och eftersom vi hade olika åsikt om galopptempot försökte hon lura mig genom att lägga in ett bocksprång när det gick för långsamt enligt henne… (Bushäst, men inget illa menat). Dessutom såg vi skogens konung, älgen, stå själv på ett fält.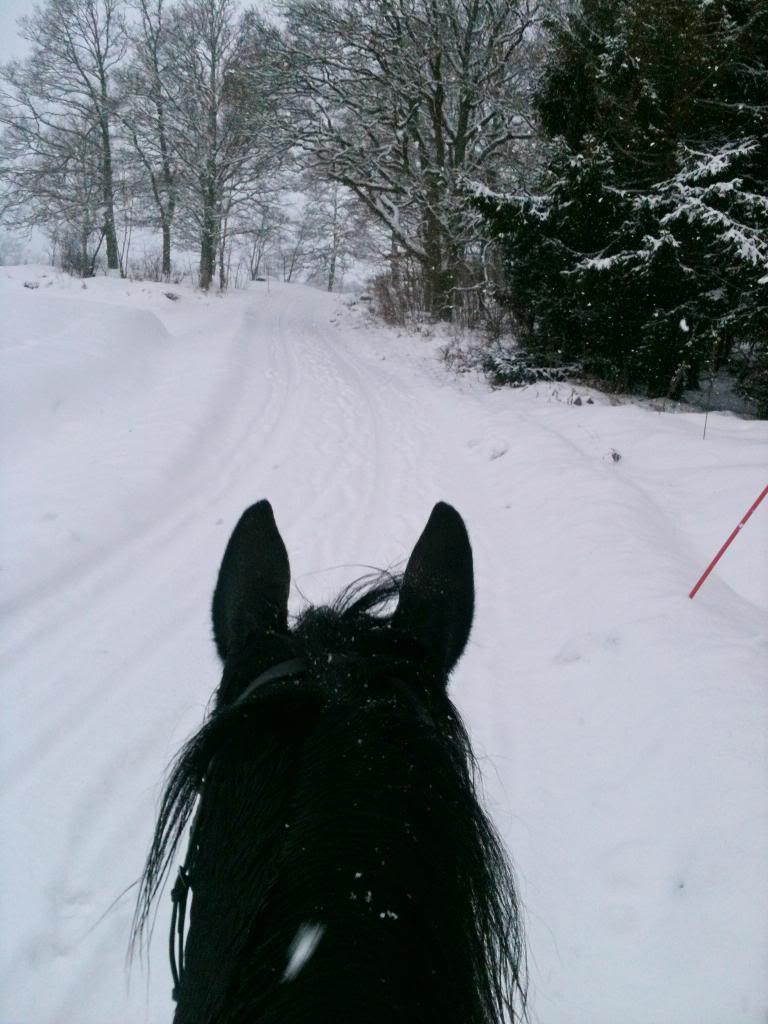 Calinka
Bunny hann jag också ut med, troligen sista turen innan hon får det lite lugnare innan fölning. Först var det lite jobbigt att gå iväg, men när hon fick springa i snön kom hon på att det var kul. Plötsligt testade vi en kort galopp, hon verkar vara lika härlig att galoppera på som mina andra.. Nu blev det så få steg att jag inte säkert han känna ordentligt. Om det är magen, ovanan vid ryttare, glädje eller något annat, så fick det henne att ta ett bocksprång mitt i galoppen. Nåja inte heller detta språng var svårt att sitta kvar i. Oavsett hade vi båda väldigt kul!
Another week have passed by. Calinka has been excersied a bit and is soon up to more normal levels of work for her. Percy started to cough, and I don't really like that. The reason might be the recent changes in weather, cold, to wet, to cold and back to wet… Anyway, with a rug on her back she seems to be getting better. In the end of the week I finally found time to work Pepper, long reineing and a walk. I like that! The I got one more trail ride with Calinka (in daylight – luxery). She had a lot of energy and tried to trick me into canter faster by buck once when I didn't let her run fast enough according to her. And we saw the king of the Scandinavian forrest – a big elk at least half a kilometer away all alone on a field.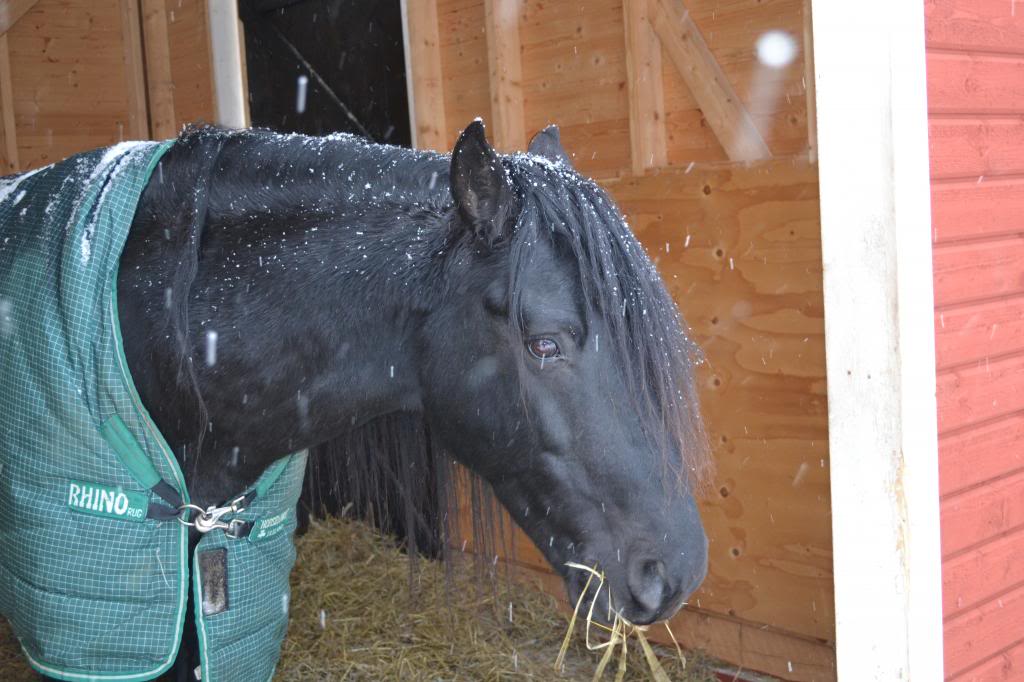 I also got time to take a short trail ride with Bunny. It was probably the last one before she is getting some more rest before having her foal.. First she found it a little bit hard to walk away, but when she got to speed up a bit she realised that it was fun. Suddenly we tried a short canter, she seems to have as nice canter as the others… Now I just got very few steps so it was hard to tell. If it was her stomach, happiness, that she still is not very used to carrying a rider or something else, she made a smal buck in the middle of the canter. Anyway, it was not hard to stay on board and we had a lot of fun!

http:///ullekalv.se/wp-content/uploads/2015/09/ullekalv_header_logo.png
0
0
Ingrid Amadori
http:///ullekalv.se/wp-content/uploads/2015/09/ullekalv_header_logo.png
Ingrid Amadori
2012-12-23 21:55:00
2012-12-23 21:55:00
Veckouppdatering