Så, hur gick då veckan som vi var "hemma själva" Isac och jag?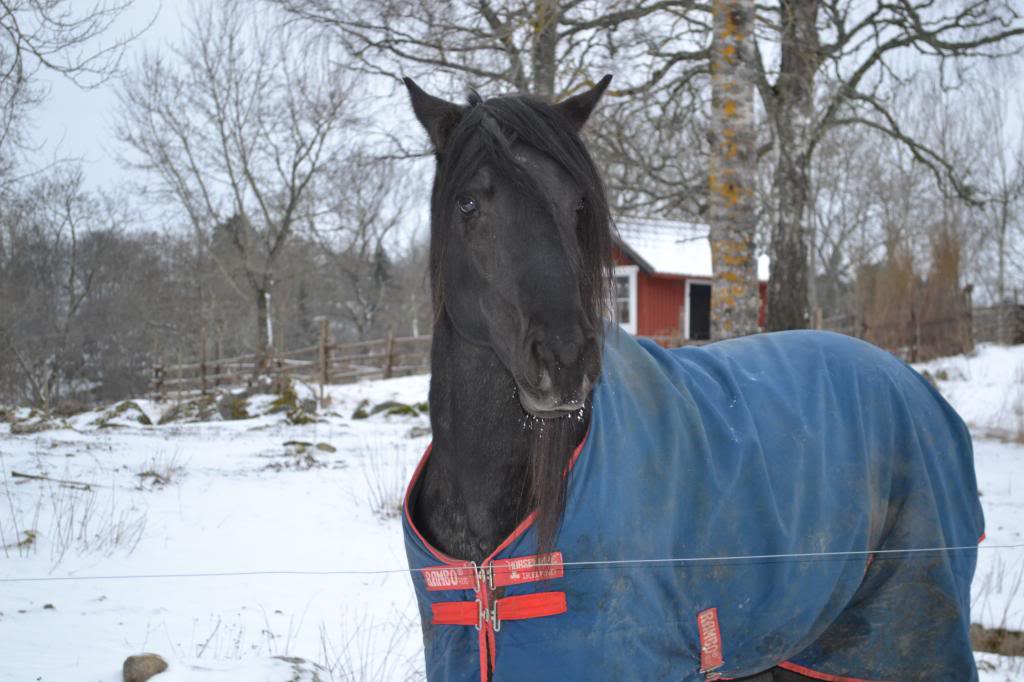 Måndagen fungerade efter förutsättningarna bra, vi tog in hästarna, gav kraftfoder och pysslade lite med dem. Isac tycker det är roligt att ge dem godis så då tränade vi på tricket att lyfta bakbenet igen. Jag började även fundera på nya trick och började med att knacka på ett framben för att få hästen att lyfta det för en godis. Är inte säker att min taktik var den bästa, men även jag behöver träna för att lära mig hur jag ska lära hästarna bättre. Mycket mer hann vi inte innan det var dags att åka hem och slänga fram mat på bordet.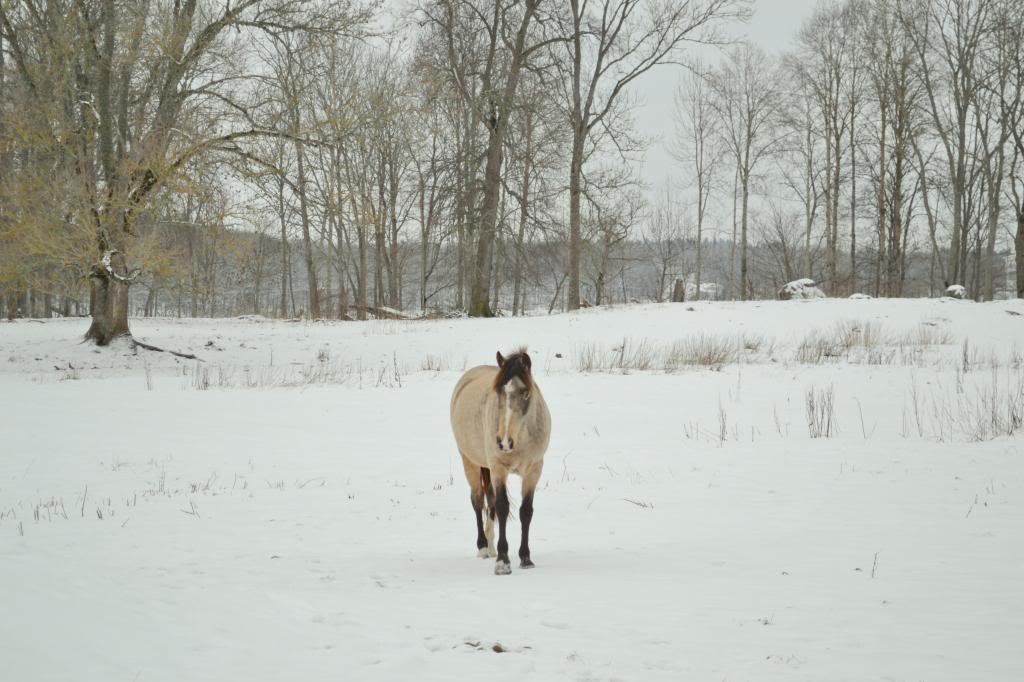 Tisdagen tog Maria hand om hästarna, liksom torsdagen. Då fick Calinka lite motion, vilket hon mår bäst av. Onsdagen förlöpte ungefär som måndagen och fredagen borde blivit en likadan dag men då hästarna kommit åt att äta på alla mina hösilagebalar var jag mindre glad och det var länge sedan jag var på så uruselt humör.
Lördagen lyckades jag faktiskt få ta ut och tömköra Pepper i snön. Hann njöt av att springa och det blev ingen egentlig träning utan bara ett sätt för honom att bli motiverad att springa lite. Därmed fick ahn också till största del välja hastighet själv, och så bytte jag varv då och då. Isac lekte med en pulka i närheten. Avslutningen blev en kort ridtur på Bunny för Isacs del och då även Mika fick chansen att röra lite på benen. Under veckan har hennes motion blivit så där minst sagt, men hon har fått följa med till stallet varje gång vi varit där.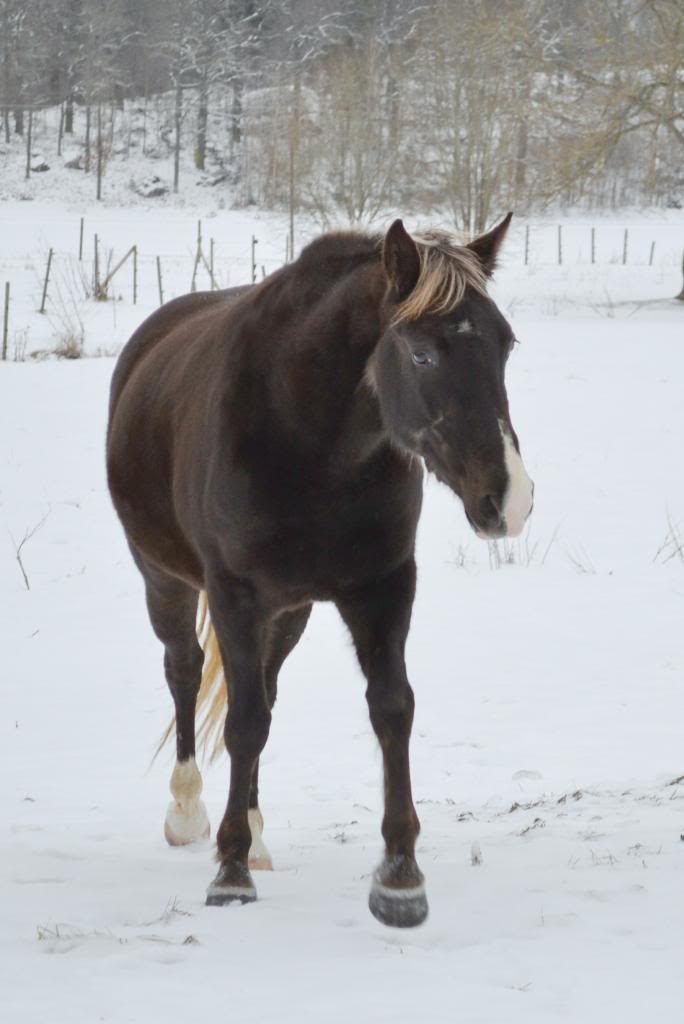 Idag kunde jag äntligen åka till stallet själv och hästarna välkomnade mig. Calinka fick en timmes lång ridtur som vi båda njöt av även om jag förvånade mig själv med att känna mig ovanligt obalanserad i sadeln. Däremot hade vi olika uppfattning om hur fort det skulle gå. Percy hade inte varit ute på länge och under de få centimetar snö som kom i veckan är det ofta is. Vi tog oss i alla fall utan problem till ett fält och red ett varv där även om jag tror att det var jobbigt med skaren. Därmed fick även Percy välja gångart fritt, det blev lite galopp, lite tölt eller liknande och en del trav. Så, inte så träningsmässigt givande, men kul eftersom det var så länge sedan vi var ute. Som avslutning på mitt besök såg jag till att det nu går el runt hösilagebalarna, förut var det bara en eltråd utan el. Hoppas det kan hålla damerna borta.
Och i och med att min vecka har varit annlorlunda har det också inneburit att jag hunnit göra lite små redigeringar på bloggen, börjat kolla på hemsidan och hur aktuell den är samt hört av mig till kompisar. VIlket inte är helt fel.
So, how did the week go, beeing home "alone" with my son?
Monday started well, given the conditions, we brought the horses in, feed the and cuddled a little with them. Isac likes to give them food so we worked on the trick when they lift a hind leg and gets a treat. I also started teaching a new thing – tapping the front leg with a whip and give a treat when they lift it. I am not sure I used the best tactic, but I guess I need some time to figure out how to be a good teacher when it comes to those kind of things. Then we had to go home to get some food on the table.
Tuesday Maria cared fore the horses, as well as Thursday. That way Calinka got to work a little. Wednesday was pretty much the same as Monday and Friday could have been if I didn't find that the mares had been chewing on all my food, a little bit here and a little there. It was a long times since I was in such a bad mood as tall the food might be destroyed.
OK, not the best pic of Bunny, but I wanted to show her belly.
She is not very big yet.
During Saturday I managed to long rein Pepper in the snow. he enjoyed running around and I let him do that, instead of proper "training". Therefore he was allowed to choose speed and I changed direction now and then. At the same time Isac played in the snow close by.We finished with bringing Bunny for a short walk with Isac on her back and Mika joining us. Mika hasn't really got a lot of work this week even if she has joined us to the stable each time.
Today I finally could go and visit my horses all alone and they welcomed me. I brought Calinka for an hour on the trail that both of us enjoyed, even if we argued about the speed. I got a bit surprised to find that I was out of shape and more unbalanced than I have been for a long time. Percy hadn't been out for a long time and under the few centimeters of snow that we got this week there is pure ice. Still, we found a way to safely get to a field where I could give her some more freedom. As the snow is a bit hard she got to choose speed herself so we did a little gaiting, more trotting (as she never does otherwise) and some canter. Maybe not very much training, but we had a good time. Before going home I redid the fencing around my hay to electrify it – it has only been a thread before but now it should be an electric fence. Hope that keep them out.
And because my week has been unual I also got time to do some small changes at the blog, begin to look at the homepage and how updtaed that is and to talk to friend. Not bad either to find time for those things.
http:///ullekalv.se/wp-content/uploads/2015/09/ullekalv_header_logo.png
0
0
Ingrid Amadori
http:///ullekalv.se/wp-content/uploads/2015/09/ullekalv_header_logo.png
Ingrid Amadori
2013-01-13 16:23:00
2013-01-13 16:23:00
Annorlunda vecka