Ridning, tömkörning, promenad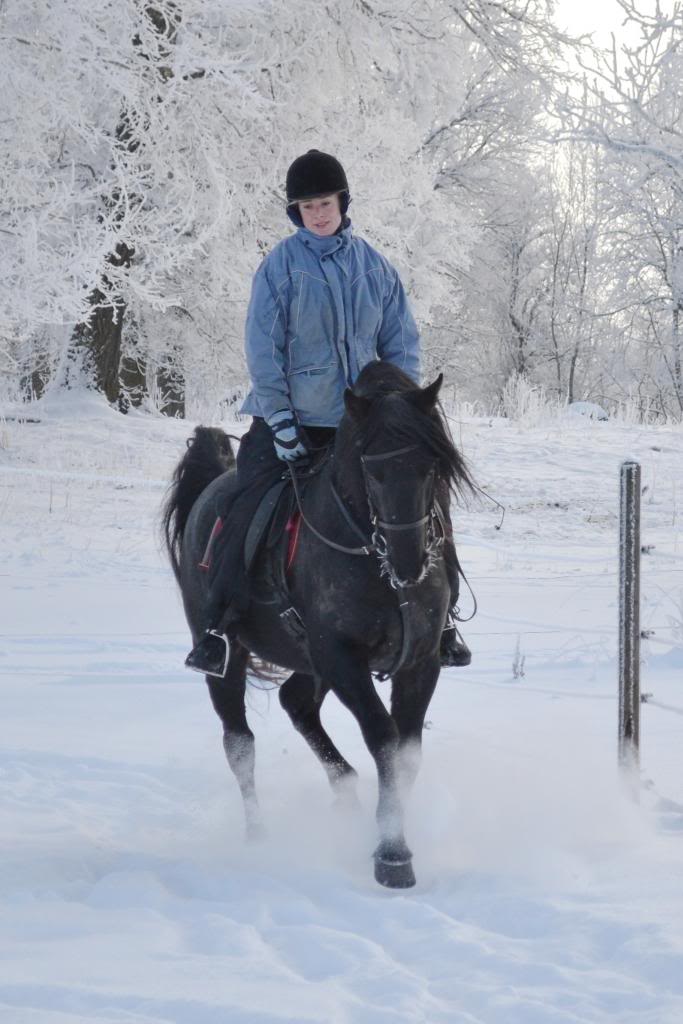 Måndagen fick gå på Mikas behov vilket betydde att det blev en promenad med Pepper på släp. Bunny fick även hon jobba med att flytta lite på sig och lyssna på mig. Plötsligt kunde hon göra fina öppnor!
Tisdagen blev det tömkörning för Pepper och man märker hur han trivs med att få jobba flera dagar i sträck. Ju mer han har fått jobba i snön desto lättare har han att ta till tölt även här, särskilt när han värmt upp. Calinka fick också jobba i snön – dressyr med mig barbacka på hennes rygg. Hon jobbade bra, men blir trött fort pga underlaget.
Onsdag och Torsdag tog Maria hand om hästarna och lekte med Percy och Bunny ena dagen och tog ut Calinka på en ridtur nästa.
Idag fredag skulle hovslagaren ha kommit, men det blev ett missförstånd så han dyker inte upp förrän på måndag. Tyvärr han jag ta av Calinka bakskorna (hon går ju enbart med på att jag gör det), men jag tror hon klarar sig bra över helgen. Men, någon ridning på henne blir det ju förstås inte. Jag tömkörde även Pepper en vända och vi tog en kort film, tyvärr blev den när han såg som sämst ut, vi får göra ett nytt försök en annan dag, för han är riktigt fin nu! Kanske en mindre kall dag så kamerabatterierna inte tar slut direkt…
Monday Mika's need got to decided and therefore I took her and Pepper for a walk. Bunny got to work a little as well, to move away, listen to me and just like that she could do shoulder in from the ground!
Tuesday I long reined Pepper and it is obvious how much he likes to work some days in a row. The more he works in the snow the easier he gaits, especially after he has warmed up. Calinka allso got to do some work, dressage with me on her back. She did really good as well, but tires quickly because of the snow.
Wednesday and Thursday Maria took care about the horses and played with Percy and BUnny one day and took Calinka for a trip the other.
Today Friday the farrier was supposed to come, but a misunderstanding does that he wont show up until Monday. Unfortunately I got Calinka's hind shoes of (I am the only one allowed to do that according to her), but I think she do well over the weekend. But, it wont be any work for her. I also long reined Pepper today and we tried to get a video. Sadly we got the worst part, we have to do a new try some day as he now looks really gorgeous. But the camera batteries only holds up for a very short time when it is cold outside…
http:///ullekalv.se/wp-content/uploads/2015/09/ullekalv_header_logo.png
0
0
Ingrid Amadori
http:///ullekalv.se/wp-content/uploads/2015/09/ullekalv_header_logo.png
Ingrid Amadori
2013-01-25 20:56:00
2013-01-25 20:56:00
Ridning, tömkörning, promenad