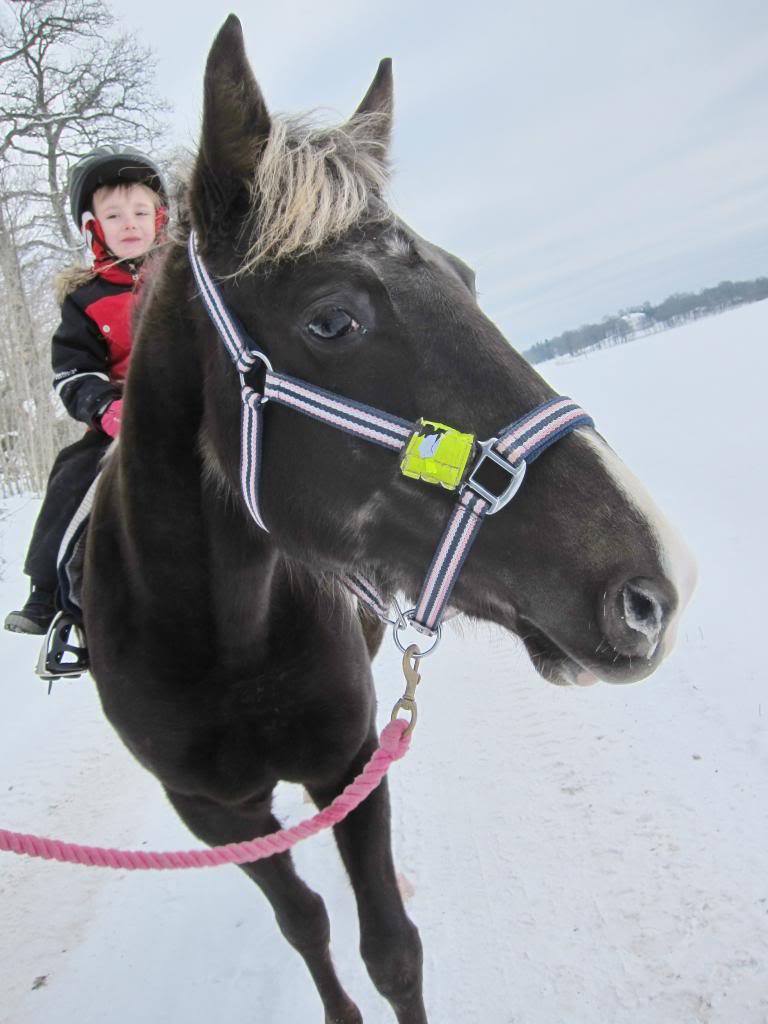 Isac bestämde sig i sista stund för att inte följa med på sin fars dagstripp utan blev hemma med mig. Så, istället för att ha en hel dag att göra vad jag kände för i stallet blev det en kort vända med Isac. Tack och lov kom även Sandra ut.
När vi kom upp hade Sandra varit ute med Percy – och Percy hade börjat se monster och vara ovanligt konstig. Hon, som brukar vara en klippa. Må vara att nya containrar hade placerats ut, men ändå? De vände hemmåt istället – inte lätt att bråka med tanke på underlag. Calinka var på sämre humör än vanligt – eller hon kan snarare ha varit på extra bra humör senaste tiden. Så, det måste ju varit ett kul byte av häst från rädda/fåniga Percy till griniga Calinka… Men, det jag såg av deras dressyrpass blir allt bättre och Sandra hade hittat flera ljuspunkter när hon kom tillbaka in.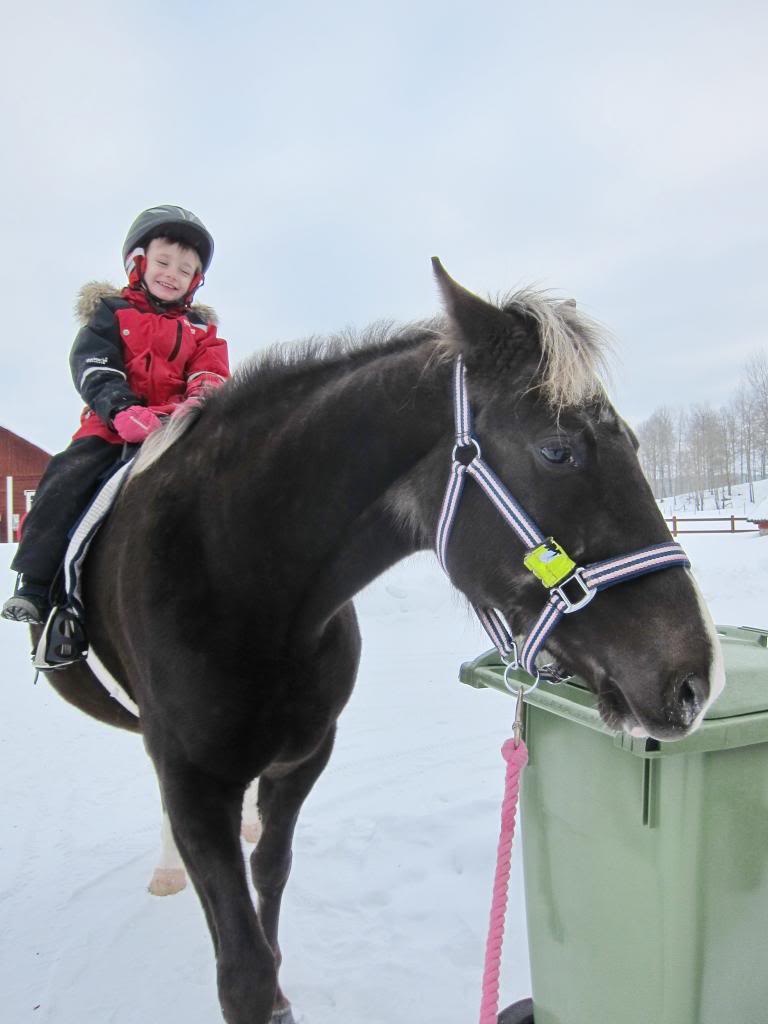 Isac was amused that Bunny liked the trash bin.
Isac och jag tog ut Bunny och Mika på en kortare promenad – där var det en liten ryttare som istället ledsnade väldigt fort. Pepper fick vara kvar i hagen. Han har varit en ängle med mig, men jobbig med övriga i veckan så jag ville inte hålla på med honom med ett litet barn i närheten. Och Isac hade inget tålamod kvar heller för den delen.
Det är intressant hur en häst som man tycker sig känna väl plötsligt kan visa andra sidor för andra personer. Att Calinka är på detta sätt visste jag redan, men att även Percy och Pepper visar dessa tendenser… Till bådas försvar måste jag säga att det verkar vara lite stökigt i hagen nu. Jag tror Bunny försöker ta en högre position i flocken och att det gör både henne coh Percy nervösa. Alla dräktighetshormoner som spelar ut. Kanske även Pepper påverkas, eller om det för honom bara handlar om vårkänslor och överskottsenergi.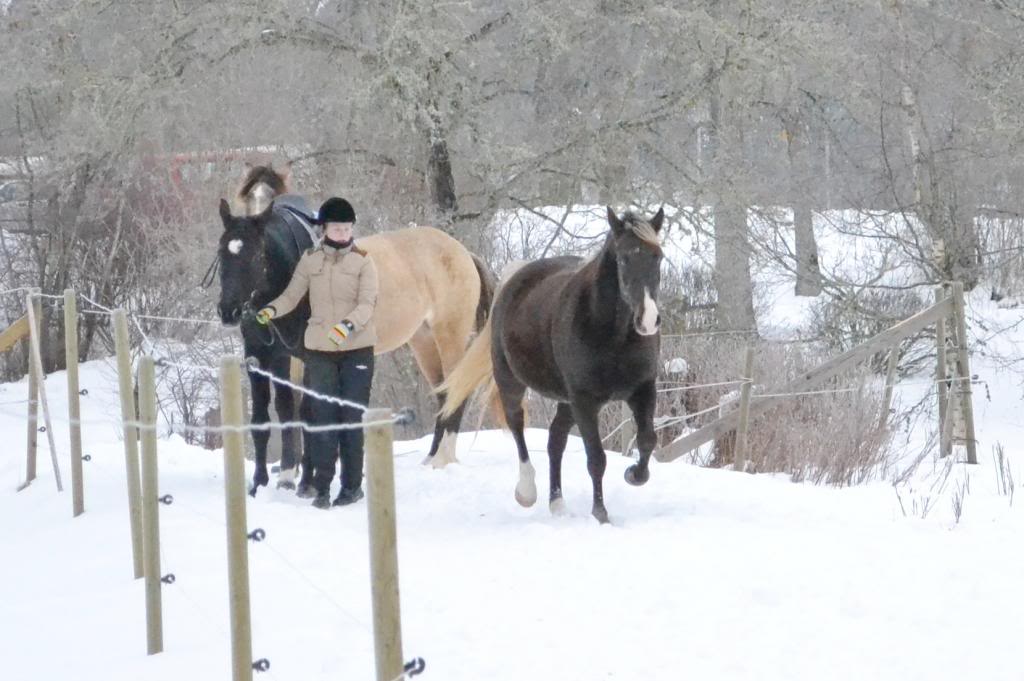 It is not always easy to get back in the pasture when the girls are out.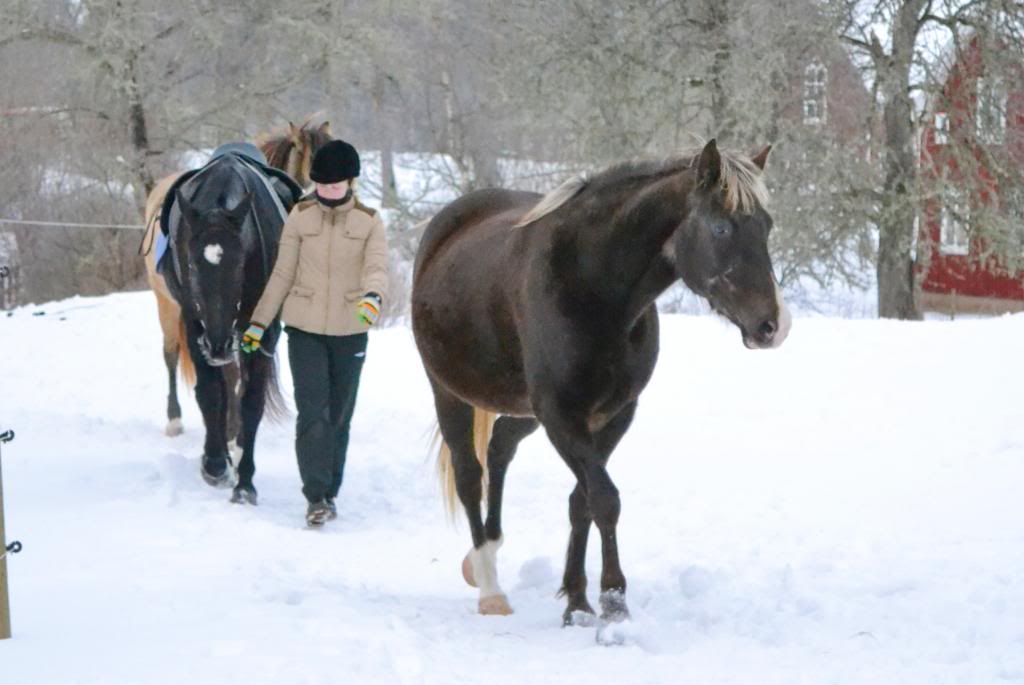 Tidigare i veckan förresten: Maria tog ut Calinka på tisdagen. Jag tömkörde Percy ett väldigt kort och lungt pass på onsdagen och skulle tömkört Pepper med, men mina magmuskler började bråka med mig i precis fel tid. Torsdagen var jag och Sandra ute; vi tog en ungefär 40 minuter lång vända med Percy och Pepper. Nanette pysslade med Bunny och Tora red på henne och Björn red dressyr på Calinka. Jag fick se ett filmklipp ifrån det och han har redan blivit mycket säkrare i sadeln och lärt känna Calinka bättre. Fredagen fick Calinka ett uterittspass med Maria – hon måste få springa på lite ibland också – det är ju vad hon gillar bäst.
Isac decided in the last minute to stay home and not join his father on his day-trip. Instead of having a day when I could do whatever I wanted in the stable I got a very short visit. Thankfully Sandra visited as well.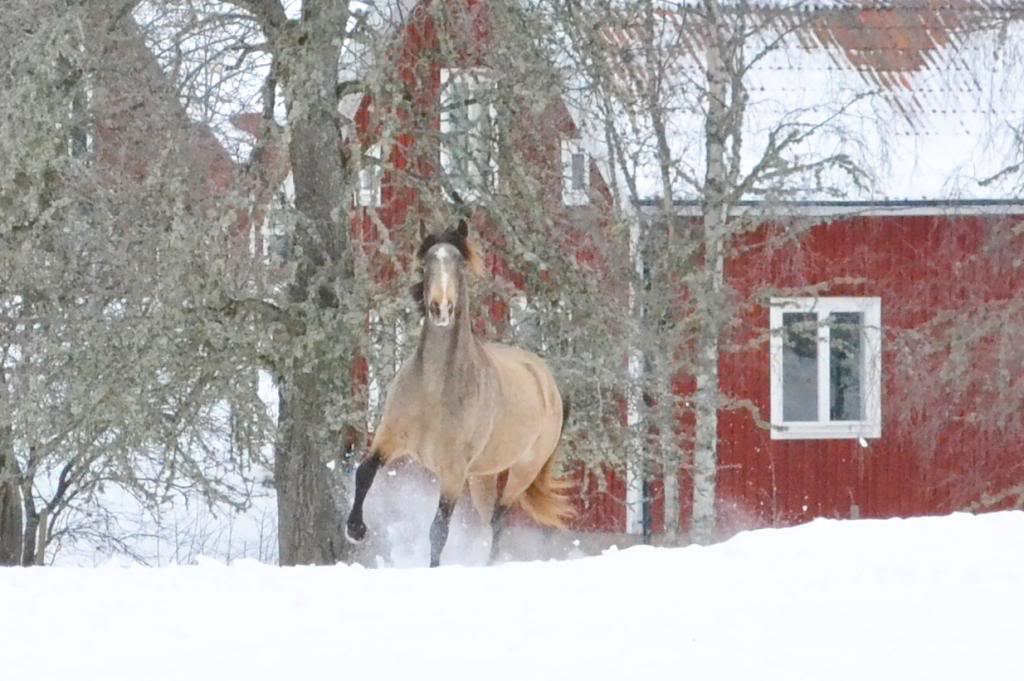 Percy showing of – canter.
When we arrived Sandra had been out with Percy – and totally unexpected Percy had seen monsters. She, that usually is very cool. Ok, there was some new containers placed close to the road, but still? They decided to go back home instead – the roads are not giving the option to fight with a horse. Calinka was crankier than usual – or maybe she has been in a good mood for some time. A fun change of horses – from the spooky Percy to cranky Calinka… But, from what I saw of the dressage work they did that is improving and Sandra told me when she came back that she had had some good moments.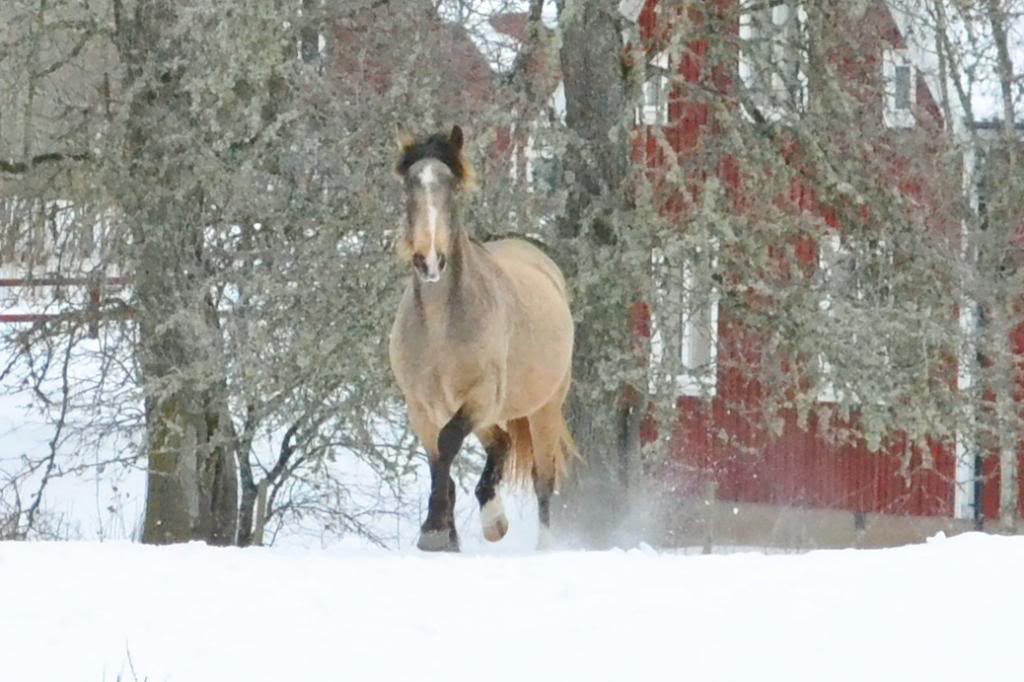 That got into a trot.
Isac and I took Bunny and Mika for a short walk – then the young rider got bored. Pepper was left in the pasture. He have been an angel with me lately but not as much with the other people and therefore I didn't want to work him with Isac around. And Isac didn't have any patience left either.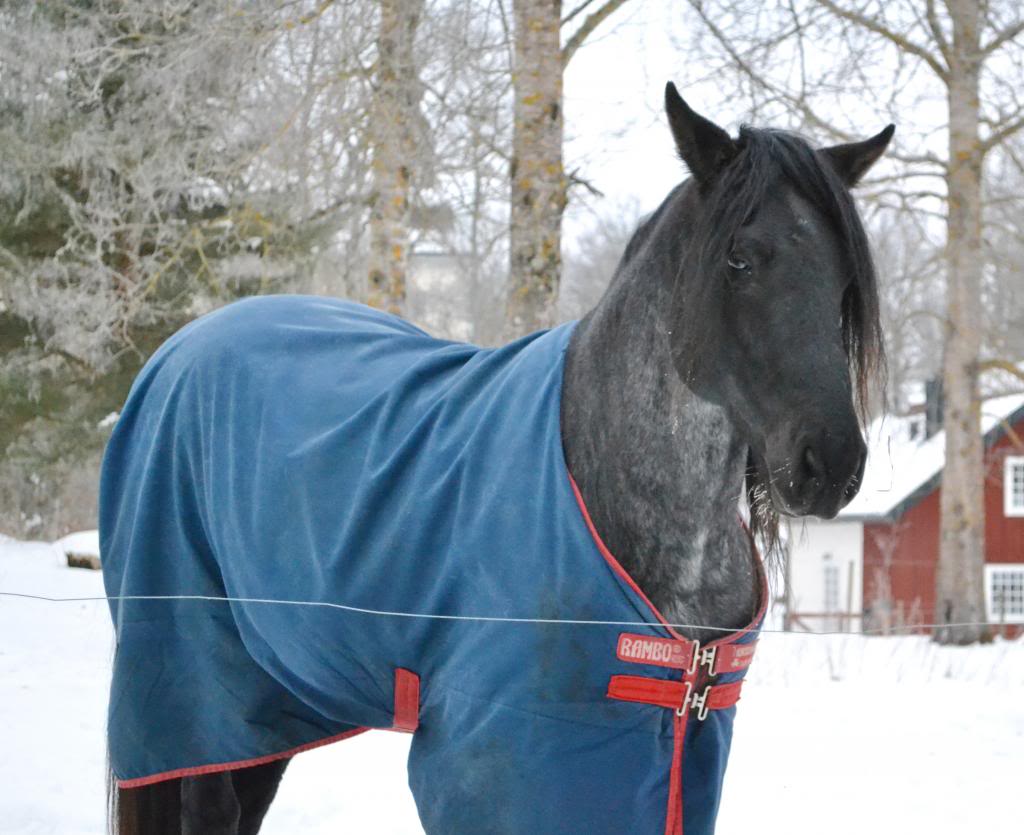 Pepper is shedding, look how bright his neck is.
It is interesting how horses you think you know behaves rather unexpected with other persons. I knew that Calinka do that, but both Percy and Pepper as well? I have to say to their defense that it seems to be a little disturbance in the pasture right now. Bunny seems to claim a higher position and I think that makes both her and Percy nervous. All pregnancy hormones flying around… It might be that even Pepper is influenced by that, or if it is only spring hormones and to much energy.
Earlier this week by the way: Maria took Calinka for a trail ride at Tuesday. I long reined Percy very shortly during Wednesday and should have worked Pepper as well but my abdominal muscle started to fight with me at the wrong time- At Thursday Sandra and I was out for about 40 minutes with Pepper and Percy. Nanette cared for Bunny and Tora took a walk tour on her back. Björn did some dressage work with Calinka and I saw a video from that. He has already became much more secure at Calinka's back. Friday turned into a fast trail ride for Calinka – she needs to run sometimes as well.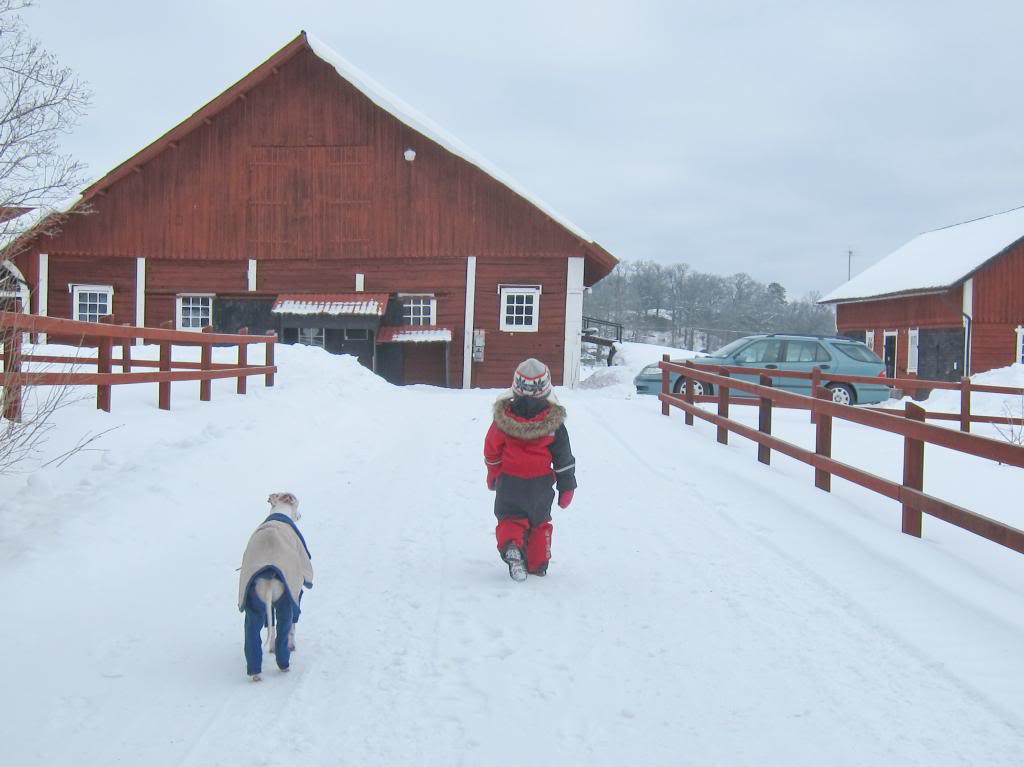 Best time of the trip according to Isac – walking back to the car.
http:///ullekalv.se/wp-content/uploads/2015/09/ullekalv_header_logo.png
0
0
Ingrid Amadori
http:///ullekalv.se/wp-content/uploads/2015/09/ullekalv_header_logo.png
Ingrid Amadori
2013-02-23 15:57:00
2013-02-23 15:57:00
Hästar uppför sig inte alltid lika med olika personer