Ok, jag är hemma och är sjuk. Just nu orkar jag inte mycket mer än att läsa eller sitta framför datorn/TV:n. Därav kom jag in på denna nördiga fundering och idé. Skyll på febern om ni vill.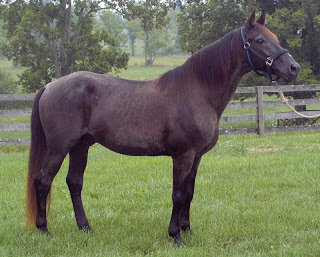 Peppers sire Buck, look close antd you see the roan.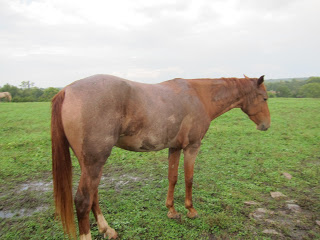 Also sired by Buck and roan.
Någonstans i detta råkade jag åter läsa på lite om hästfärger och om att konstantskimmelgenen nedärvs tillsammans med genen på extension locus. (Genen som avgör om hästen får en uppsättning röd eller svartbaserad grundfärg). Alltså ärvs E eller e ner tillsammans med genen för konstantskimmel, även om det ibland sker ändringar. I alla fall, därmed tänkte jag kolla vad som är den troligaste uppsättningen för Pepper på extension locuset. Han far har fått både röd och svartbaserad avkomma och måste därför vara Ee på extension locuset. Om hans far hade fått många rödskimmlar hade man kunnat misstänka att han ärvde ner konstatskimmelgenen och rödgenen tillsammans. Hade det varit tvärtom – många svartskimmlar kunde man misstänka att han nedärvde svartskimmel och genen för svartgrundfärg tillsammans. Självklart måste man även ta hänsyn till stonas färg – även de ger en gen till E locuset. Peppers mamma till exempel kan vara EE på extension locuset eftersom hon bara har gett svartbaserad avkomma. (Men det kan också vara en slump och hingstarnas förtjänst)
Sagt och gjort, RMHA har en bra databas över alla individer och jag hittade enkelt 25 avkommor efter Buck (Peppers far). Problemet är bara att enbart en av dessa är registerad som konstantskimmel – min Pepper. Nu har jag sett bild på Buck och han är utan tvekan en konstantskimmel. Jag har även sett en avkomma hos Peppers uppfödare som var konstantskimmel och en på en
hemsida.
Men, statistiskt sett borde det ha varit ungefär 12 stycken konstantskimmlar bland dessa avkommor!
Så, jag blev inte mycket klokare – utom på att det troligen fins ett antal hästar som inte är registerade med fullständig färg i registren. Som bonus hittade jag två avkommor som var registerade som bärare av en gulgen – utan att någon av föräldrarna hade någon (vilket inte är möjligt).
OK, I am home and ill. I don't have energy to do much more than reading or watching the computer och television. Guess that was how I got this nerd idea to pop up in my head. Blame the fever.
Sometime I managed to read up on horse color again and once more saw that the roan gene is linked with the gene at the extension locus. (The locus that determines if the horse get red or black based). Therefore E or e is inherited together with the roan gene, even if over-crossing do occur. Anyway, why not try to figure out the most possible setup for Pepper at extension locus? His father has sired both red based and blackbased offspring and therefore needs to be Ee at the extension locus. If his father had sired many red roans it could be expected that he inherited the roan gene and the red gene together. If the reverse, It could have been expected that he inherited roan with his blackbased gene. And of course the mares colors needs to be considered. Peppers mom for example might be EE at extension locus as she only has blackbased offspring. (But it might also be a coinsidece and sometimes because of the stallions).
Anyway, RMHA have a good and easy accessible database with all horses pedigrees and I easily found 25 offspring to Buck (Peppers sire). The only problem is that only one is registerd as a roan – my Pepper. I have seen pictures of Buck and he is a roan. I have also seen an other offspring from him at Peppers breeder that was roan as well, and one more offspring at an
webpage
. But, statically, I should have been around 12 roan offspring among those 25!
So, I didn't learn much – except that probably some of those horses aren't registerd with their full color. Fun thing is that I also found two offspring that claimed to carry a creme gene even if none of the parents did (that is not possible).
http:///ullekalv.se/wp-content/uploads/2015/09/ullekalv_header_logo.png
0
0
Ingrid Amadori
http:///ullekalv.se/wp-content/uploads/2015/09/ullekalv_header_logo.png
Ingrid Amadori
2013-02-25 16:32:00
2013-02-25 16:32:00
Hästfärg i detalj