3 hästar jobbade på lika många timmar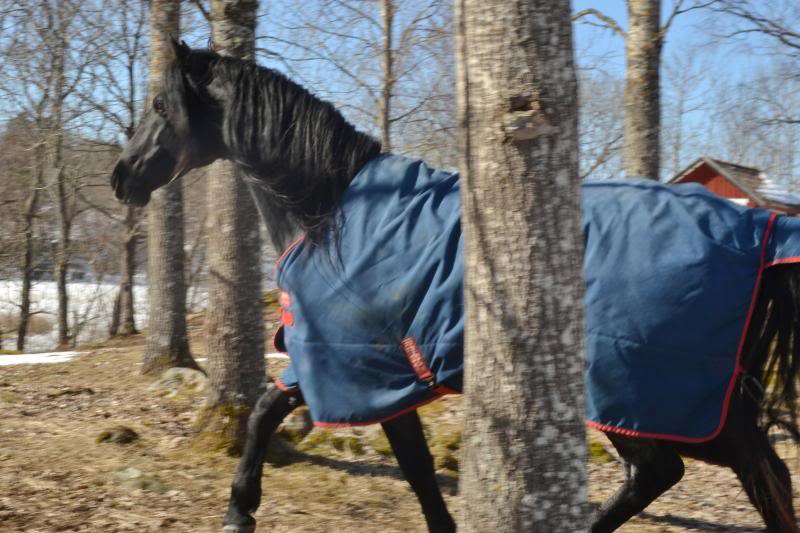 Pepper heading of for food. Playing? – No thanks
Calinka fick lite extra tid med mig, lite massage, hårklippning med mera. Sedan blev det tömkörning av damen. Hon jobbade jättefint och jag tror hon tyckte det var riktigt skönt som omväxling. Insåg hur mycket hon kan egentligen, allt är så mycket mer befäst än hos Pepper. Men så har vi ju hållit på i drygt tio år också… Insåg även att jag har helt olika kontakt med hästarna vid tömkörning – Pepper vill knappt att man har stöd i handen medan man med Calinka har mycket mer än när man rider henne. (Även om hon inte är tung i handen på något sätt)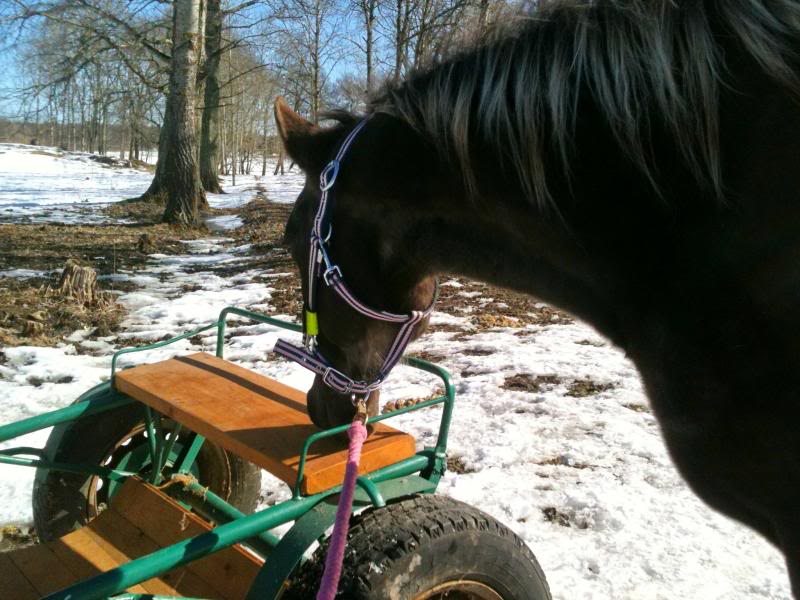 Bunny inspecting the cart.
Sedan var det dags för Percy och tömkörning. Skavet var bättre och jag var noga med att se till att gjorden inte skulle komma åt det. Fröken otålig kunde inte tänka sig att stå still och ville helst springa hela tiden. Sluta – vad menar matte – jag vill inte – måste visa hur upprörd jag blir och nästan stå på bakbenen (Eller trodde hon att det var vad jag vill?). Nåja, allting löst sig med lite flexibilitet från min sida, timing och beröm. Mot slutet sökte hon sig i form, och gjorde sluta ett par steg i båda varven. Men, hon är den svåraste att tömköra – hon reagerar så snabbt, blir lätt upprörd och uttråkad. Vid uteritt är hon inte alls på detta sätt.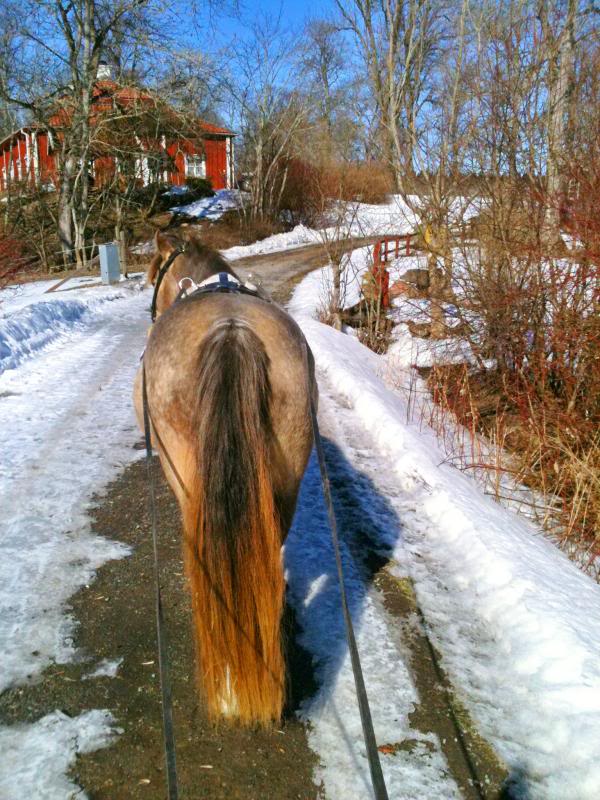 Percy heading of for work.
Bunny blev nummer tre och vi gick ut och tittade på rockarden. Sedan drog vi den med oss en bit och så gick vi ett par meter med henne innanför skacklarna. Som väntat ingen reaktinom, men det var inte lätt att dra vagn i lite snö och få hästen att gå framåt…
Jag tycker Bunny ser lite tunn ut över överlinjen och köpte igår lite extra proteinrikt foder – Kraft muskel. Tyvärr föll det inte Bunny i smaken (inte trodde jag att hon var kräsen..) så jag ska se om hon gillar det bättre uppblött tänkte jag.
Jag hade tänkt jobba Pepepr också, men tiden försvann och leka i hagen ville han inte heller – han stack direkt till sitt hösilage.
3 horse worked in the same amount of hours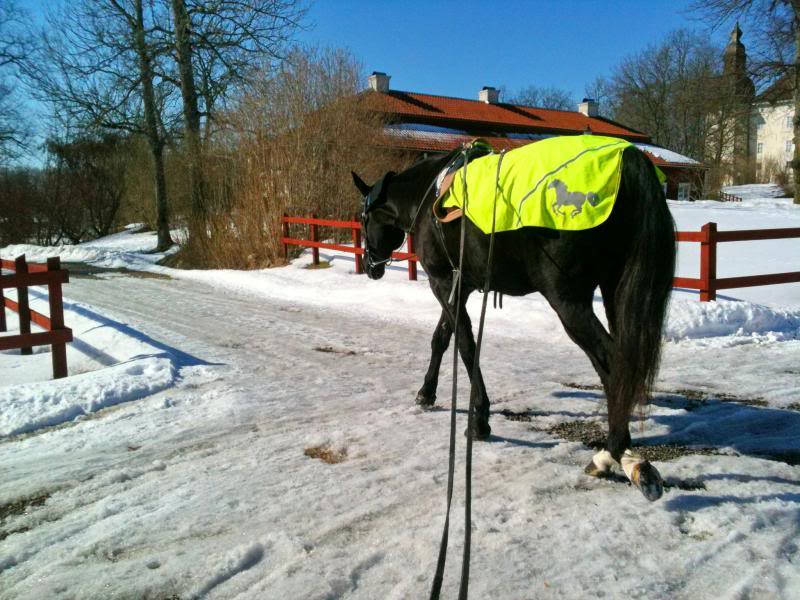 Calinka getting back from work – it is hard to take photos while working more intense.
I took some extra time with Calinka, some massage, hair cutting etc. Then I long reined the lady. She worked really nice, I think she liked the change. I realized how much she knows, she is much more certain about things than Pepper. But we have been working for more than ten years… I also realized how different they are to long rein; with Pepper I have a very light contact while Calinka demands more contact than when I sit on her. (Even if she isn't heavy in the hand a
t all.)
Percy was up next. Her soreness was better and I watched carefully so the girth wouldn't pinch her. Miss without-patience couldn't stand still and would prefer gaiting all the time. Haunches in – what was it her owner wanted – she didn't want to – and nearly had to show how upset she got by standing on her hind legs (or maybe she thought that was what I wanted?) With some patience, flexibility, timing and praising from my part we solved it all. In the end she was going towards a nice frame and did a couple of steps of haunches in at each lap. She is the hardest to long rein – she reacts very quickly, easily get upset and bored. She is not like this while trail riding.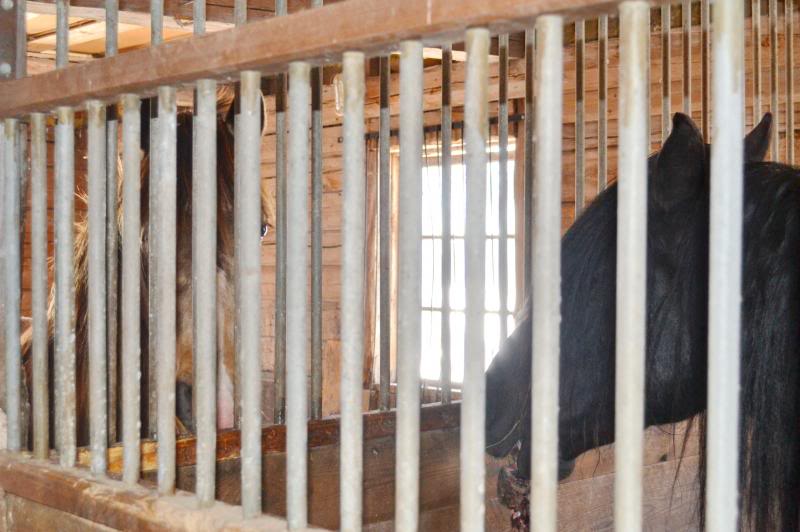 Bad picture, but they were so fun: Pepper show Percy his toys (a jolly ball and a dogs chewing toy). Don't know if he wanted to teas her or only show of….
Bunny was number three and we watched the cart. Then we brought it with us and alter on we walked a couple of meters with Bunny "inside the shafts, but me pulling. As suspected she didn't seem to car but it wasn't easy for me to pull the cart and get Bunny walking forward in the remaining snow…
I think that Bunny is a little thin at her topline so I bought her some extra protein yesterday. Sadly she didn't like it (I didn't know she was selective) but I am going to see if she prefers it if it get into water.
I planned to work Pepper a little and play with him, but time ran up and he didn't want to play – he only headed of to his food…
http:///ullekalv.se/wp-content/uploads/2015/09/ullekalv_header_logo.png
0
0
Ingrid Amadori
http:///ullekalv.se/wp-content/uploads/2015/09/ullekalv_header_logo.png
Ingrid Amadori
2013-03-31 20:24:00
2013-03-31 20:24:00
3 hästar jobbade på lika många timmar